Jonathan Baldock: Facecrime (suspect)
Presentation
1 - 31 July 2020

Stephen Friedman Gallery is pleased to present a new installation 'Facecrime (suspect)' by British artist
Jonathan
Baldock in Gallery Two.
Accompanying the installation is a solo exhibition of Andreas Eriksson's tapestries in Gallery One and Yinka Shonibare CBE's profound new sculpture 'Justice For All' in the Viewing Room.
Originally commissioned for Art Basel Hong Kong 2020 before the fair's cancellation, 'Facecrime (suspect)' is a monumental installation comprising precariously stacked ceramic columns. Evoking both ancient ruins and a surreal vision of the future, these hand-crafted forms reflect the artist's interest in myth, folklore and narratives associated with 'outsider' practices. Baldock's use of cobalt blue makes the work shimmer and glow with a spiritual, alchemical quality.


Click here to download the exhibition Press Release


Protruding from the columns' vibrantly glazed surfaces are casts from Baldock's body: disembodied ears, beckoning fingers, and hands pushing and punching in mid-air. Shaped as if in the process of coming to life, the installation echoes the artist's ongoing interest in making objects that are frequently activated by performances.

Audible groans, whistles and chuckles stream through concealed speakers and accentuate the work's exploration of types of communication that evade verbal articulation. The overall sense of physicality finds humorous counterweight in the application of clay tokens engraved with emoticons and pictorial representations of facial expressions.
This installation is the second major work born out of Baldock's residency at Camden Arts Centre, London as part of the Freelands Lomax Ceramics Fellowship. The residency resulted in a solo exhibition that opened there in April 2019 before touring to Tramway Glasgow and Bluecoat, Liverpool in 2020. For this work Baldock studied the British Museum's collection of Mesopotamian clay tablets, which trace the linguistic evolution of pictograms into cuneiform script, the world's oldest writing system. Inspired by these ancient modes of communication, the artist explored the potential of clay as a tool of expression.
"I took the title [Facecrime]

from George Orwell's novel '1984'. I thought that the idea of expression being policed was interesting because so much of the work is about facial expression or how we communicate non-verbally." – Jonathan Baldock
'Facecrime', Camden Arts Centre, London, England (12 April – 23 June 2019)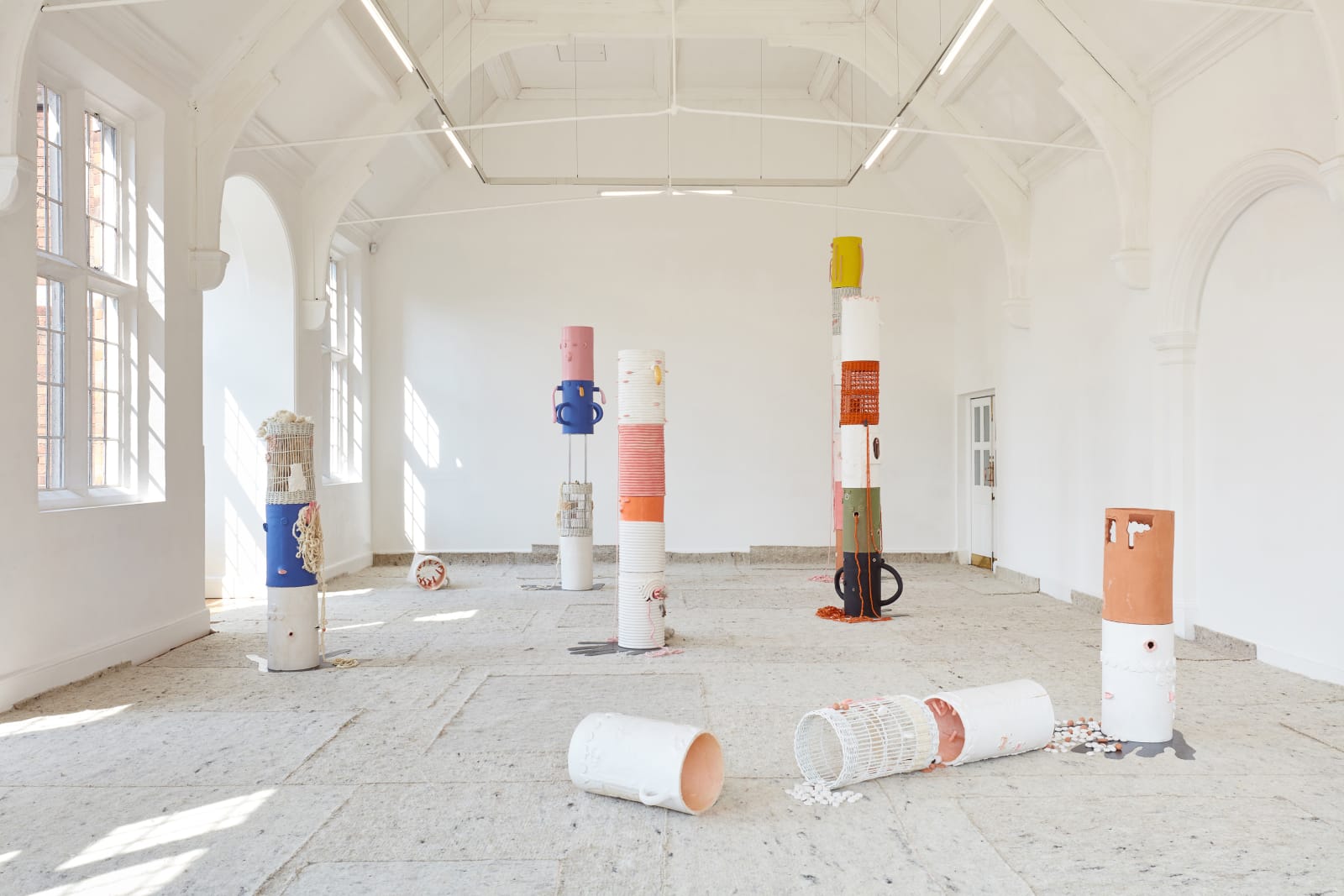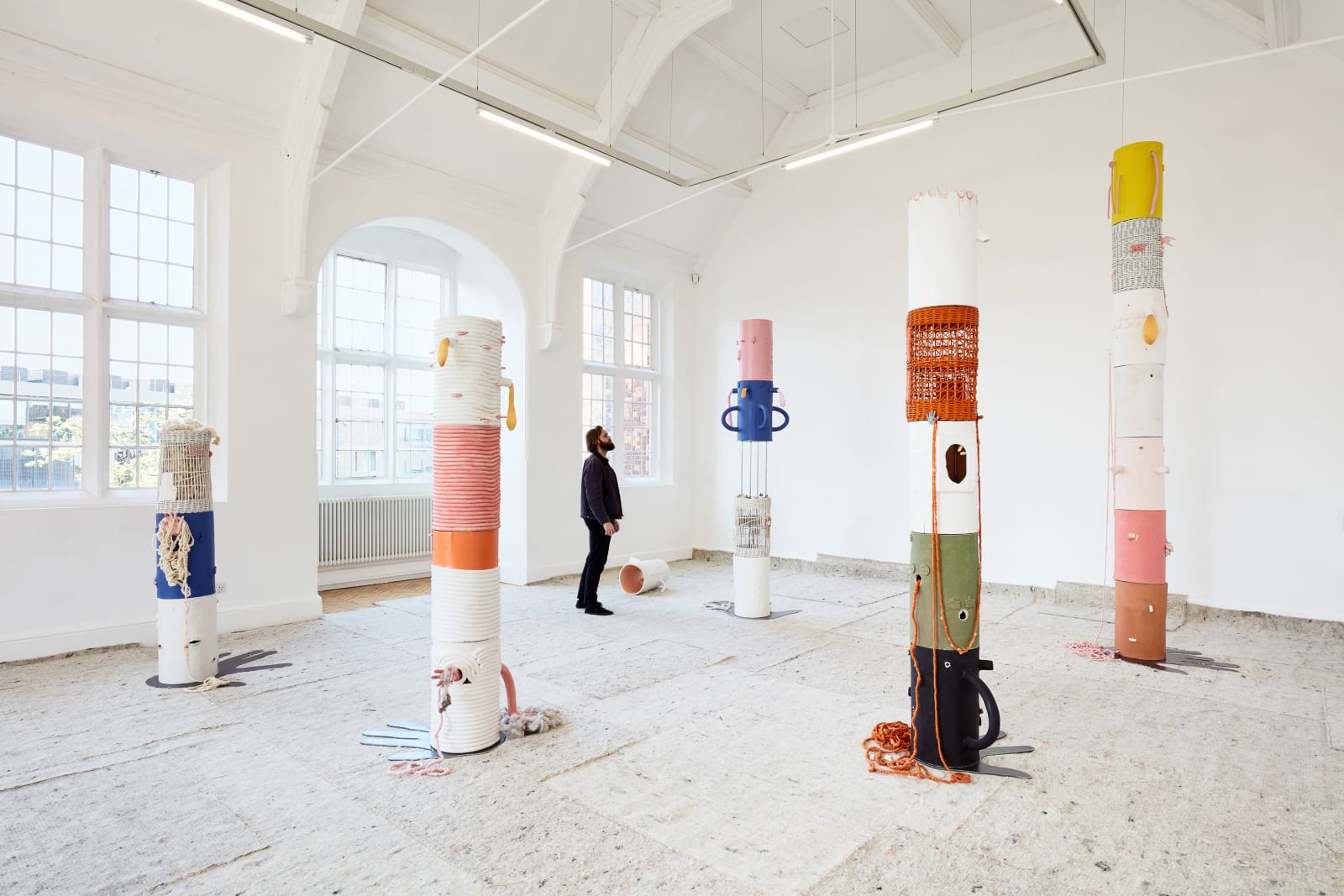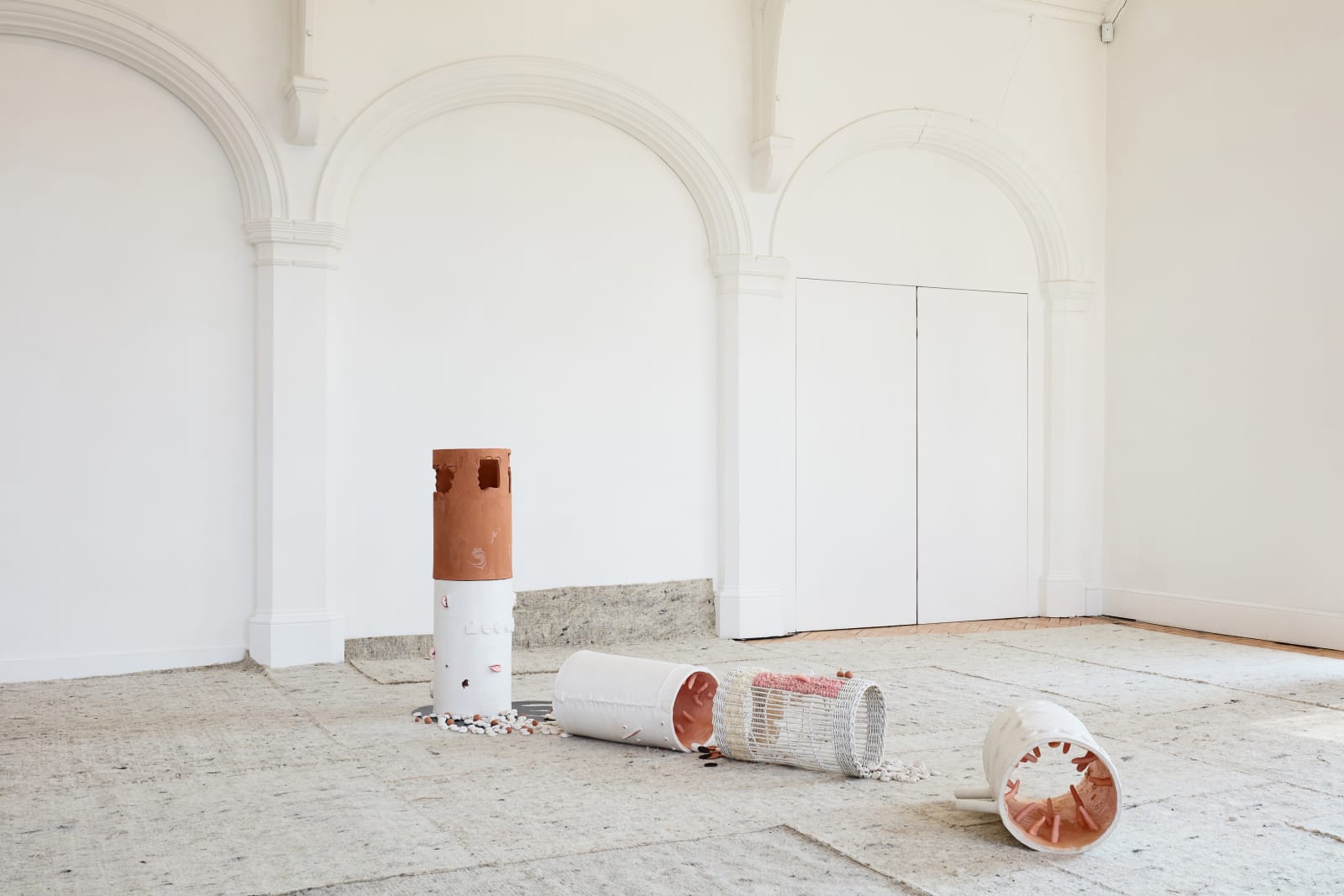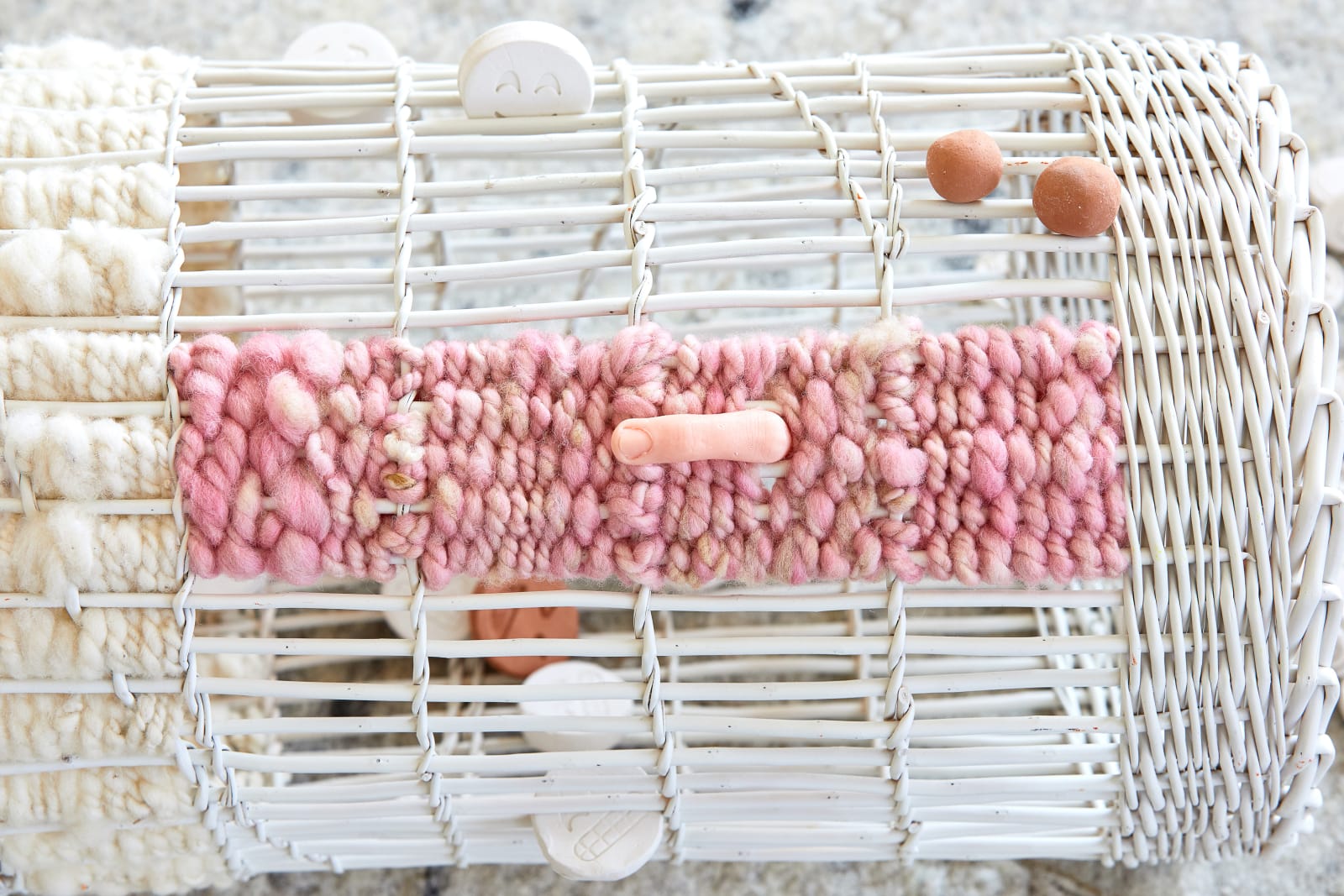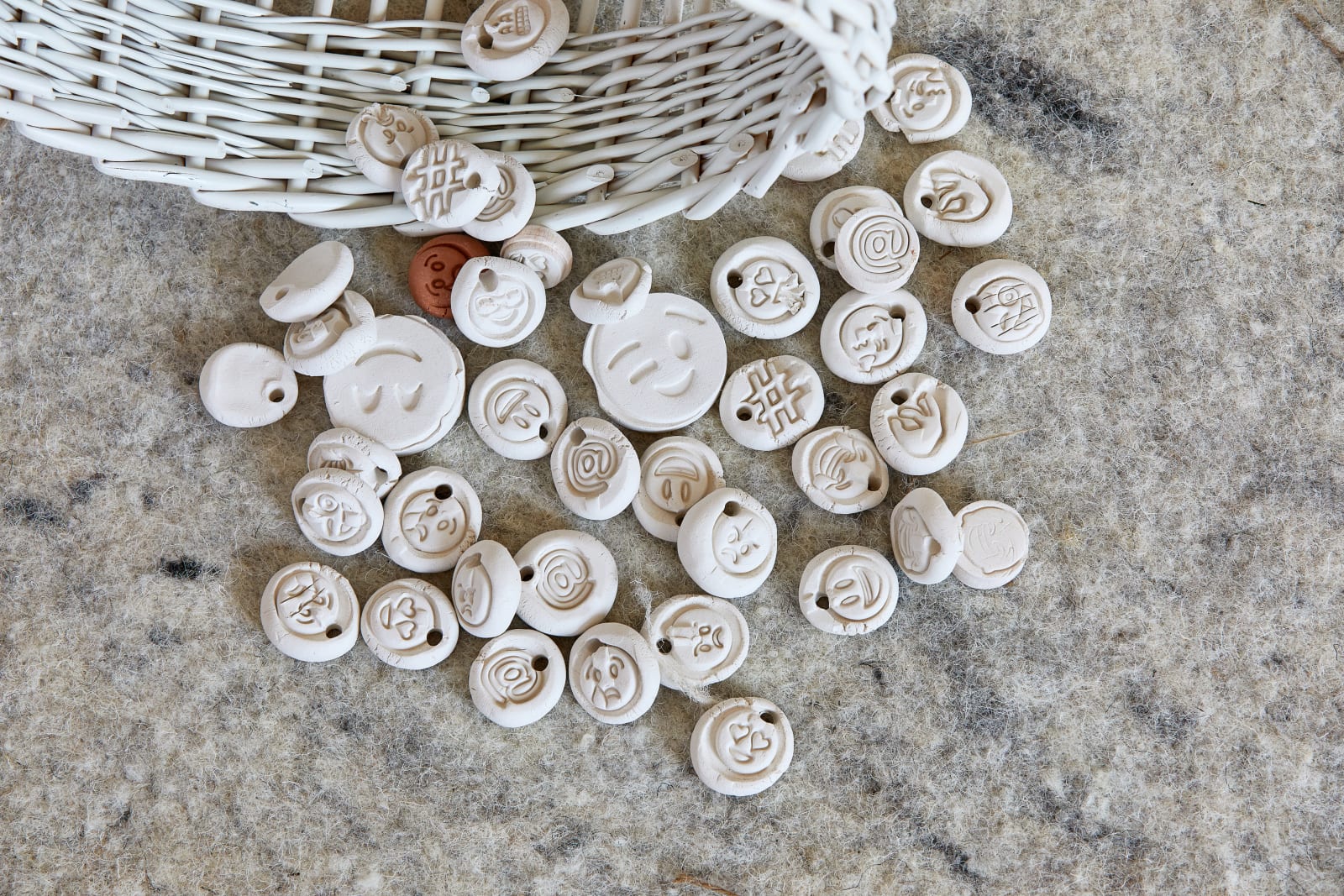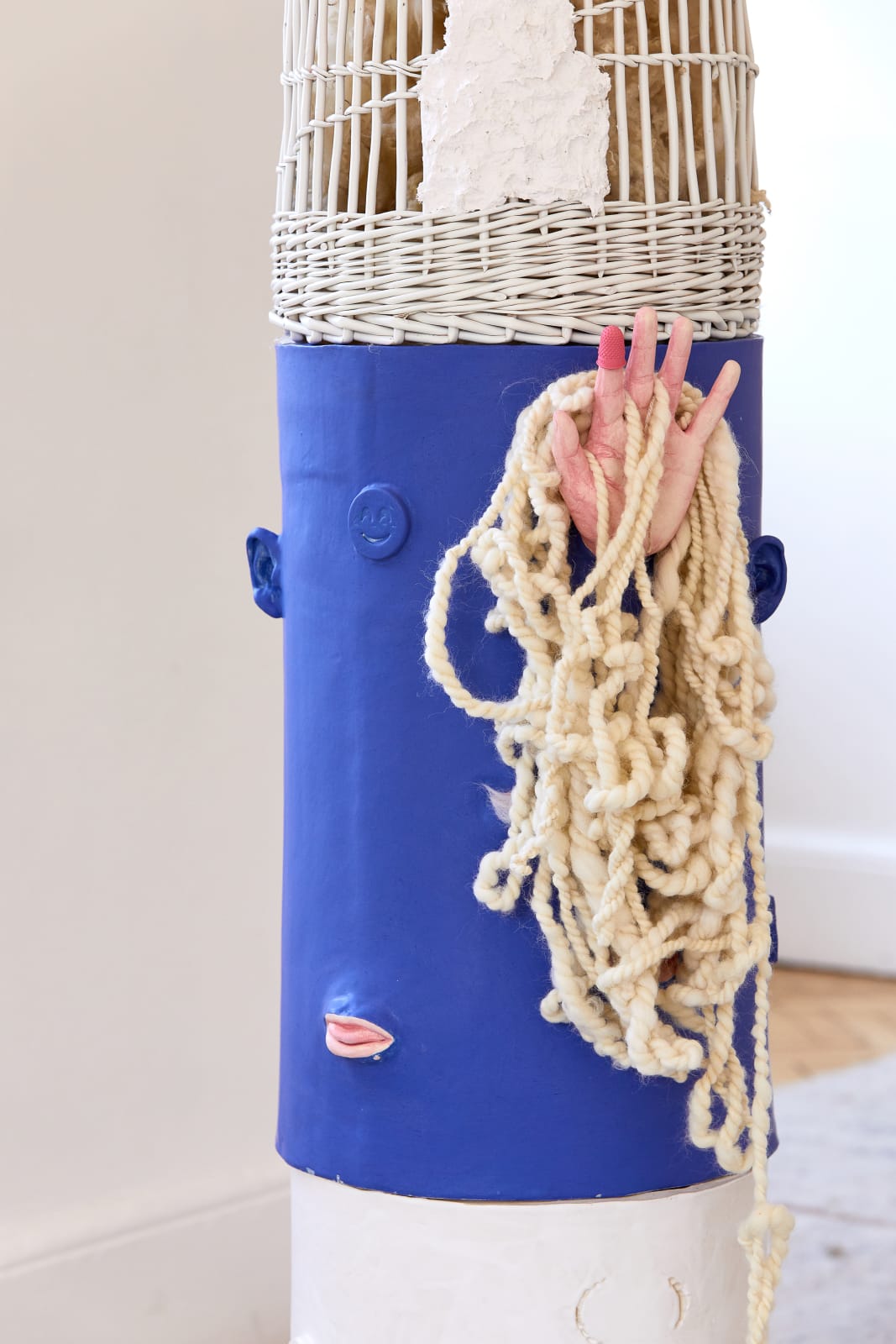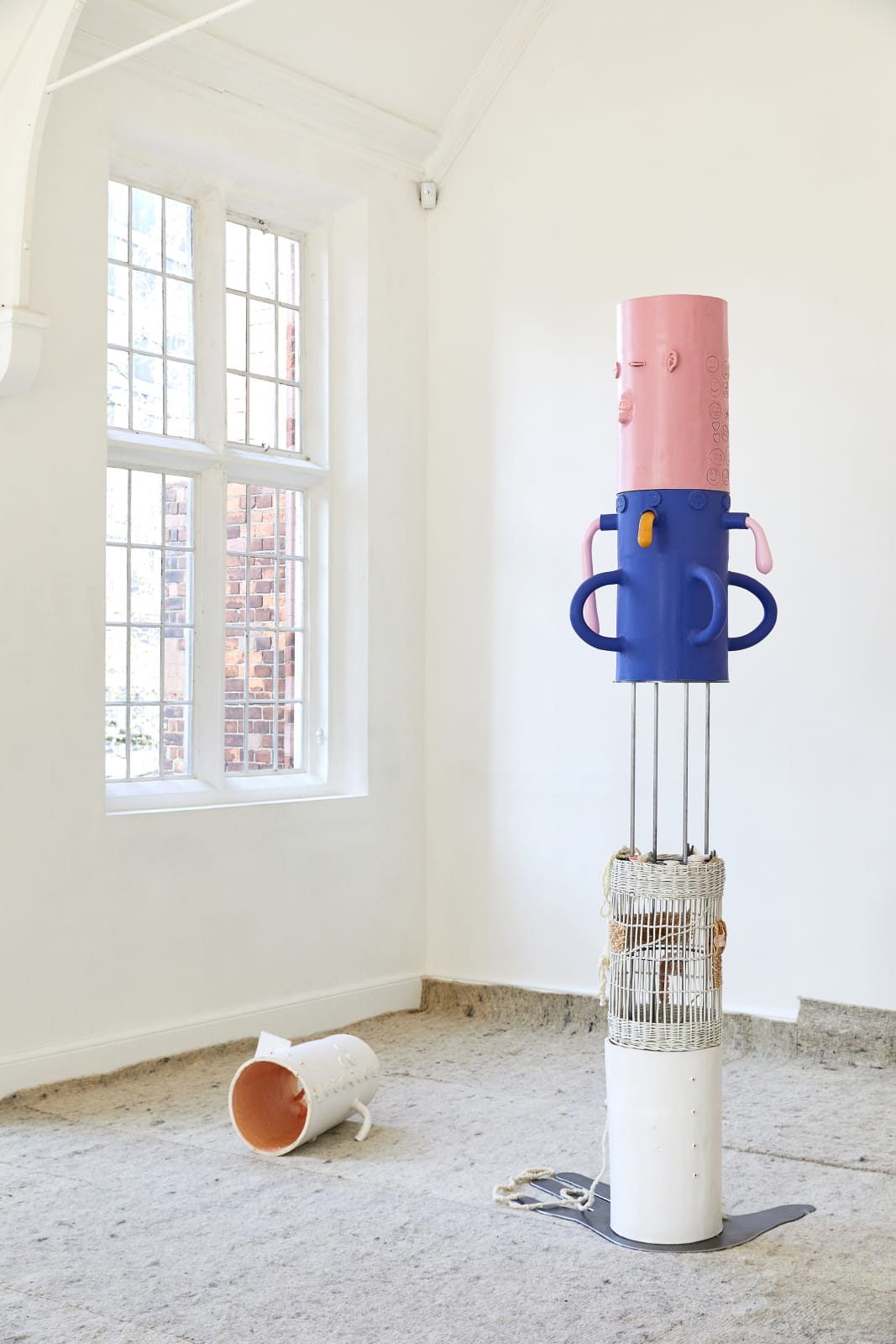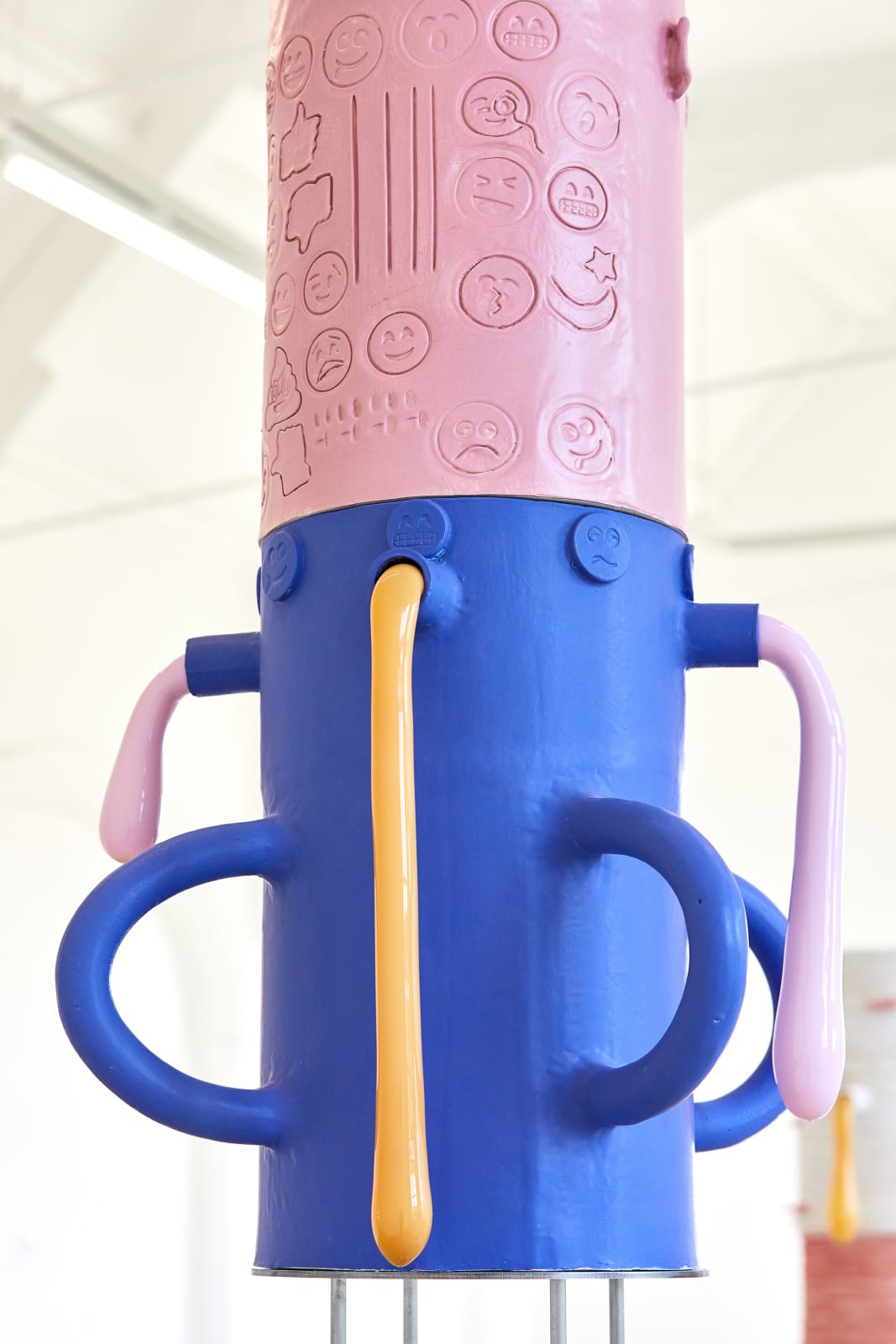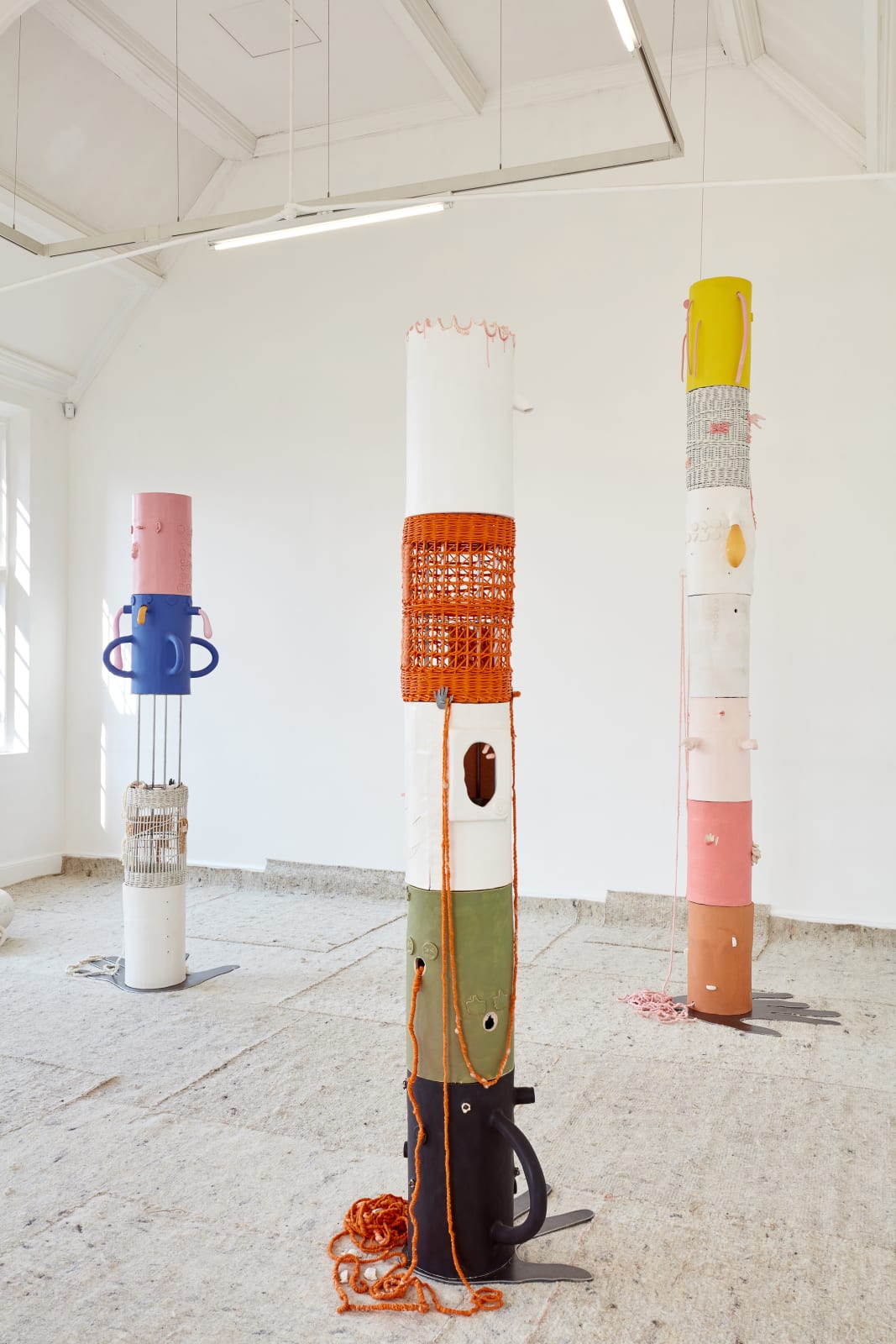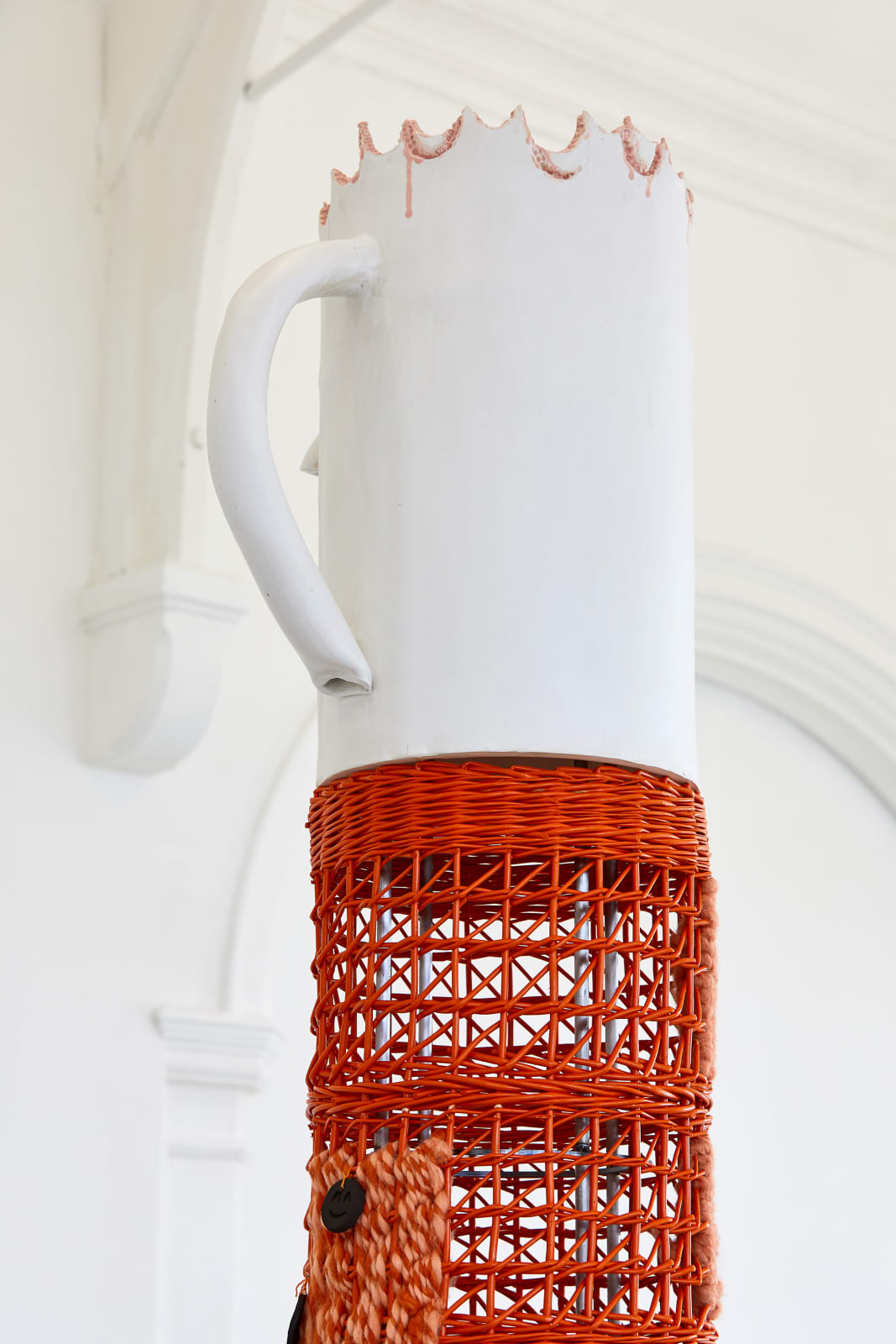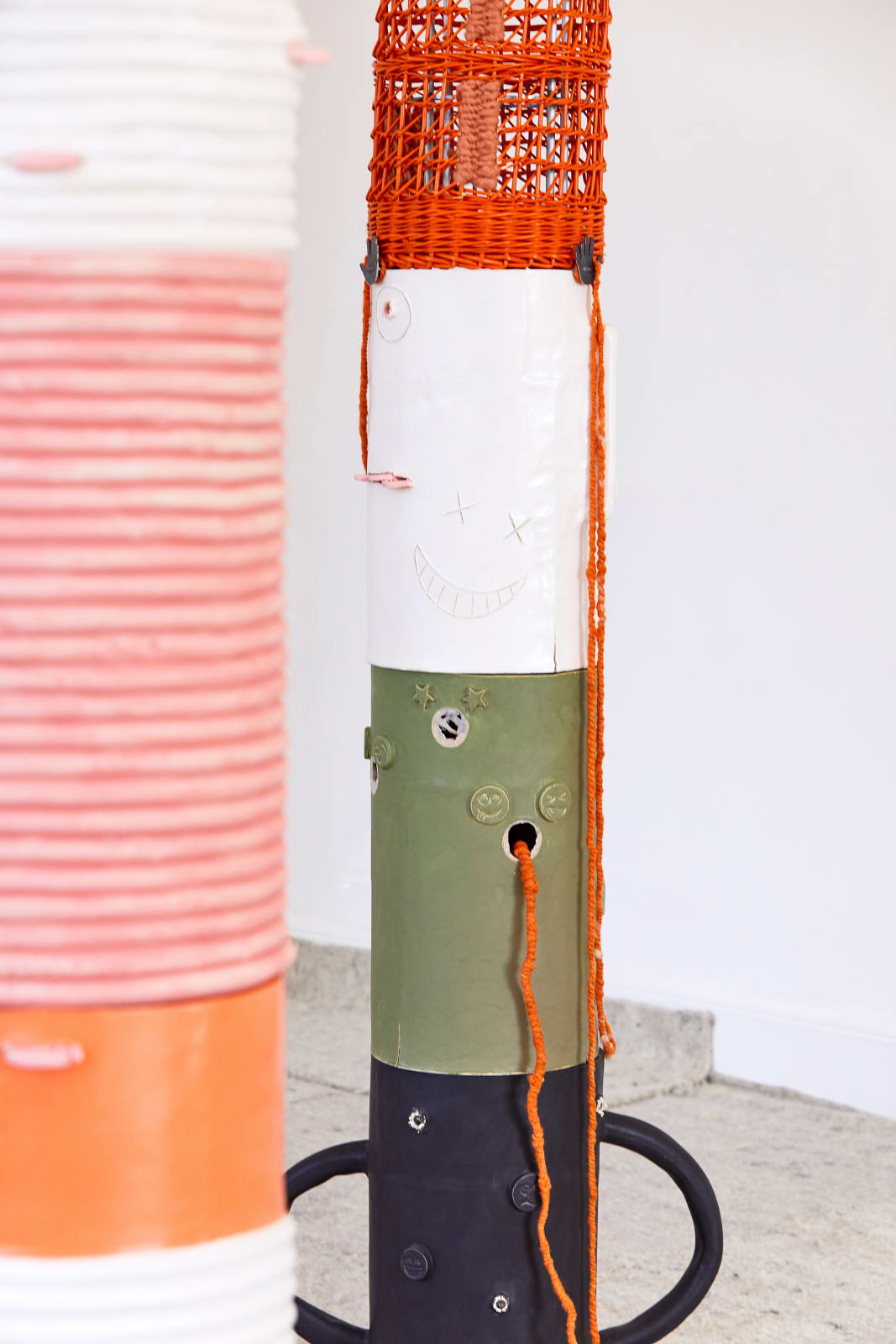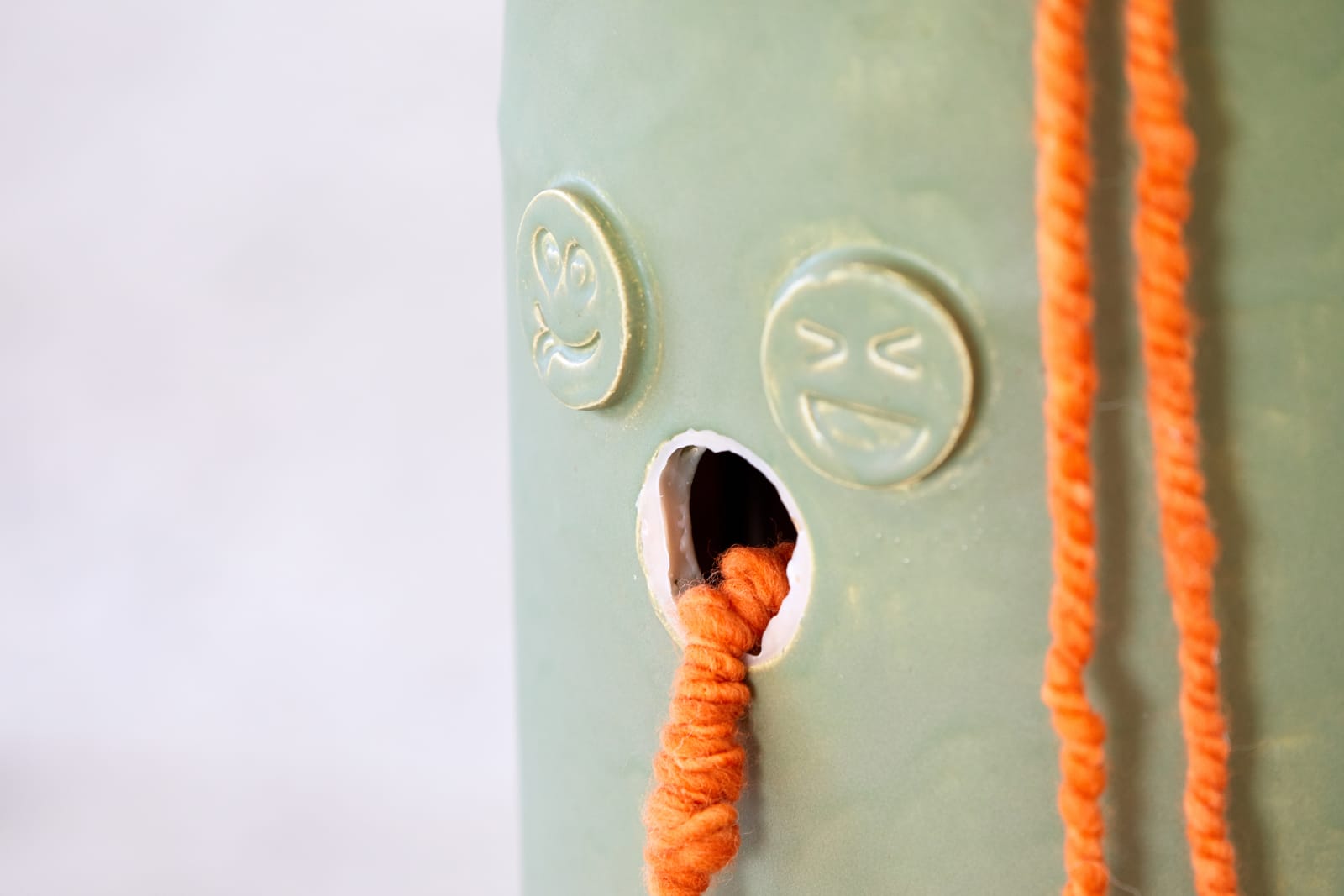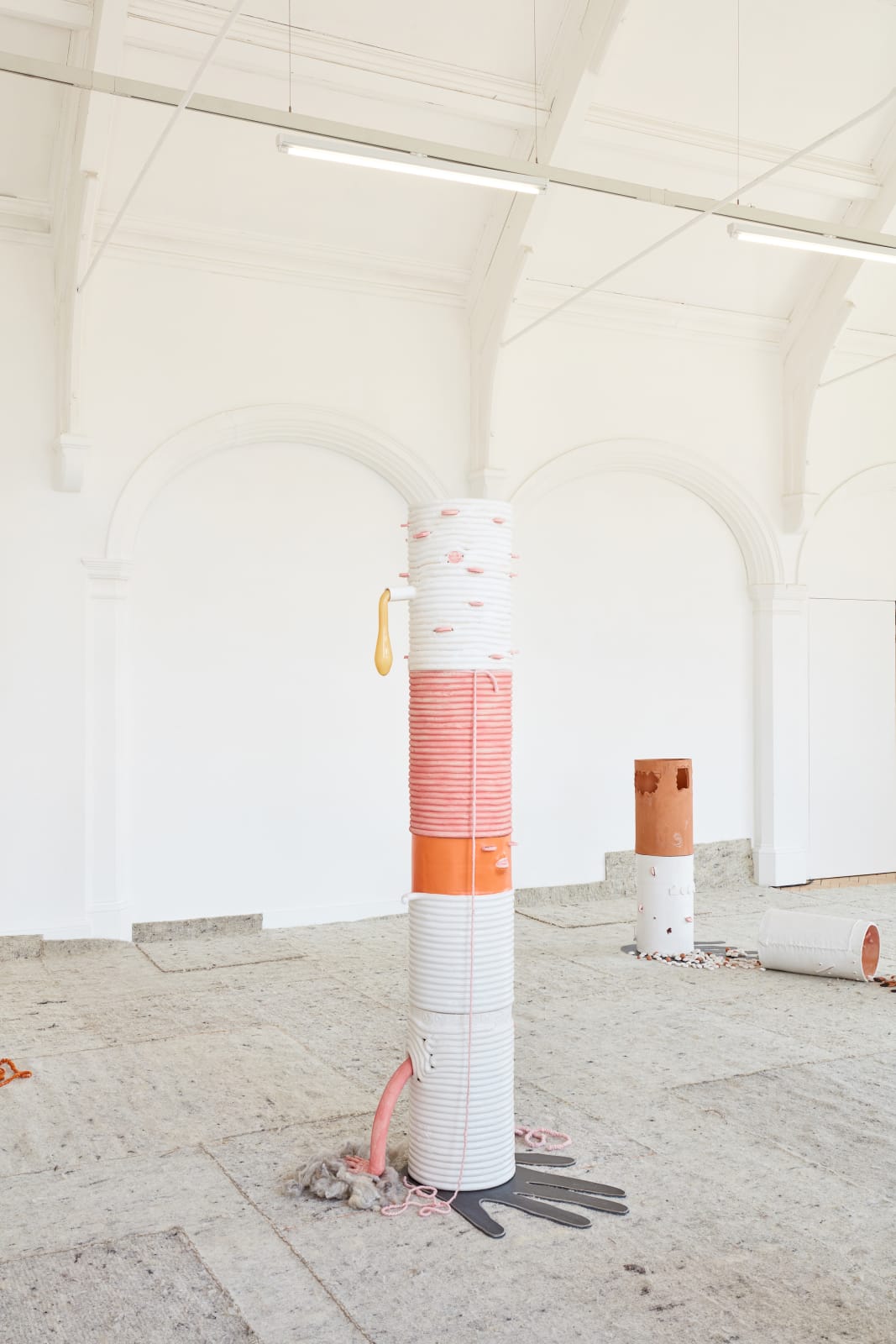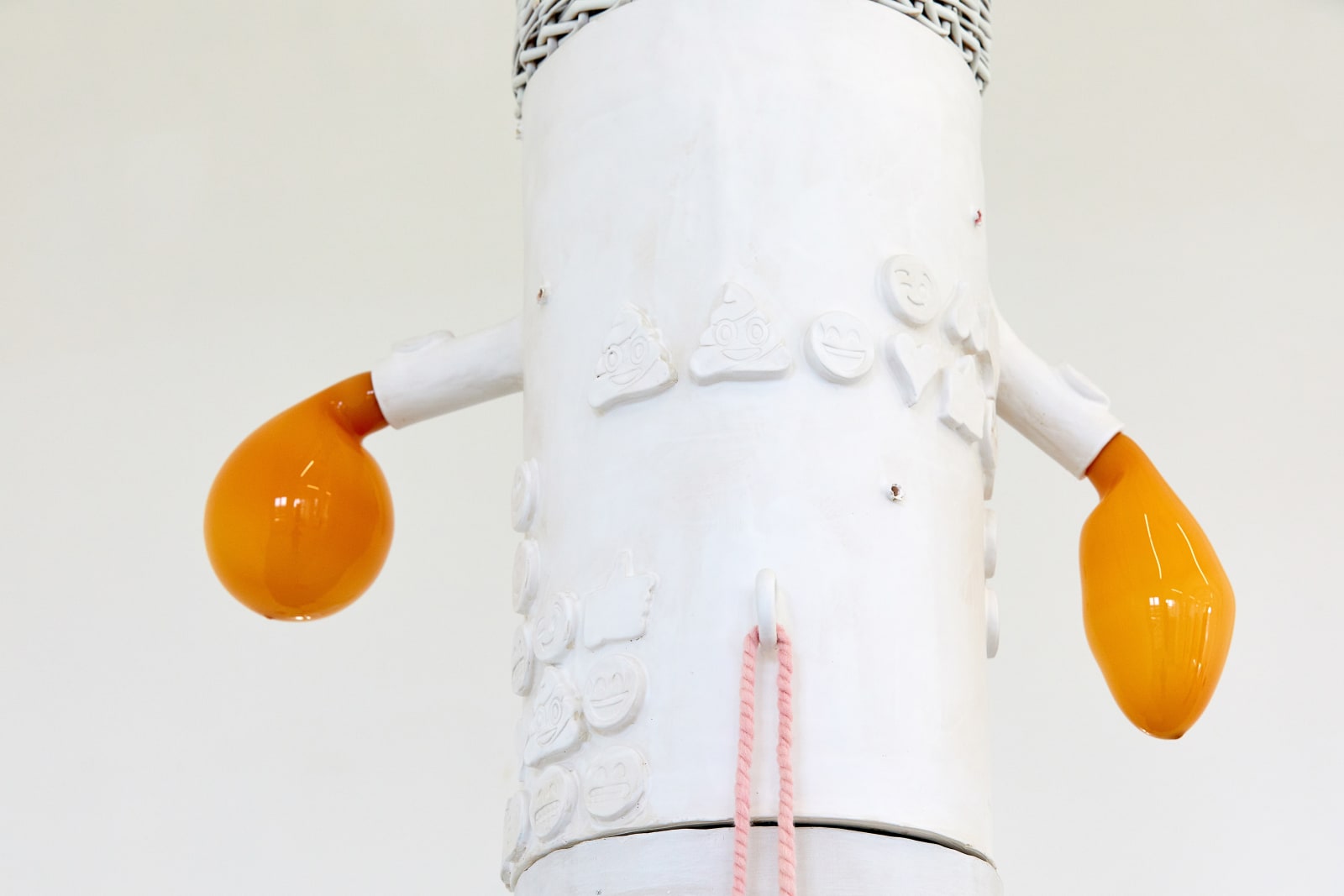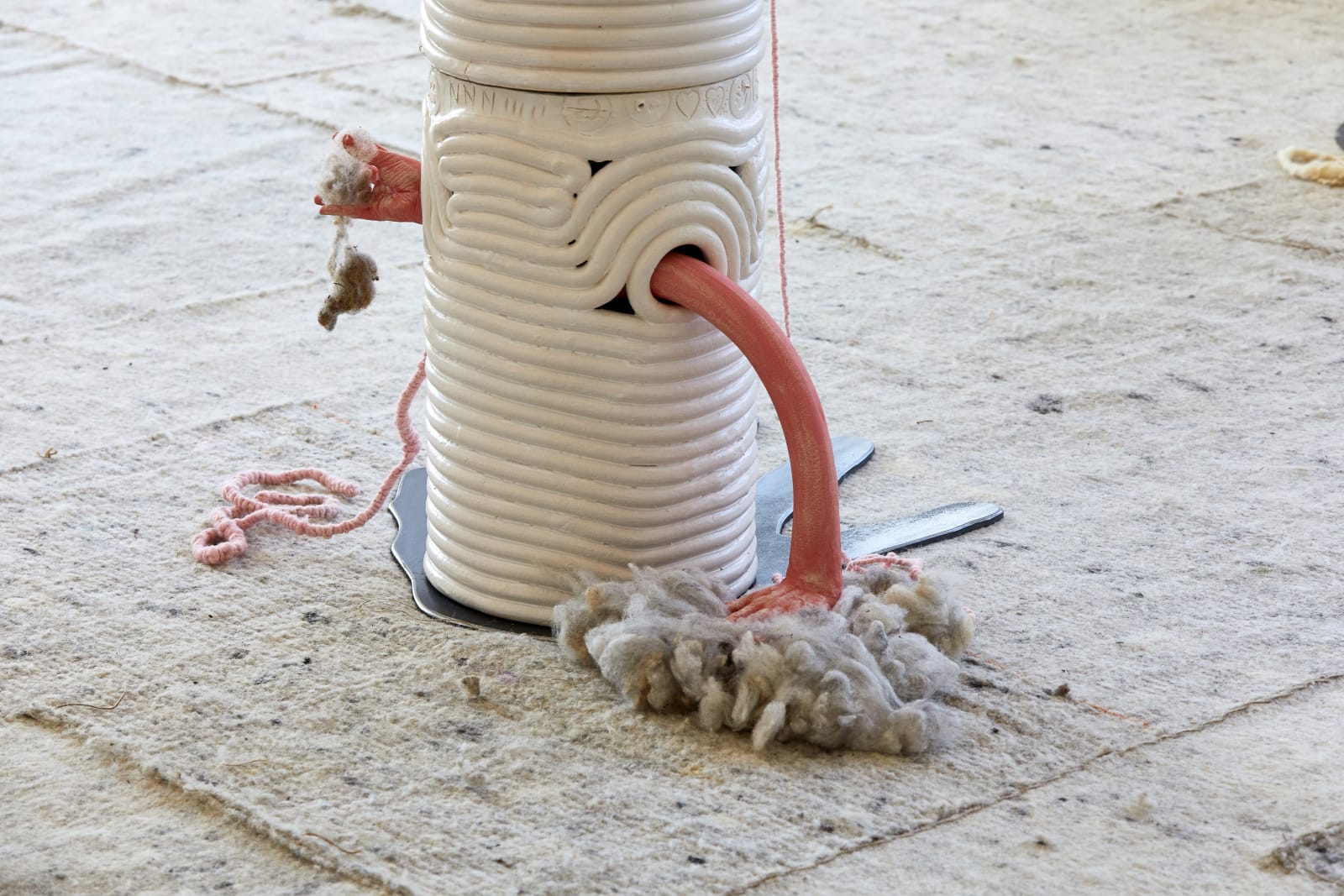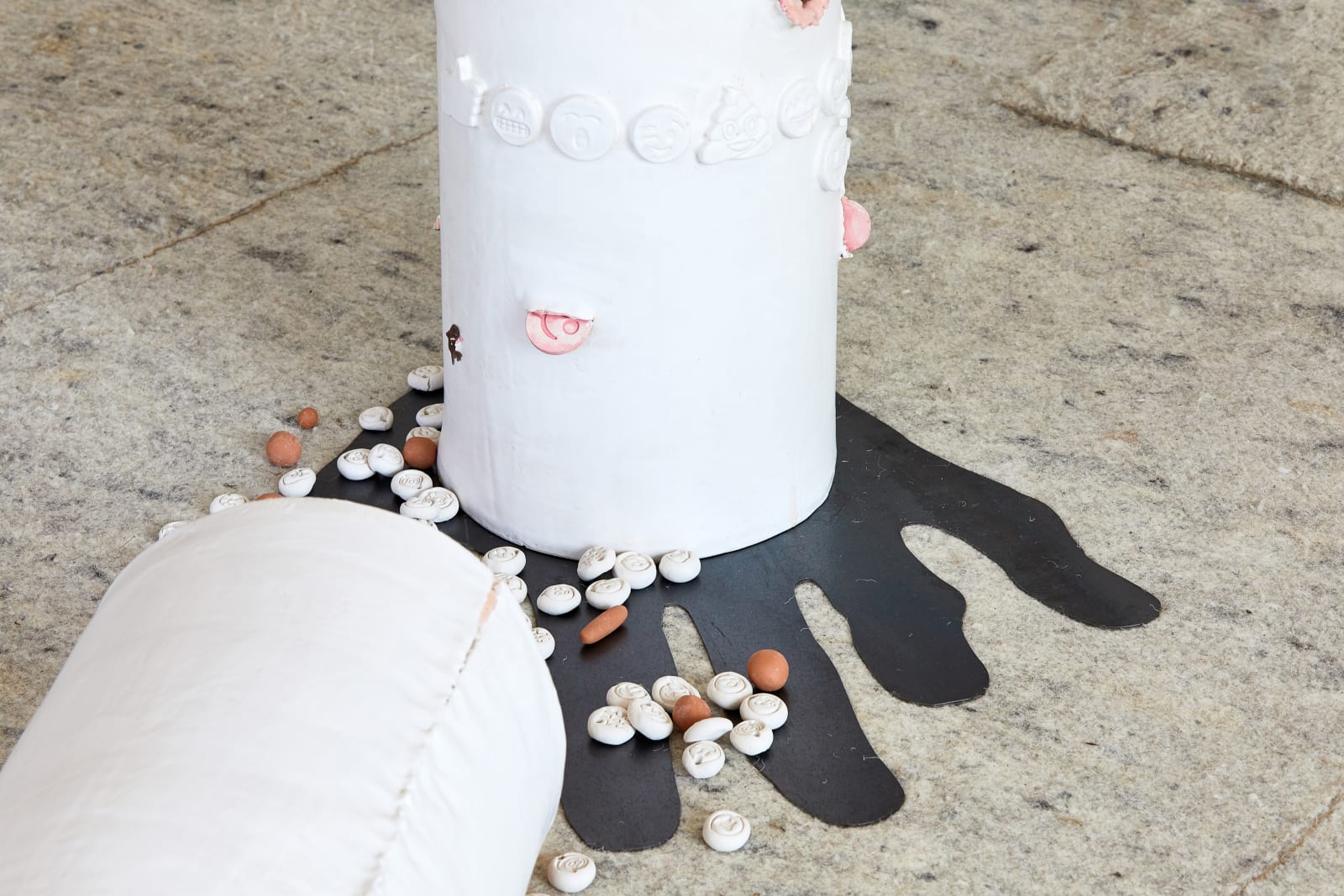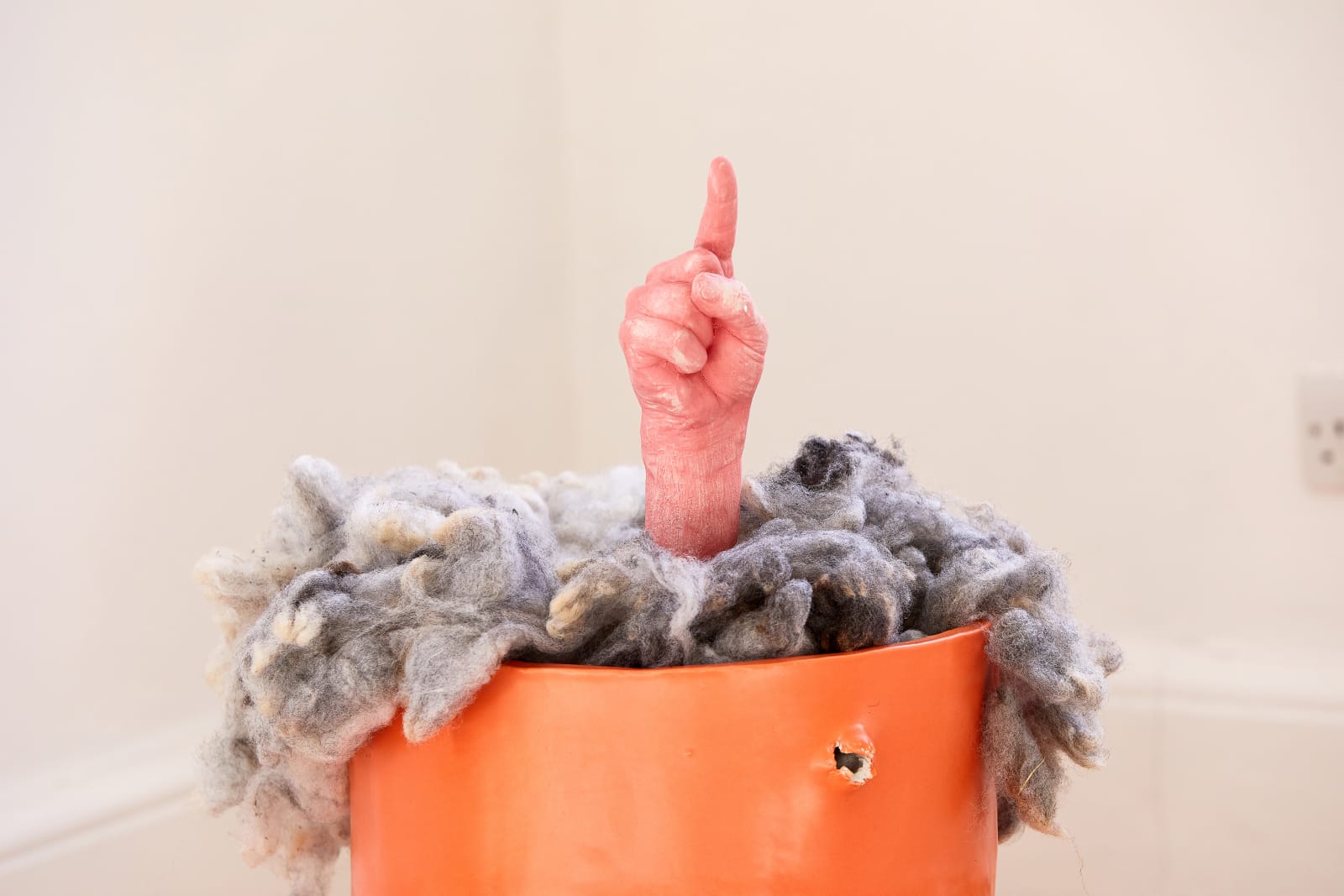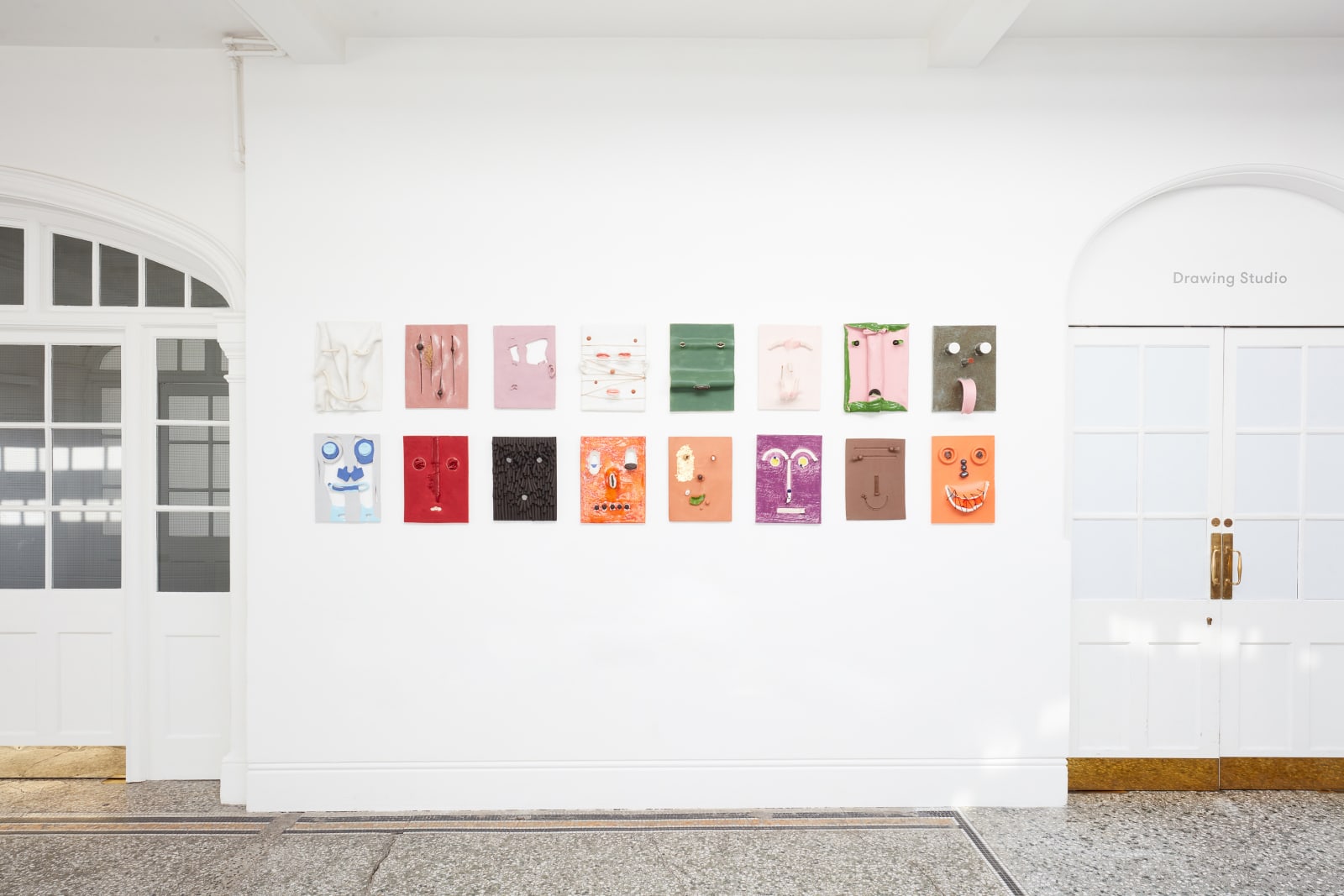 "During his residency at Camden Arts Centre, Jonathan Baldock has been emptying out large bags of wet clay, which he rolls flat, and fixes together to form tubes that he works over before leaving to air dry. Once the resulting segments have been fired and glazed a matt, stone white, they are sealed together like bricks, forming cylinders that are then stacked to make towering pale columns, which will be grouped together. They recall the thrusting, phallic colonnades of classical architecture. Yet the artist has flipped the suggestion of the pure, durable, chiselled marble that became a cornerstone of Western culture, on its head."
– Skye Sherwin (Art Critic, The Guardian)
"When I started thinking about this exhibition I was in the British Museum on a quest to look at ceramic and clay that went beyond the studio potter or the history of clay used in domestic objects. I found myself in the Mesopotamian department, looking at cuneiform language on these clay tablets. I thought about how they had survived thousands of years as remnants of the past and then mirrored that with the fastest growing pictorial language today, which is emojis. [The work] records these emojis as a pictorial language, but they are also a kind of ruin for the future." – Jonathan Baldock
Performance, 'The Gatekeepers', with Florence Peake and Chlöe Herington, Camden Arts Centre, London, England (21 June 2019)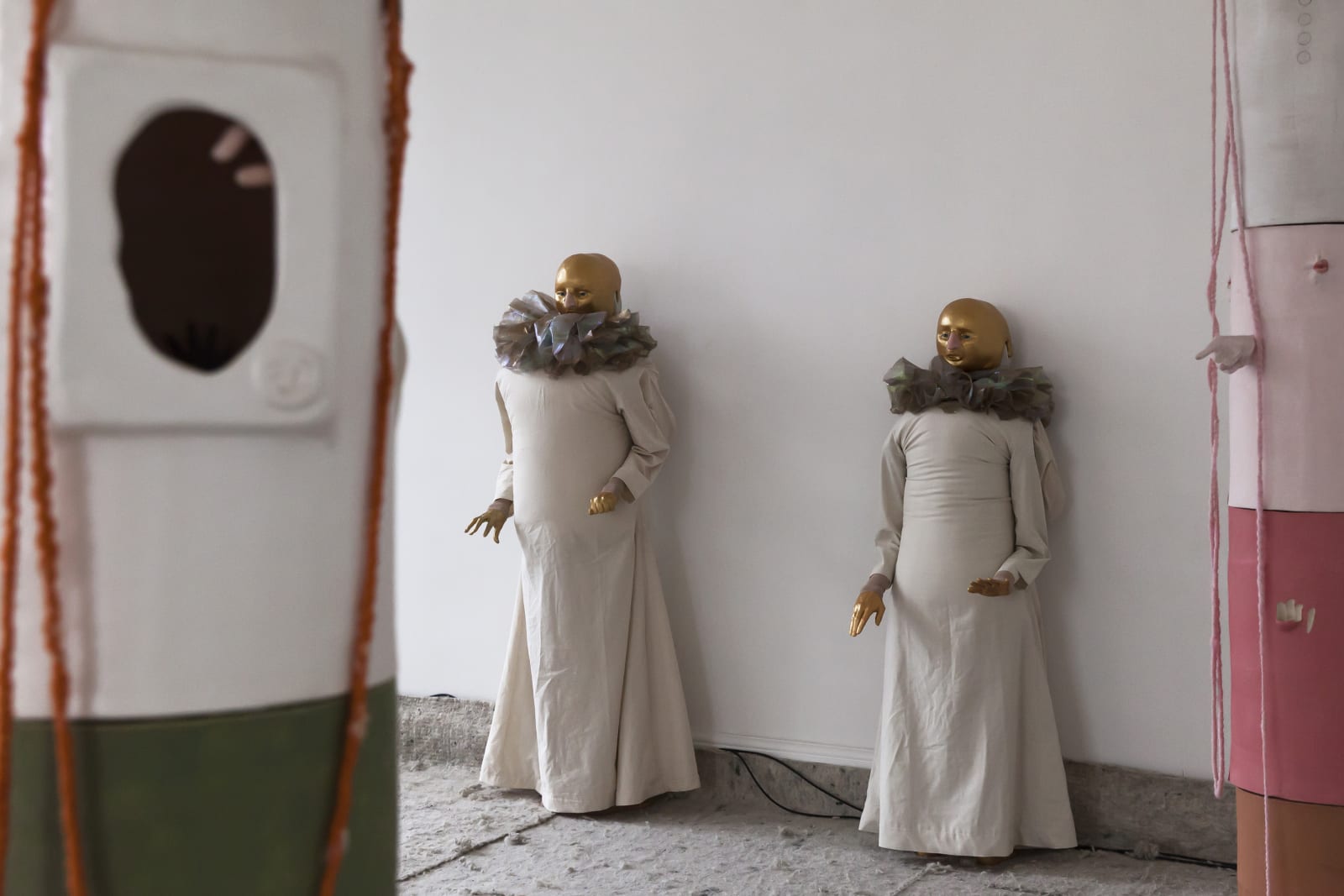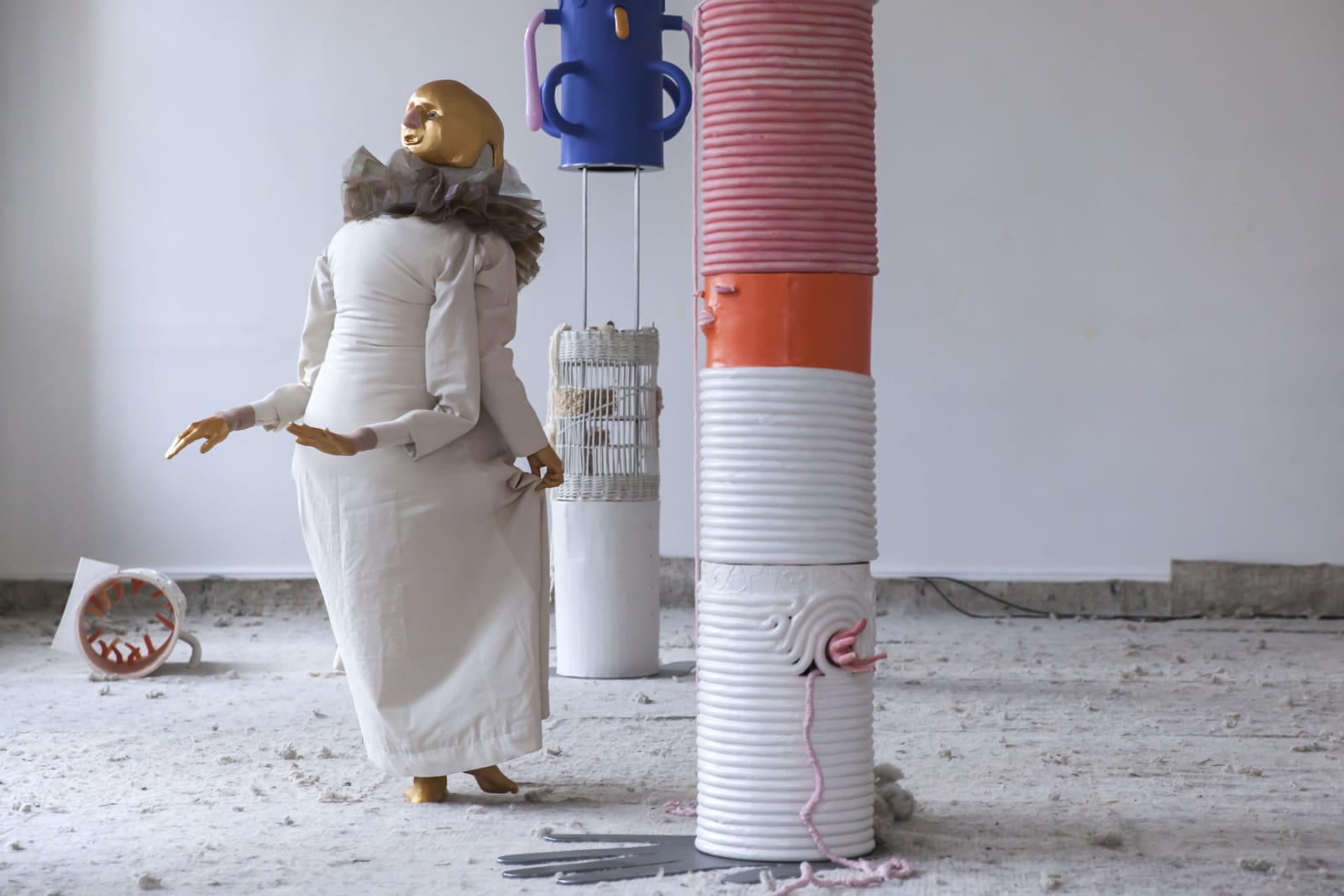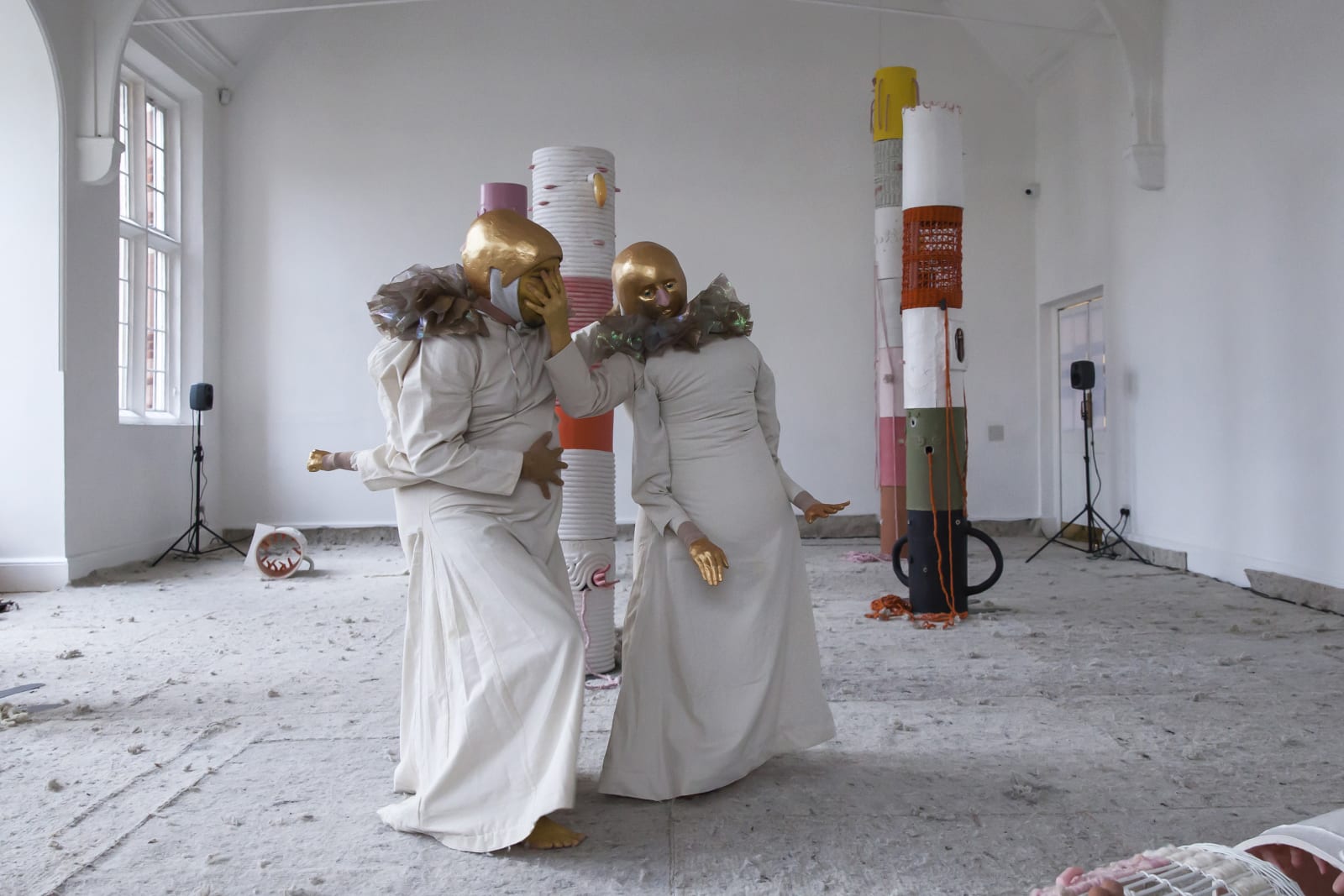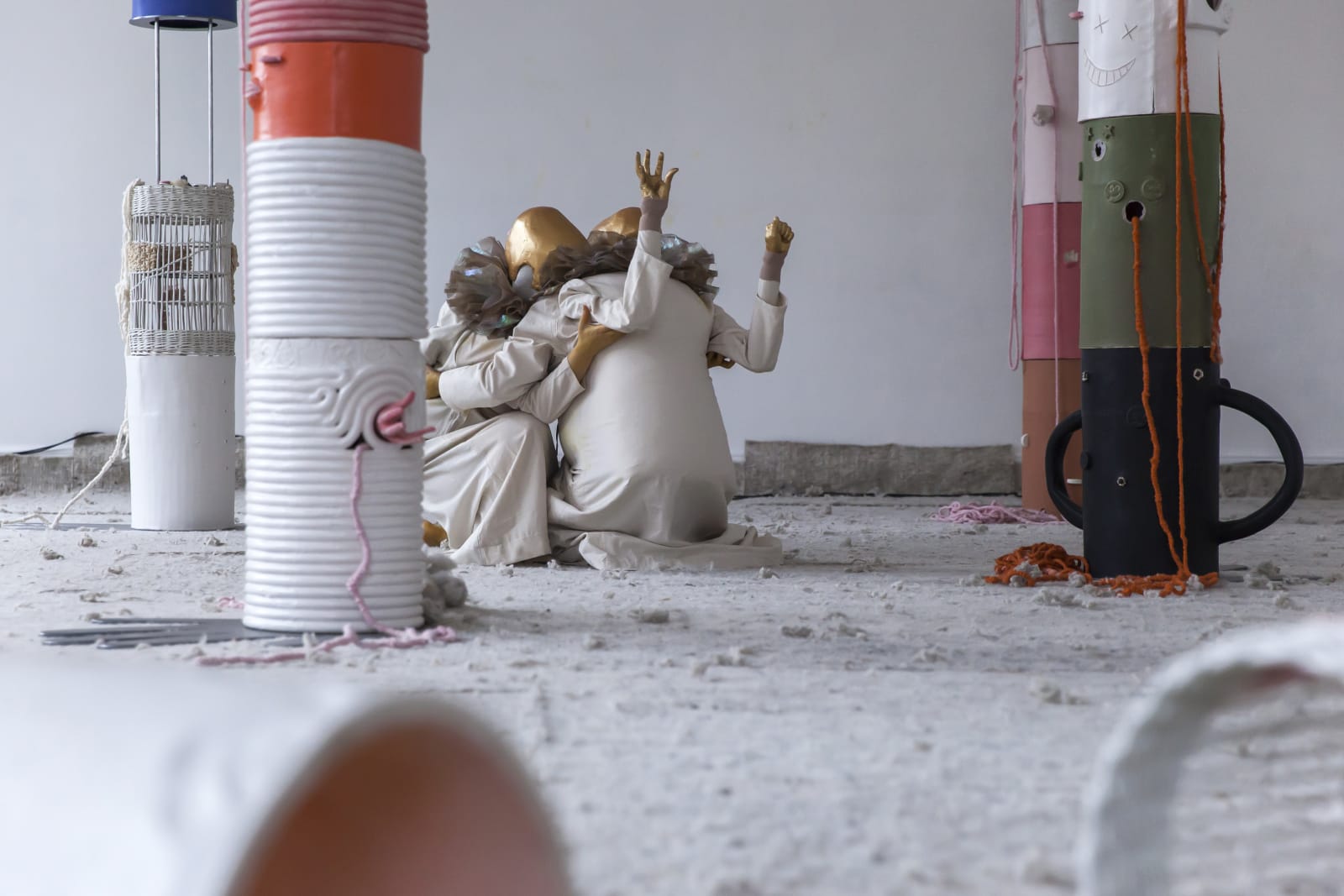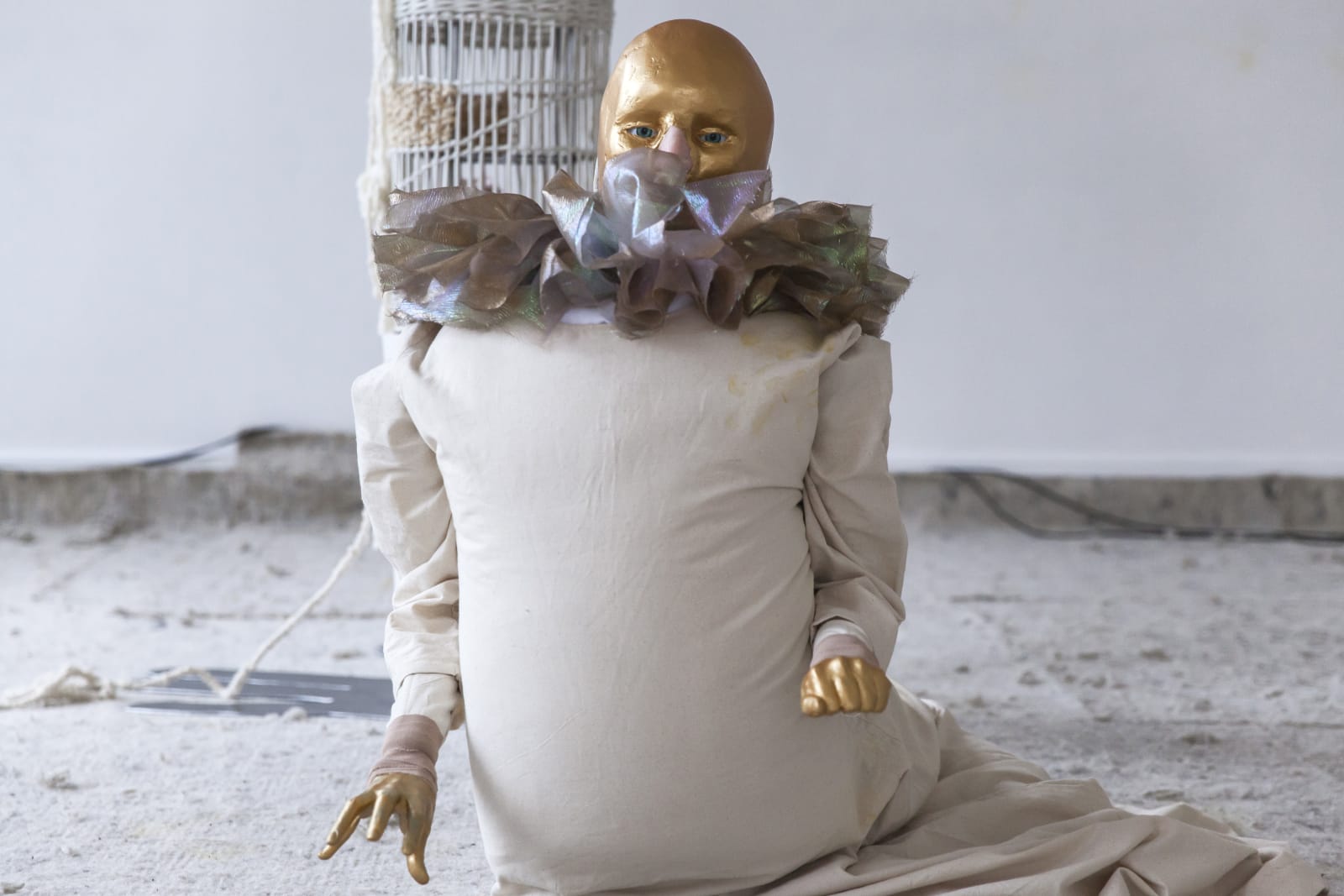 "Baldock frequently collaborates with performers to [explore the] pleasure of dressing up and telling stories. He imbues latent movement in his sculptural assemblages, and together with his collaborators he choreographs at the edges of human form, dancing uncannily at the limits of our recognition. A child's metamorphic talents are put aside when assuming the solid state of adulthood but this avowed theatricality makes them available again. These performances are realisations of incorporation, making the domestic tremble with spasms of potential animism."
– Martin Hargreaves (Associate Lecturer in Fine Art, Goldsmiths, London; Visiting Lecturer in New Performative Practices, DOCH, Stockholm)
'Facecrime', Tramway, Glasgow, Scotland (31 August – 7 October 2019)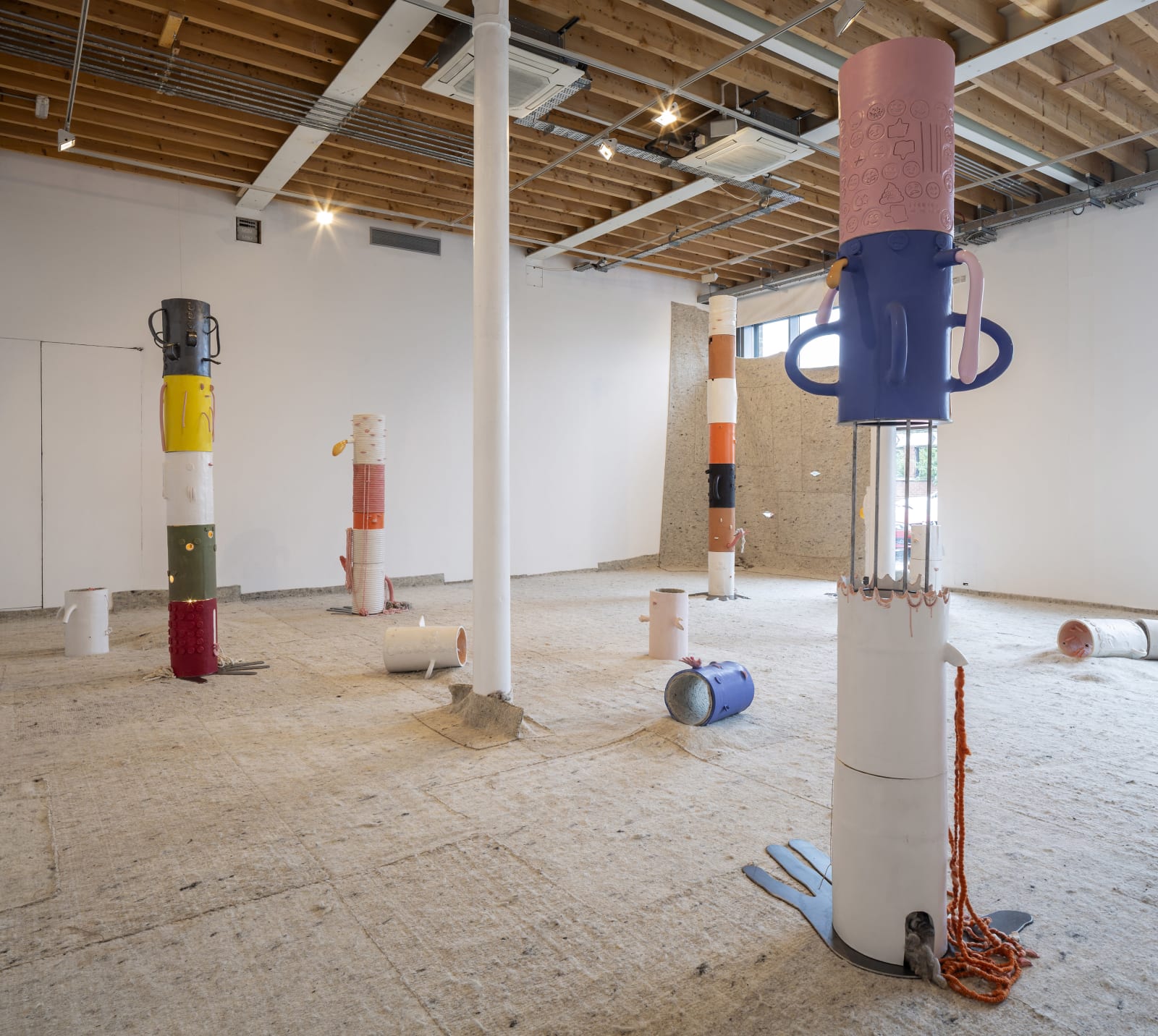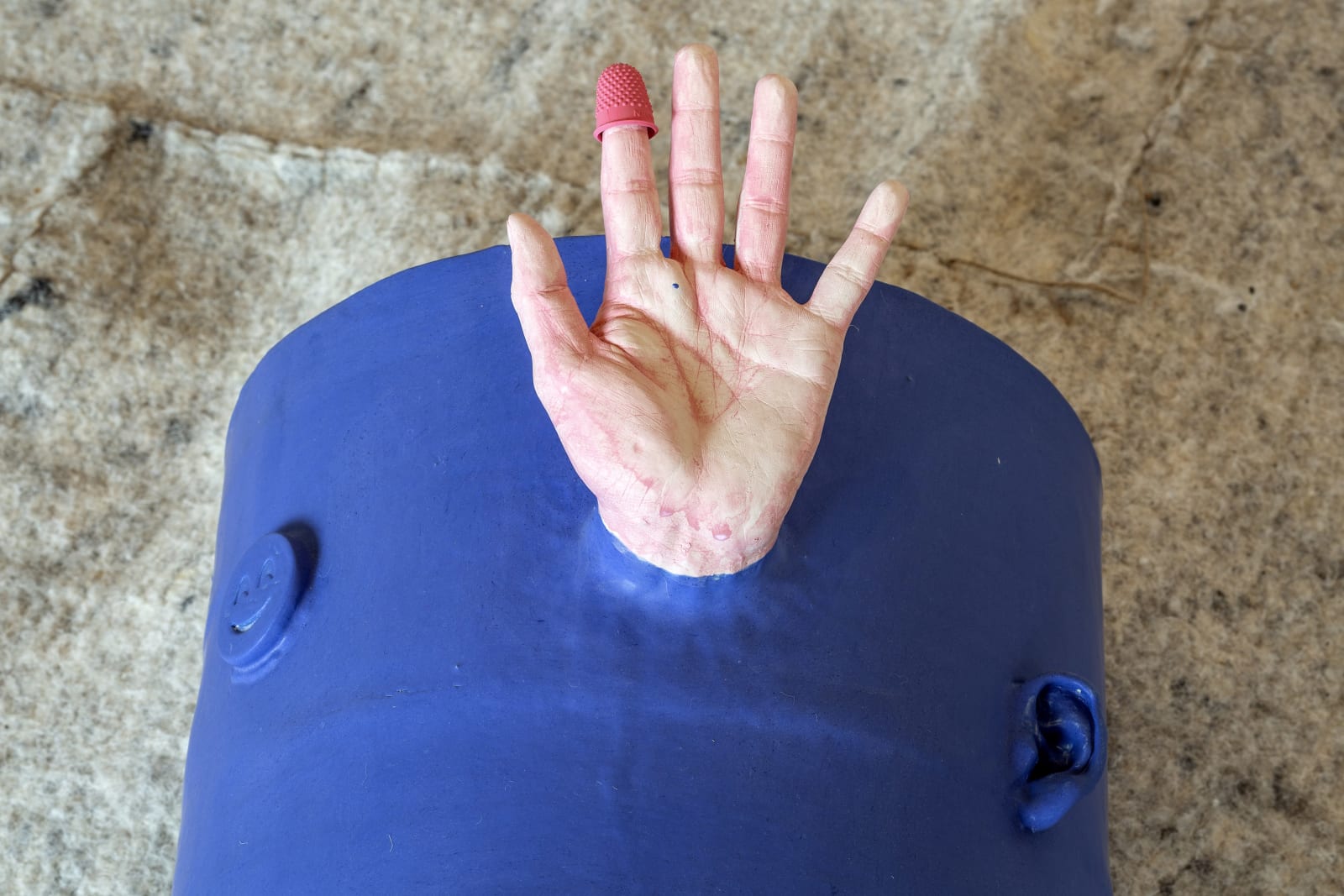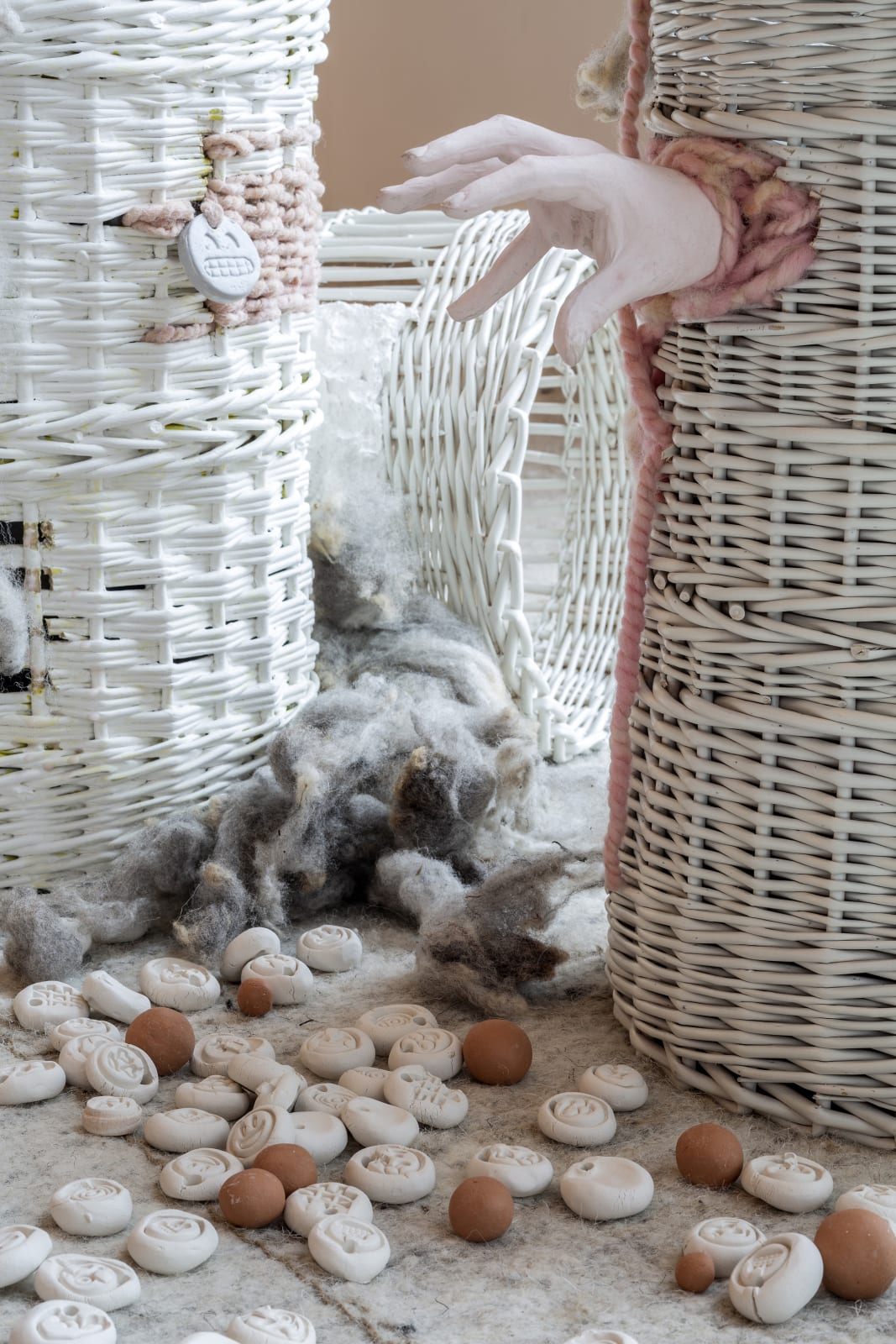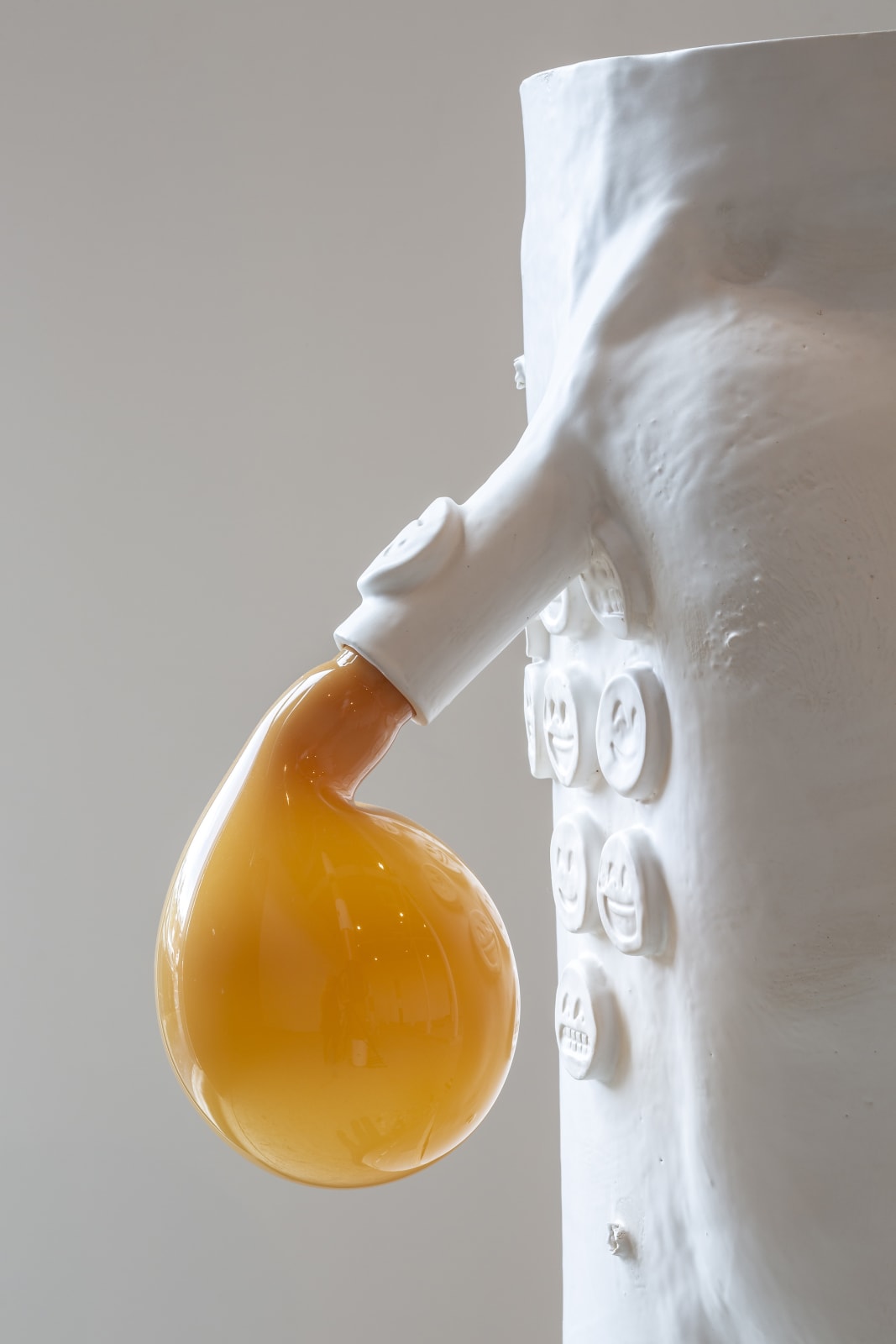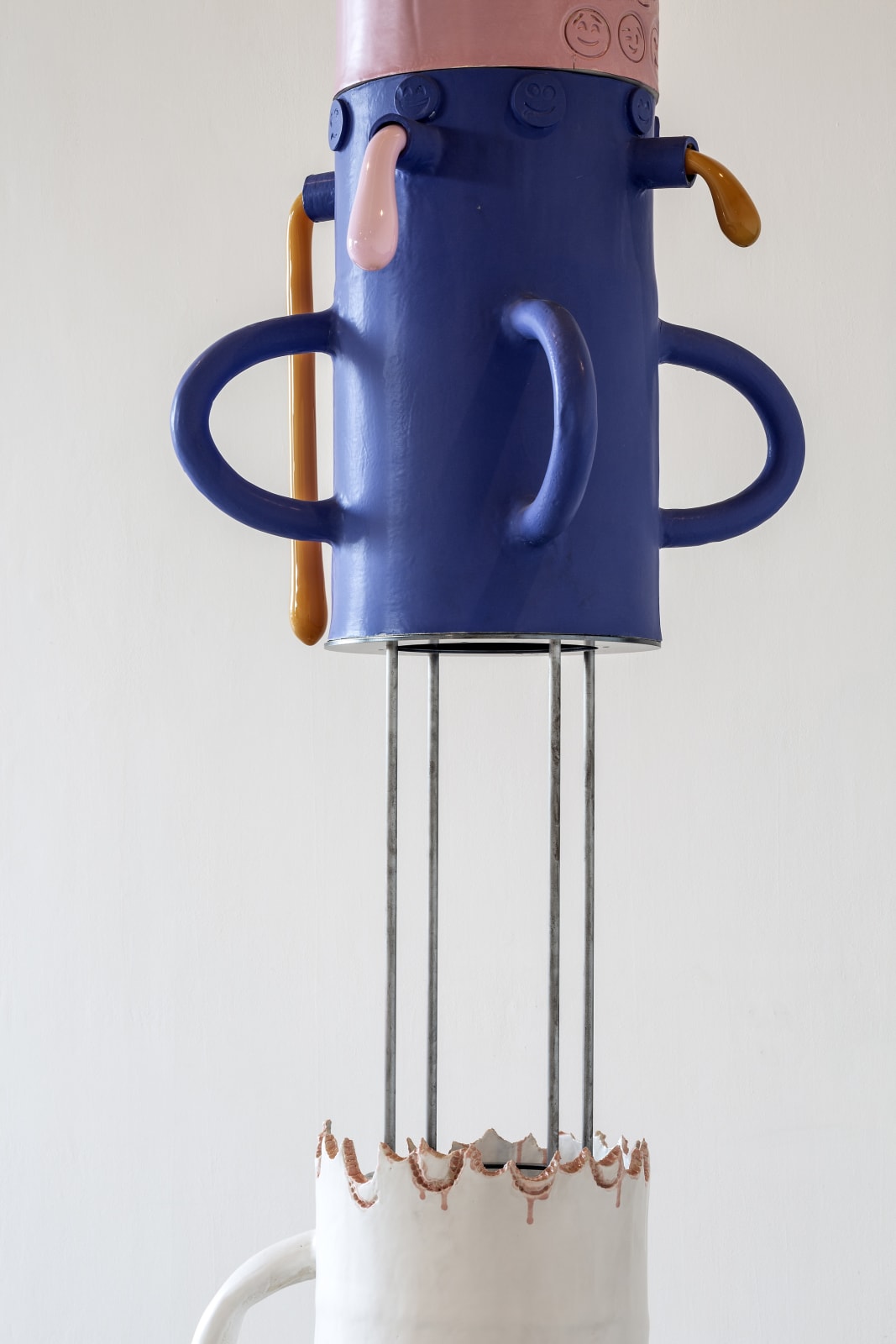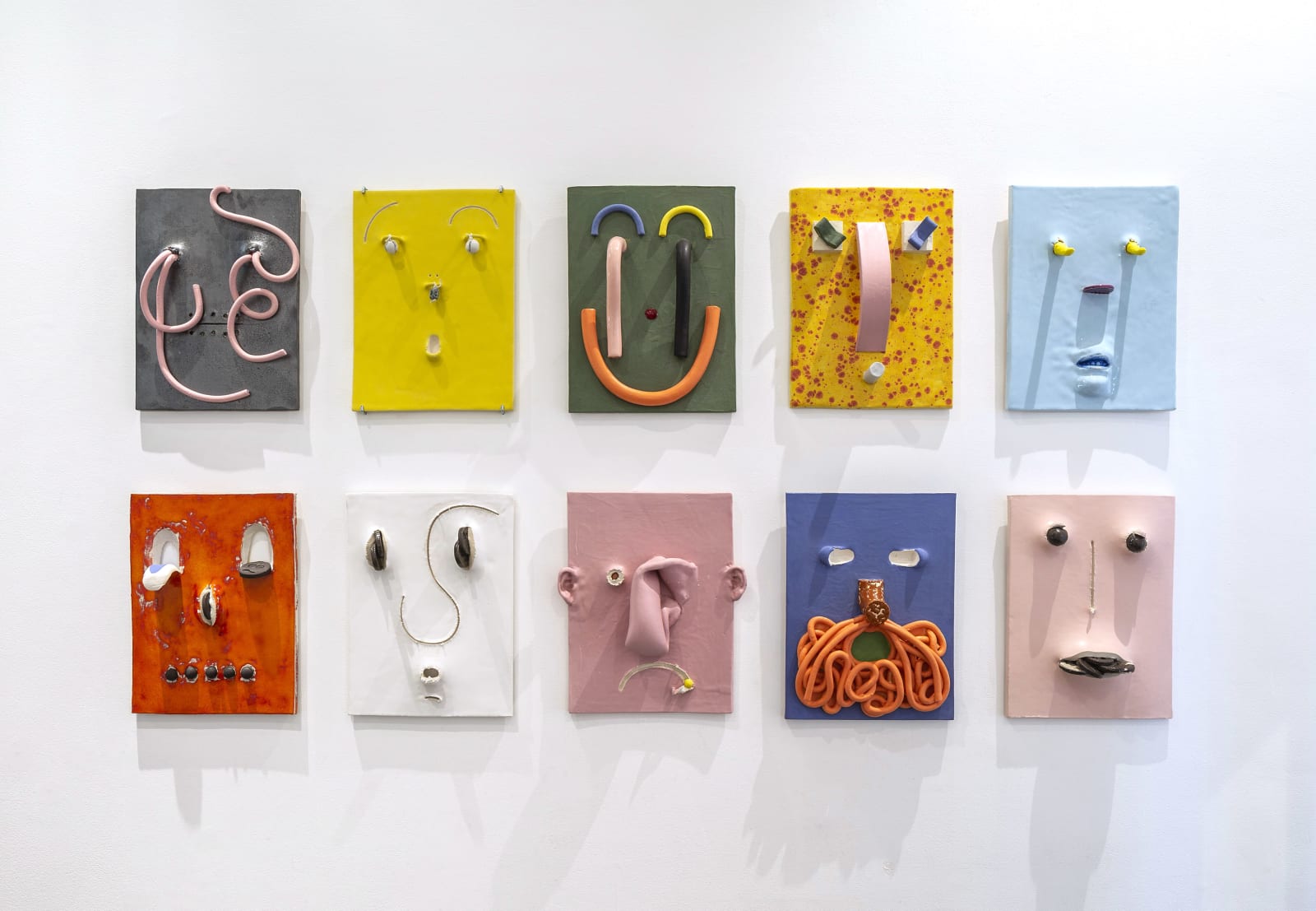 "Ceramic is so bodily for me… [the columns are] about the width of a human body and they also have the marks of my human body as somebody who's made them […] So I really do see them as a cast of characters. They also communicate with each other, in a non-verbal way. I'm really fascinated with non-verbal ways of communicating. These are universally understood means of communication – so things like sobs and sighs and laughters which are found globally."
– Jonathan Baldock
'Facecrime', The Bluecoat, Liverpool, England (13 March – 1 November 2020)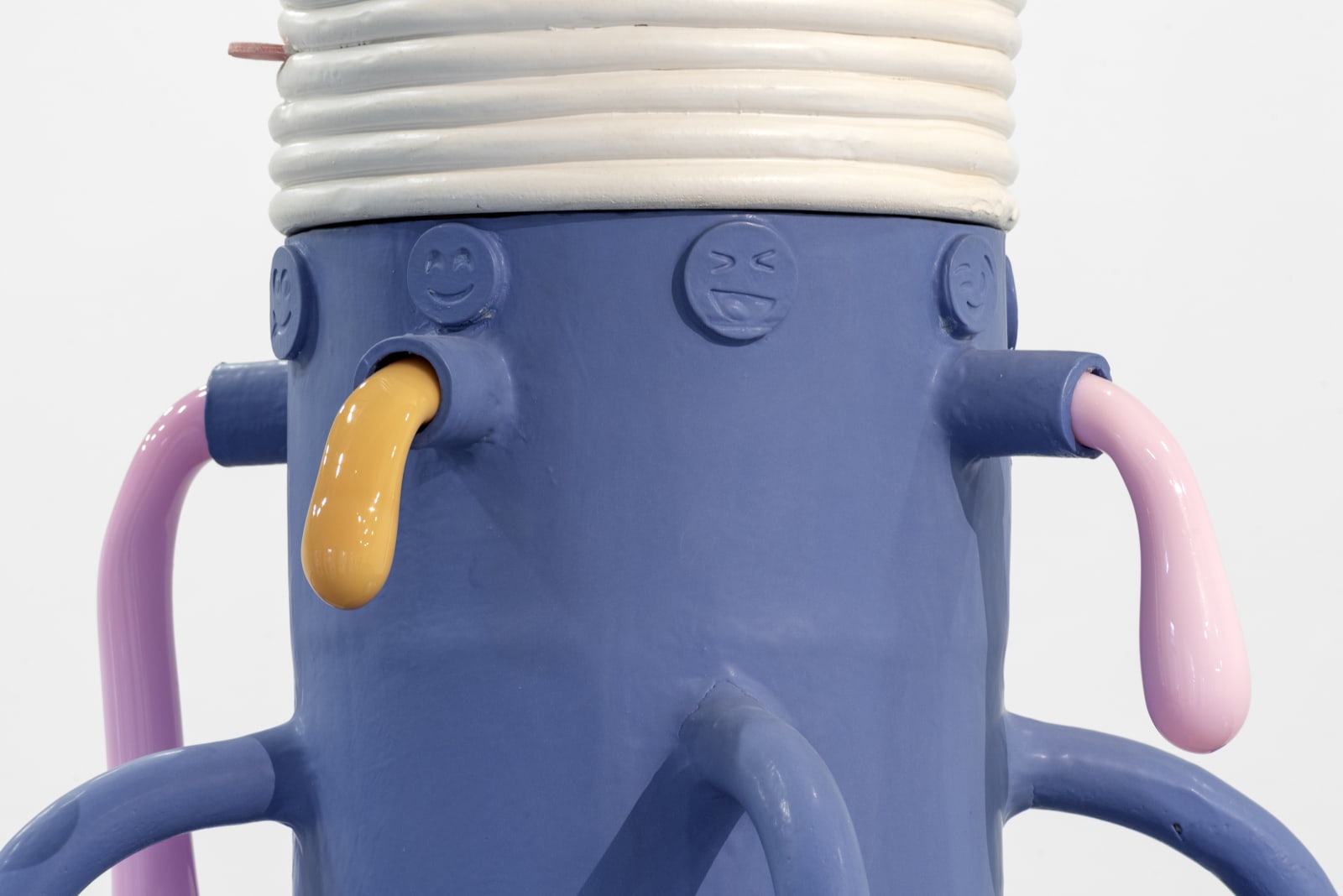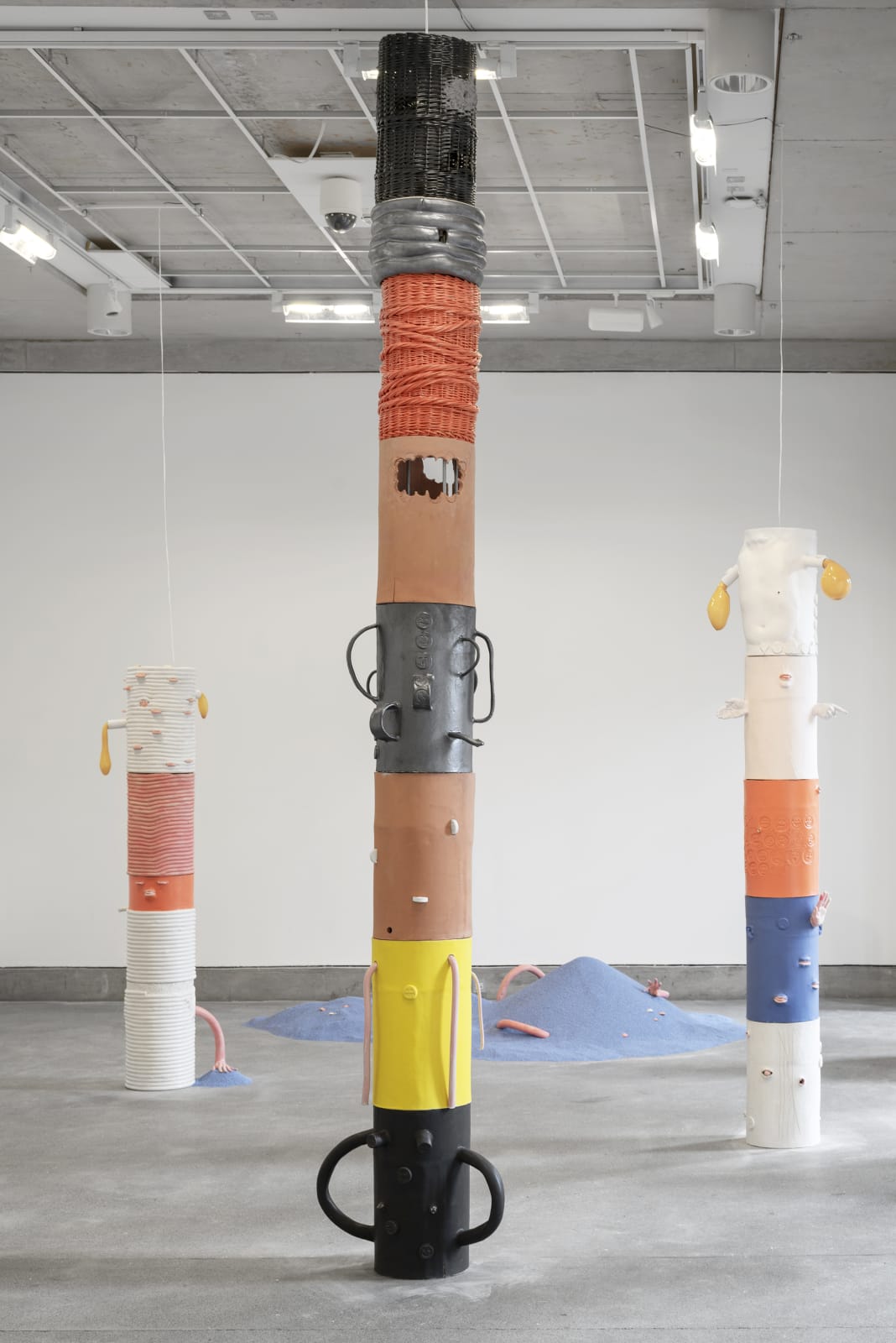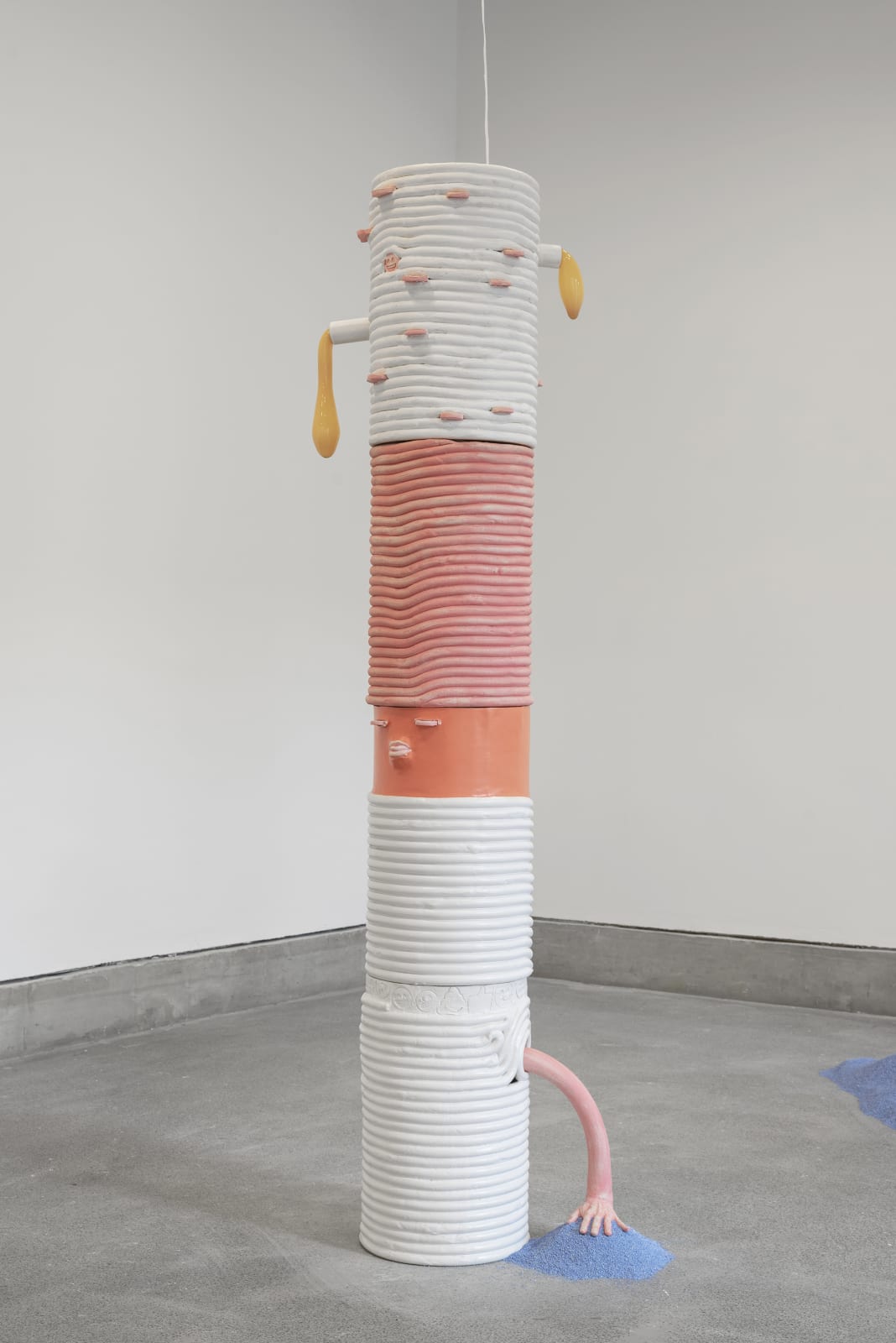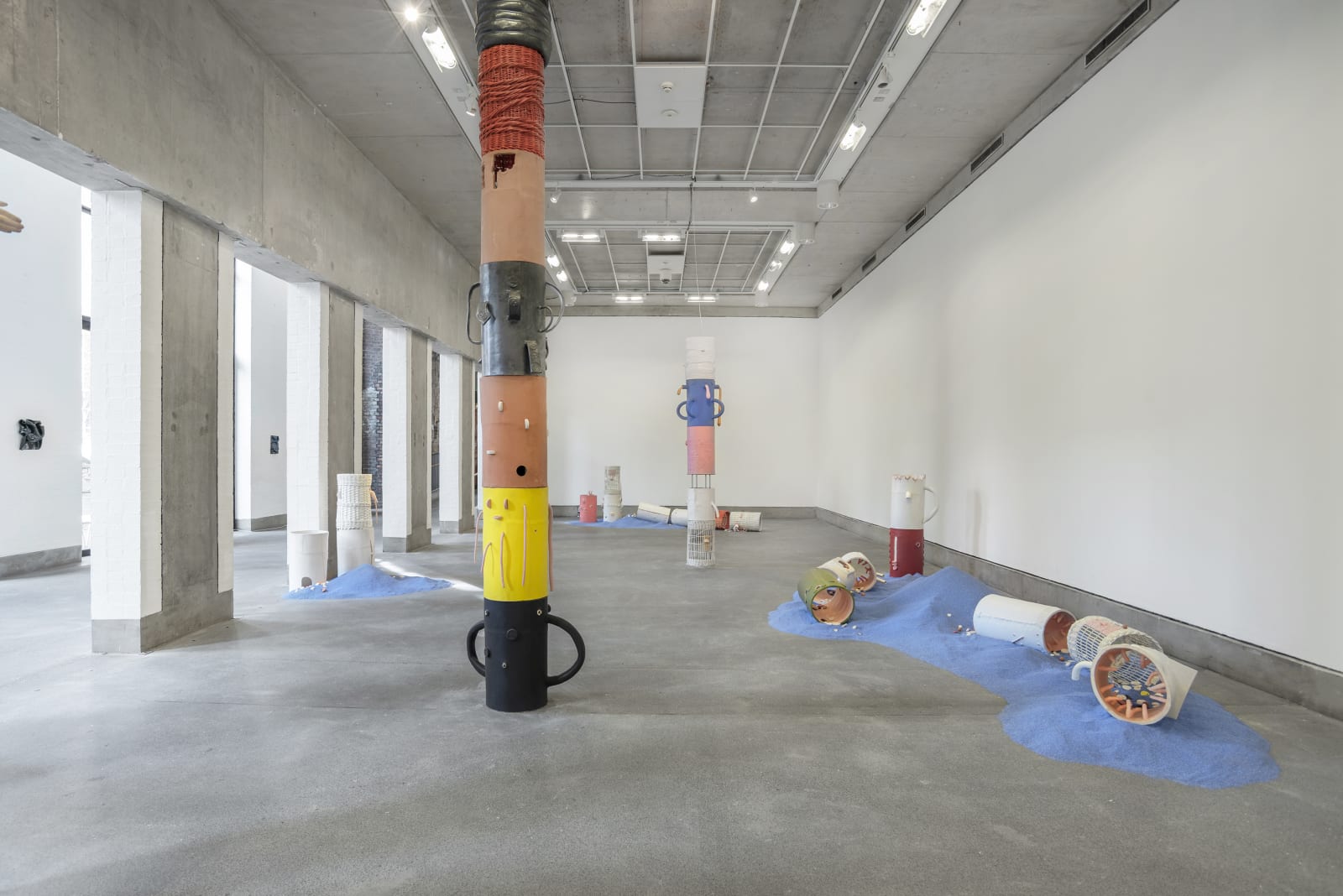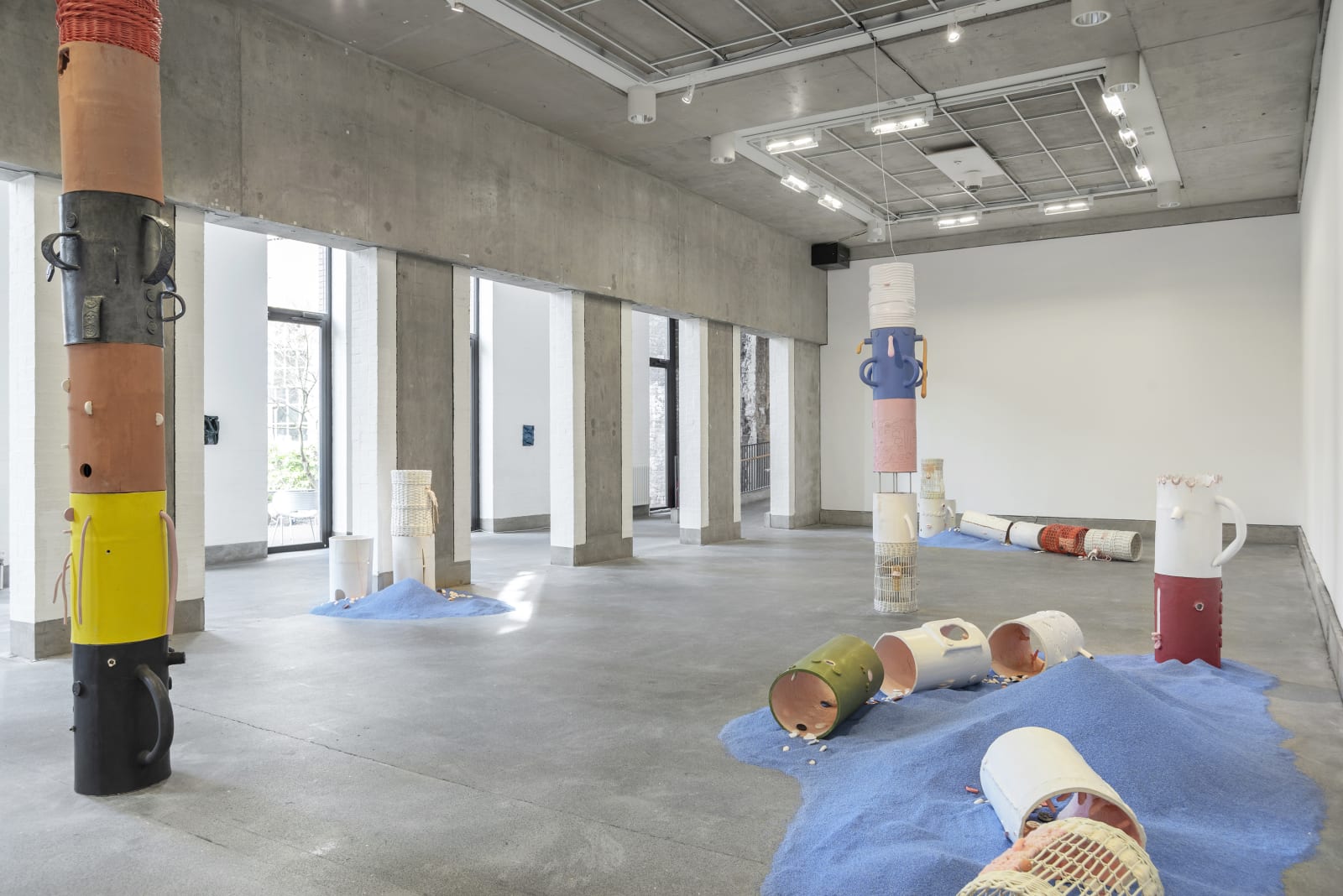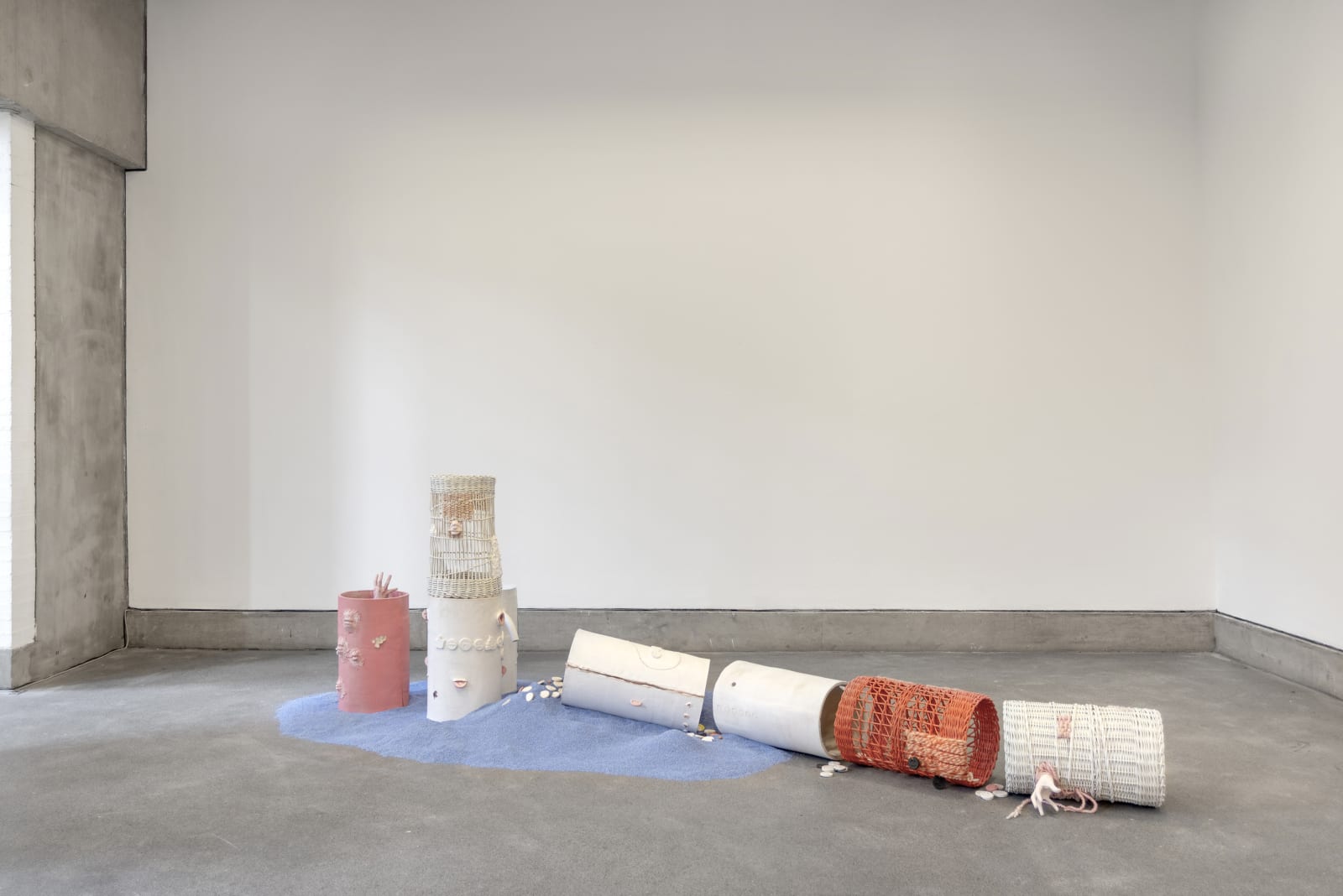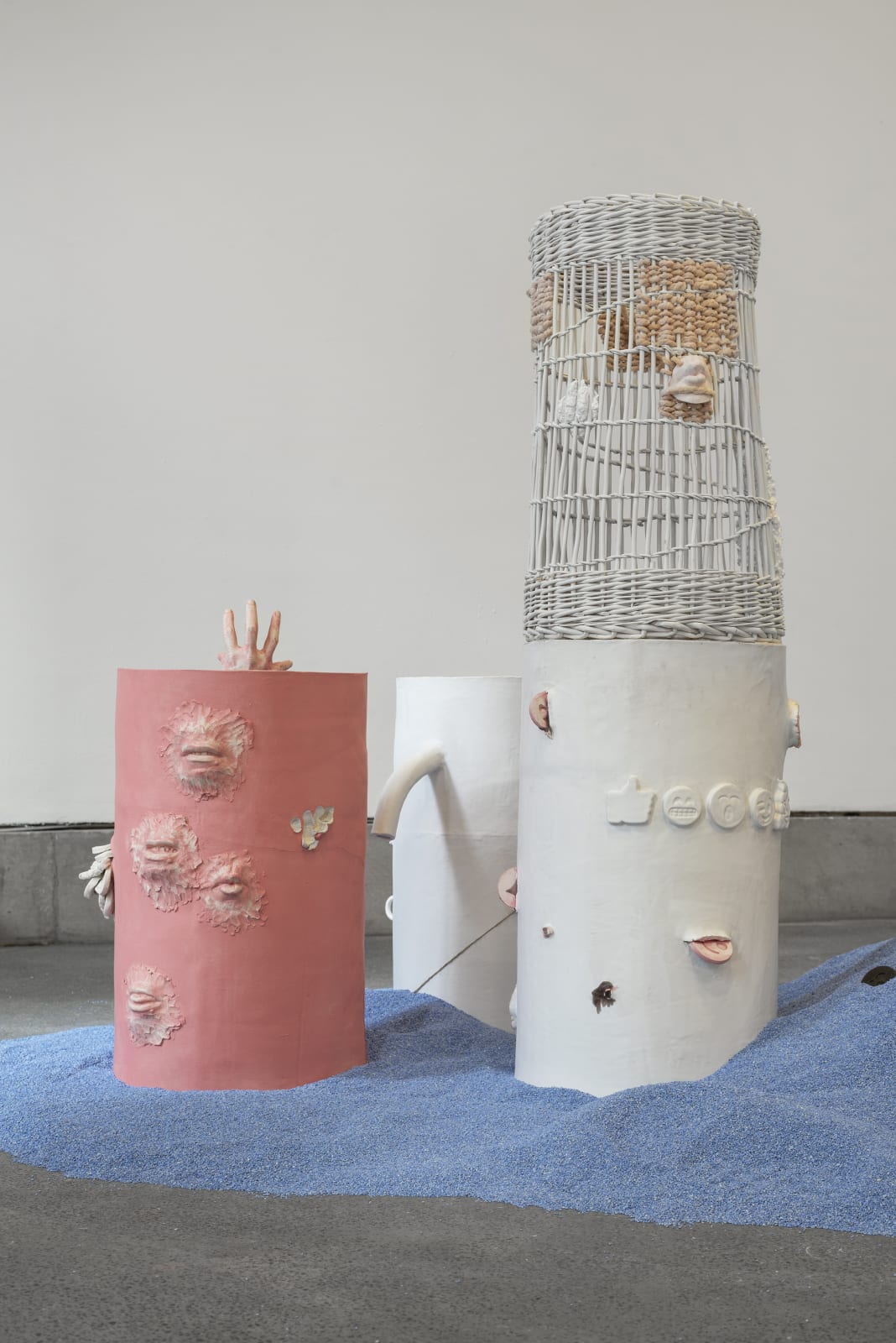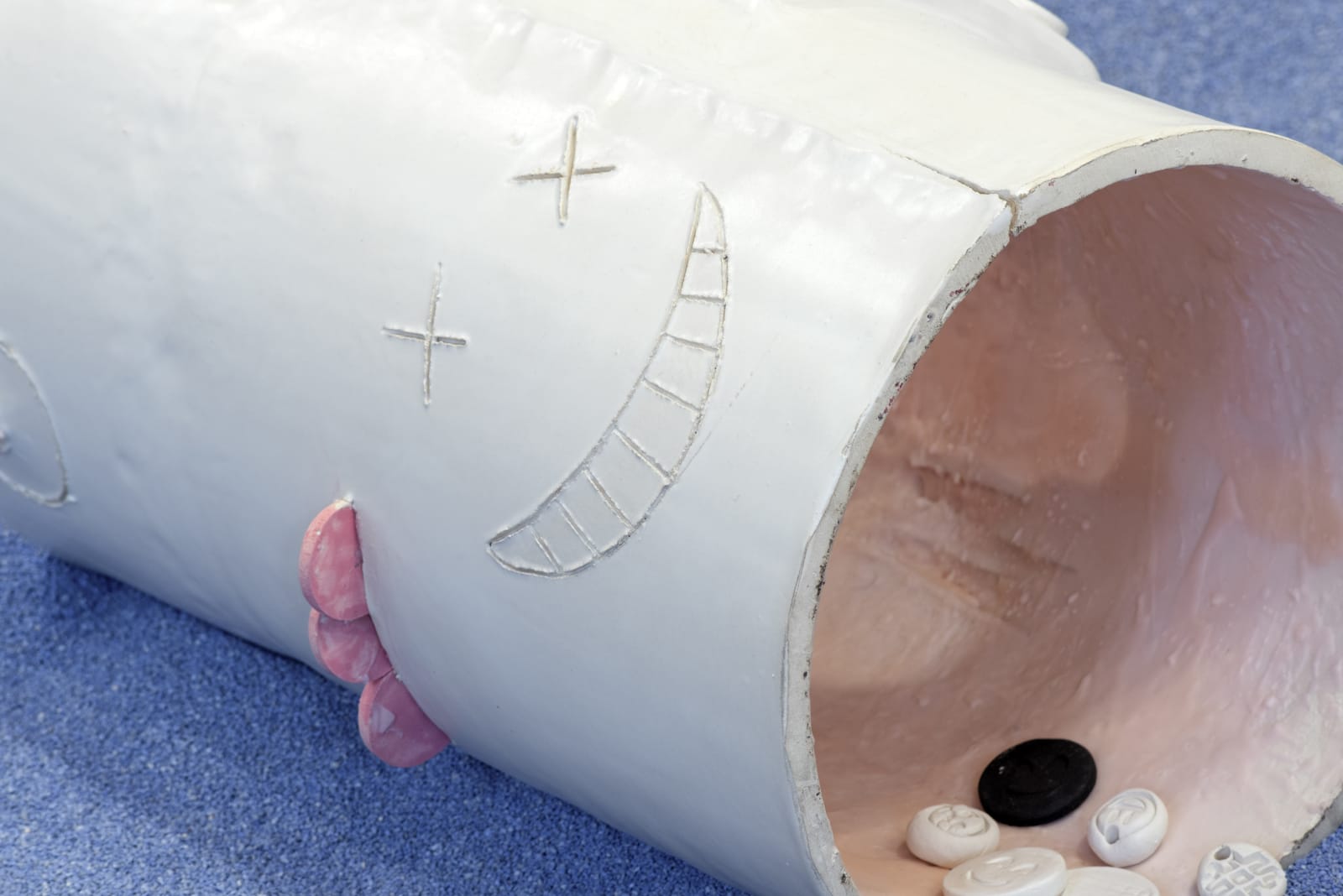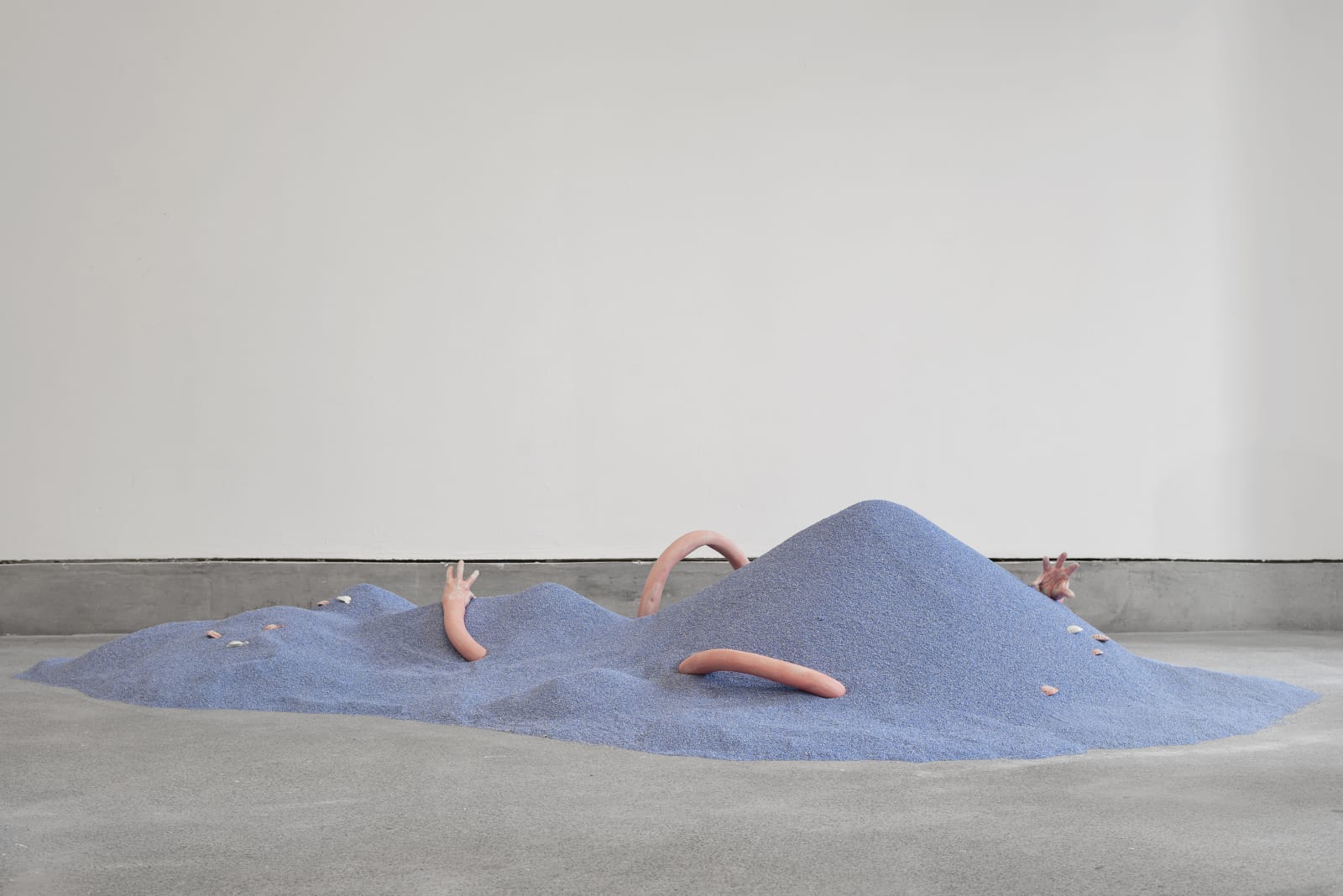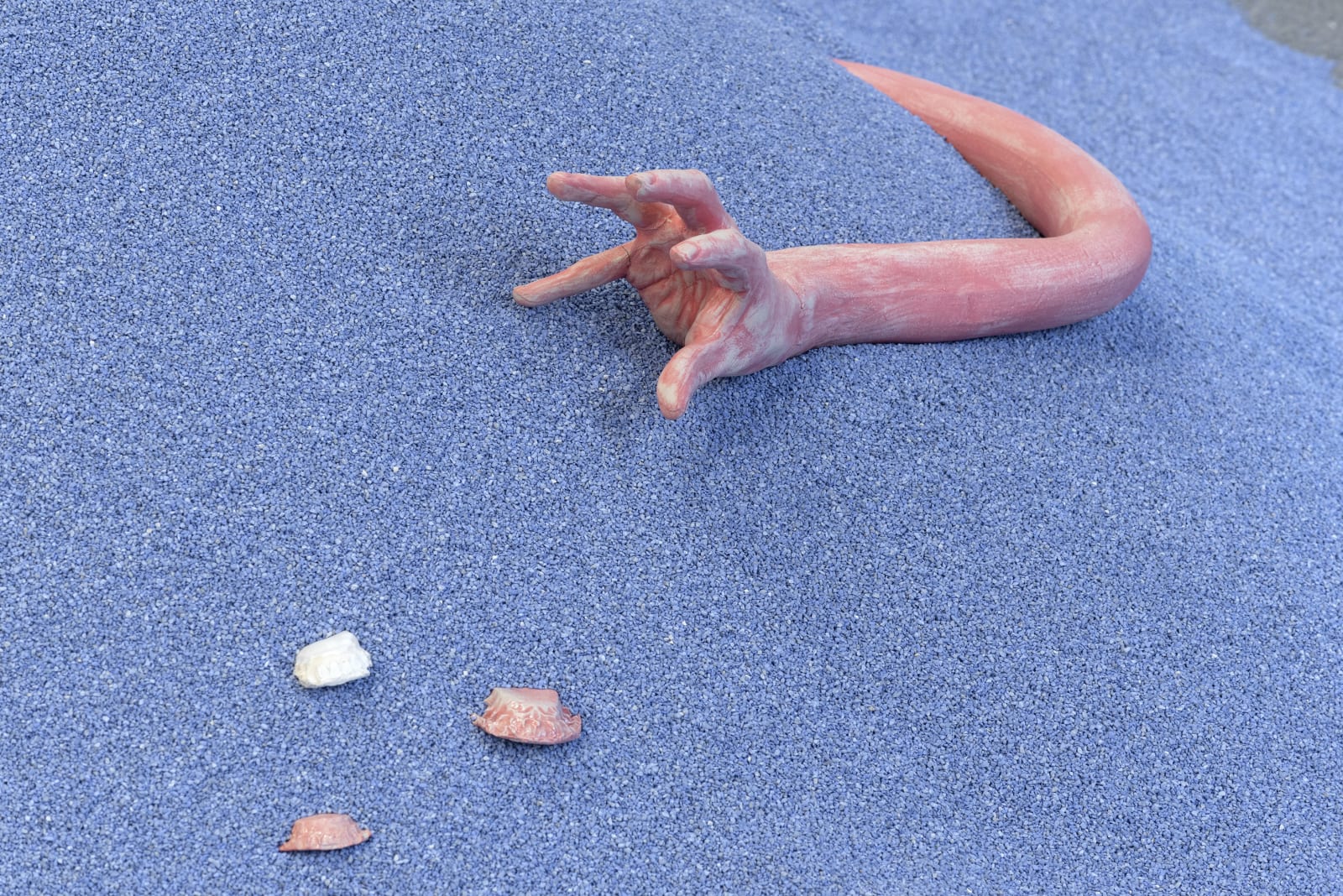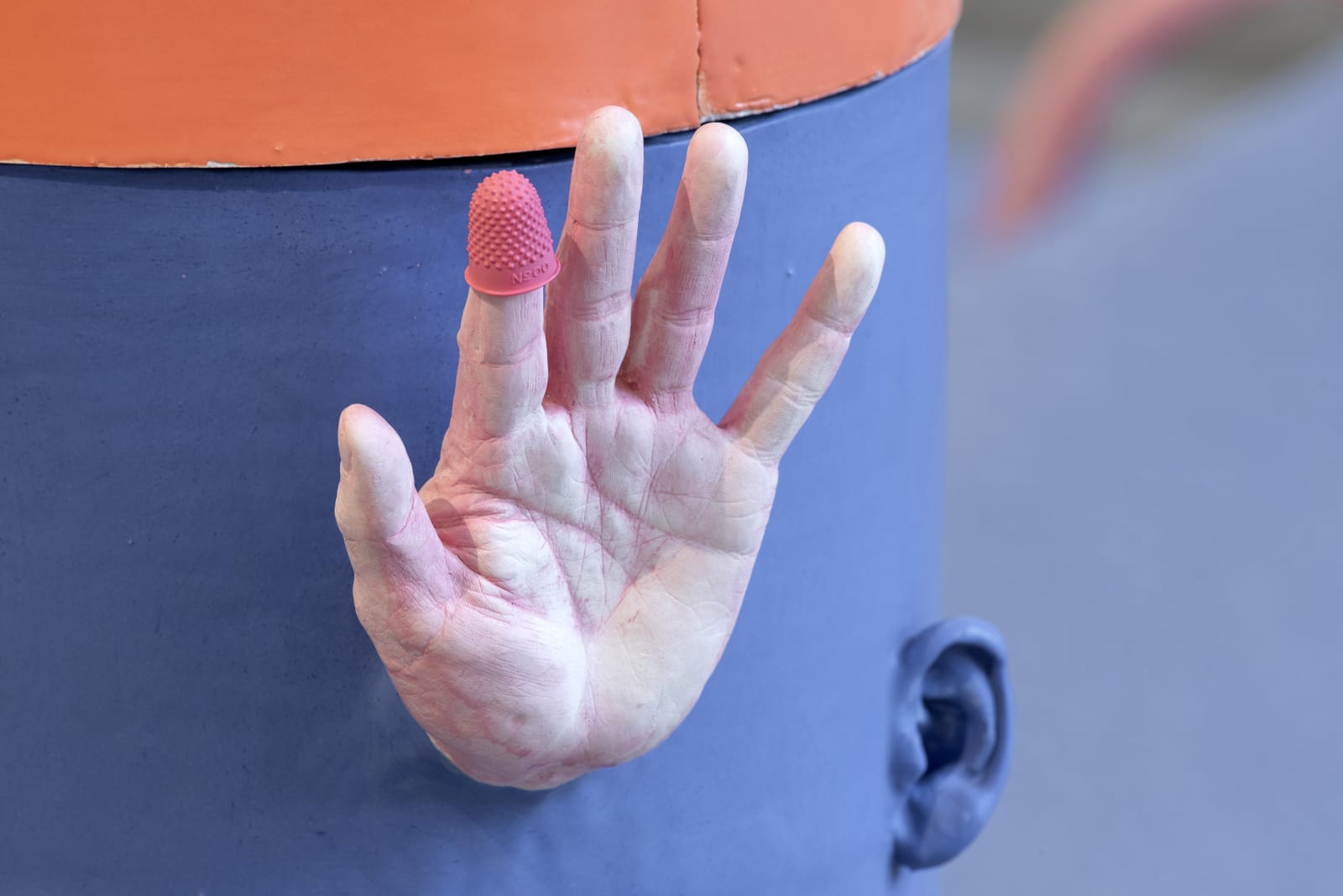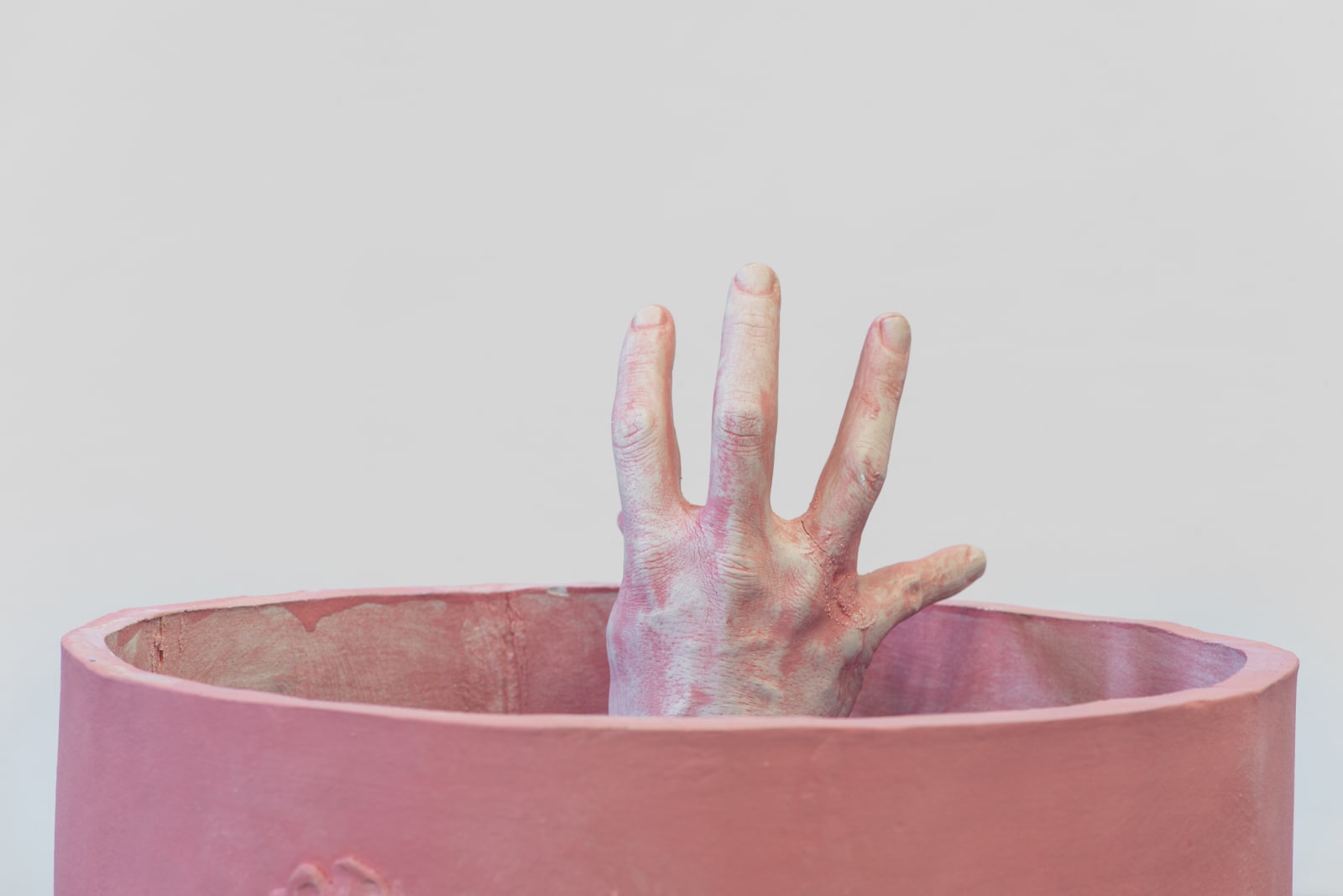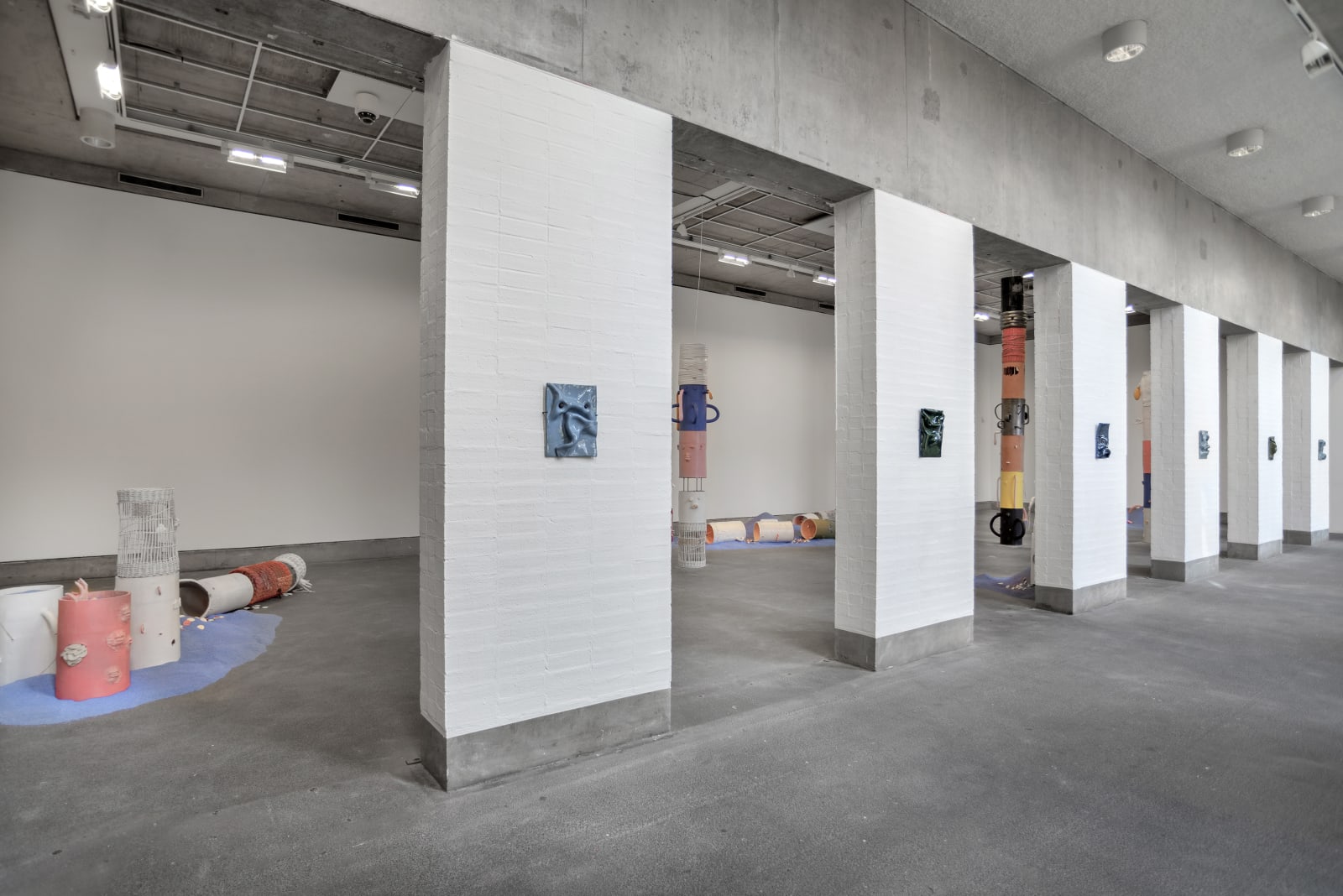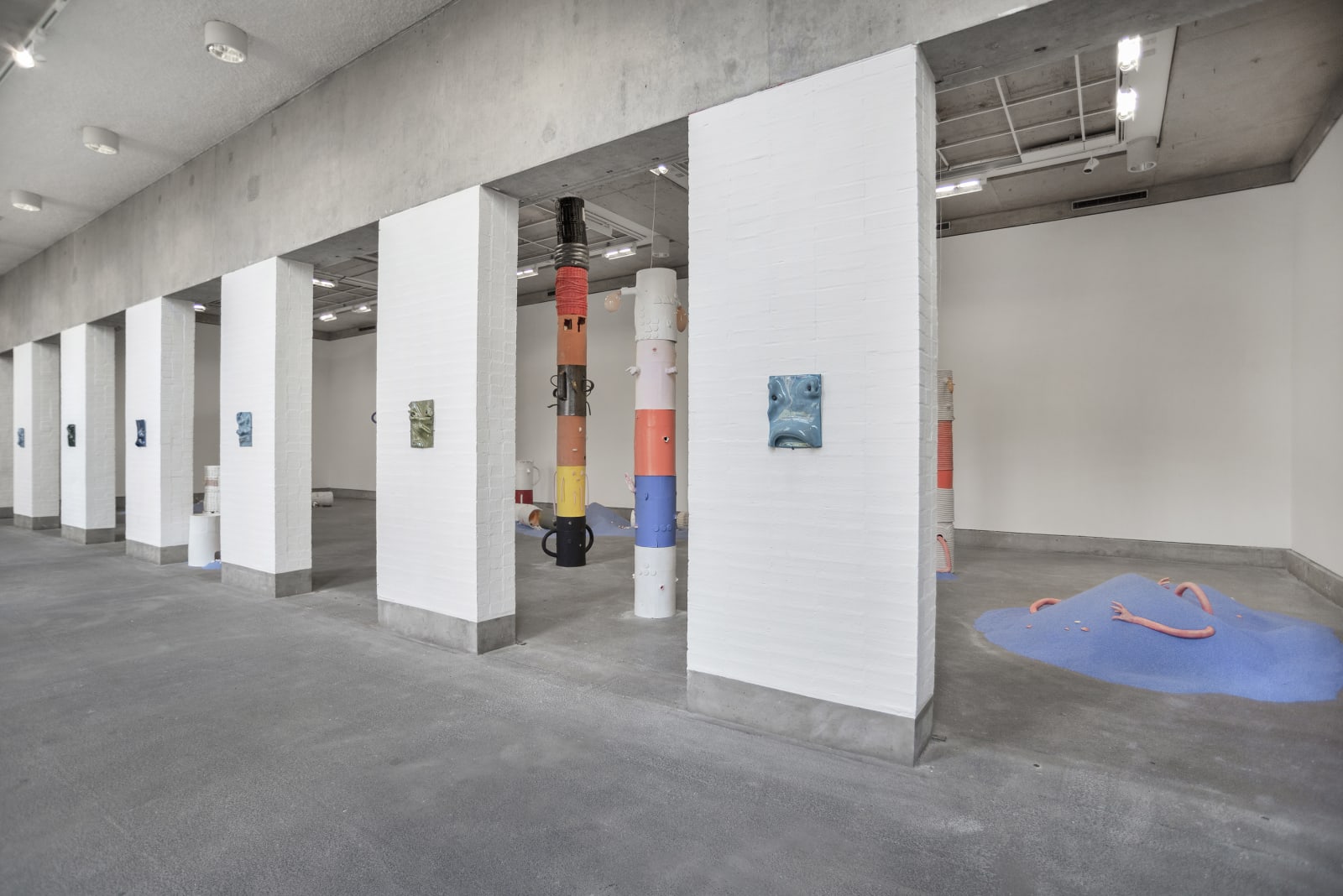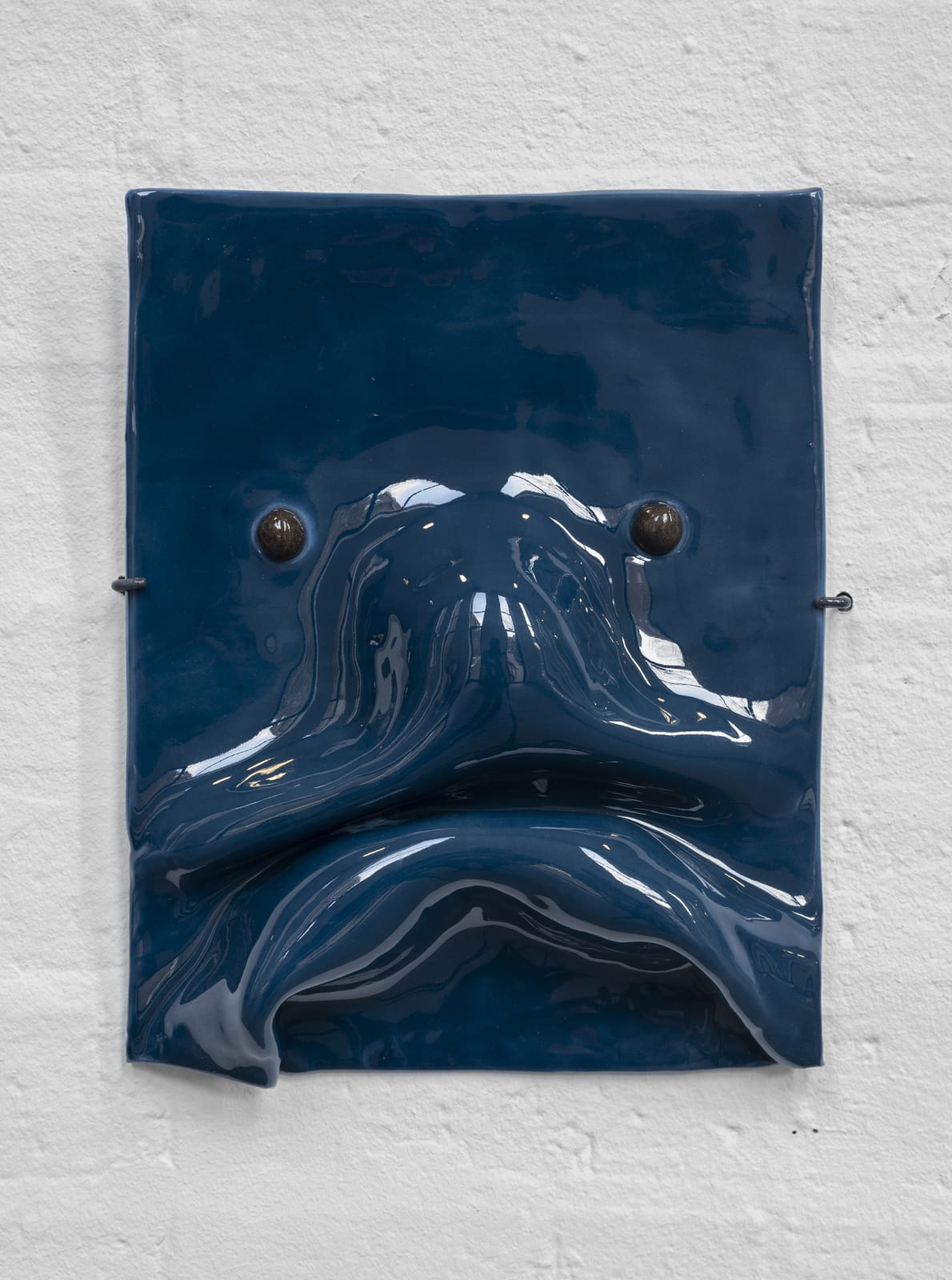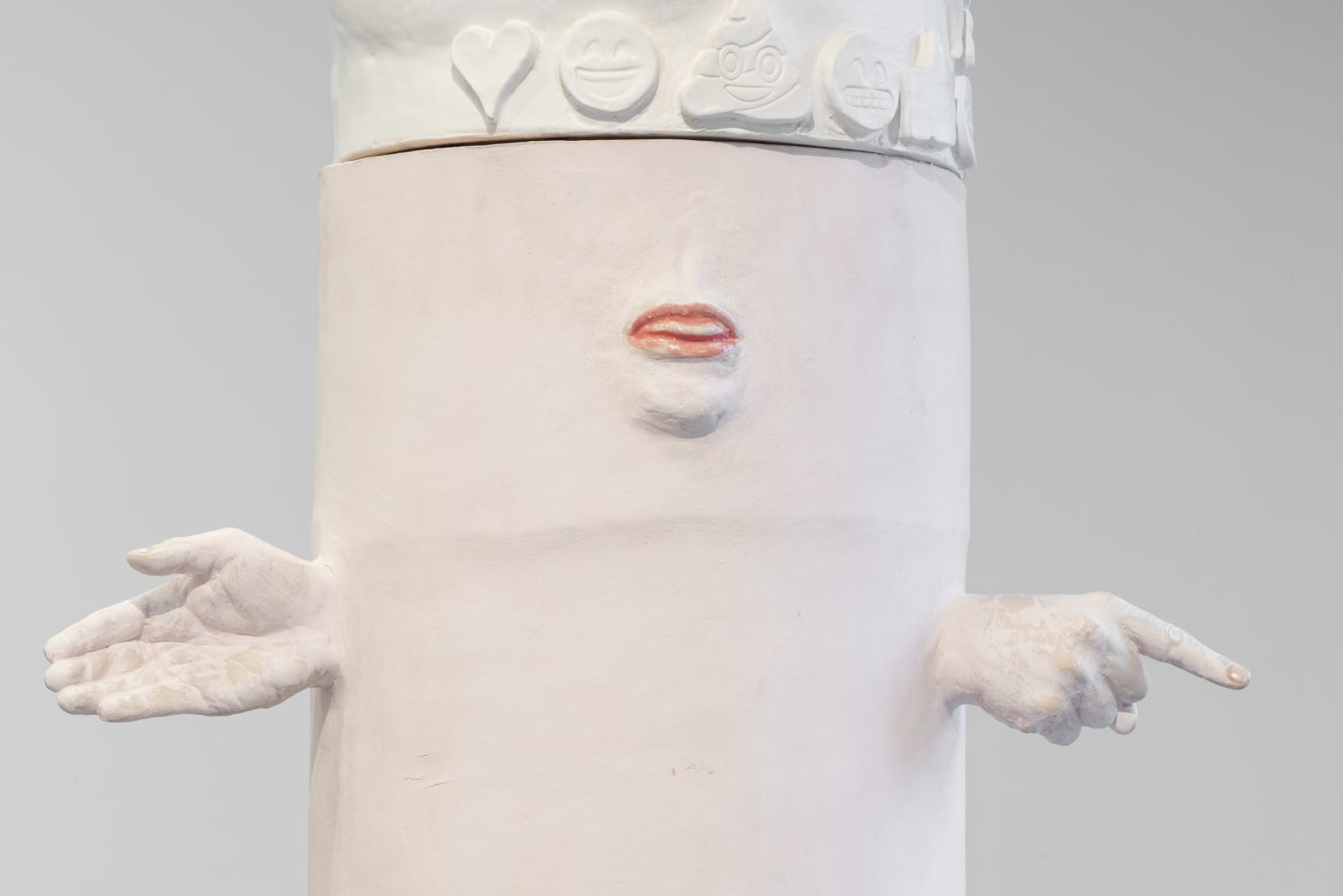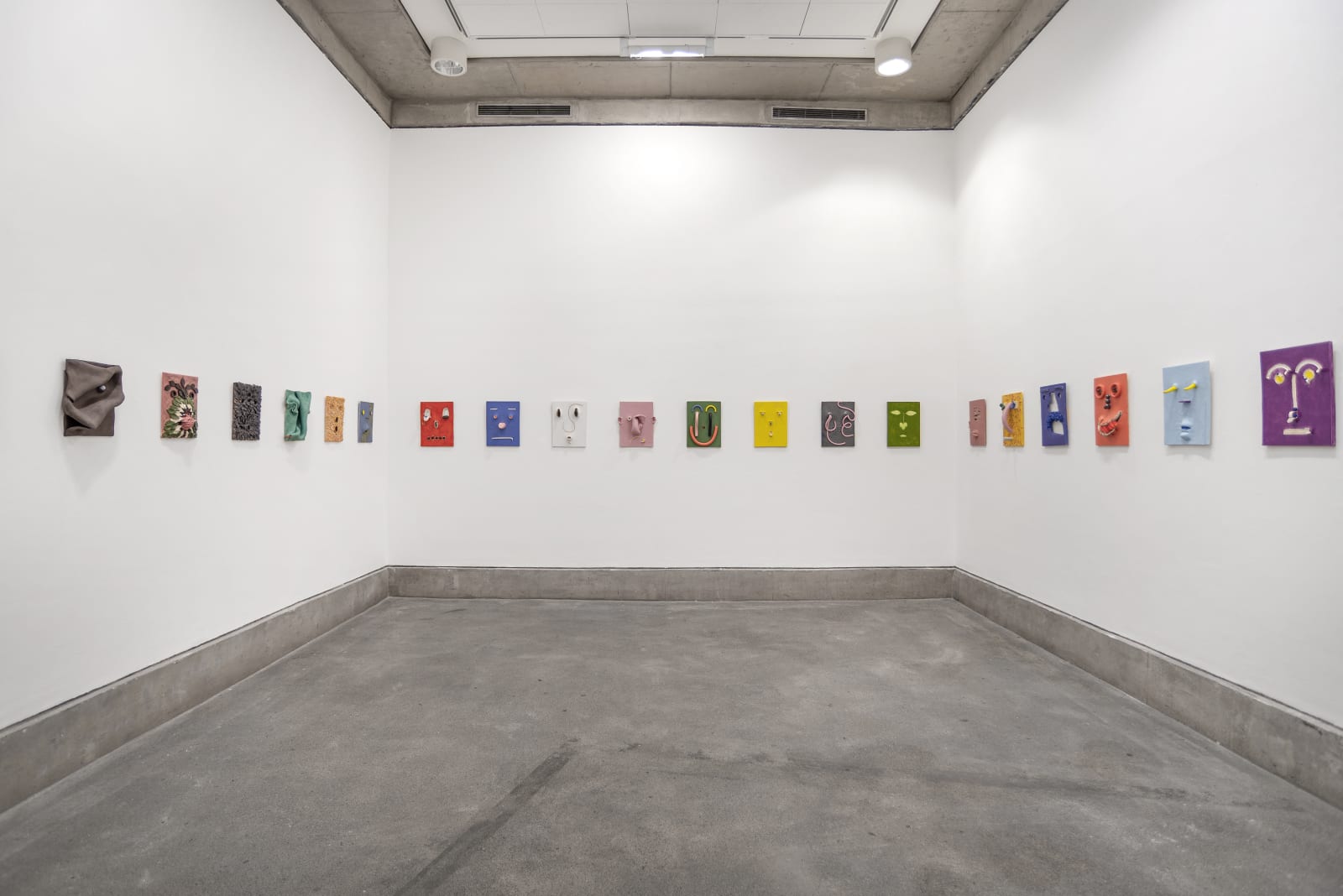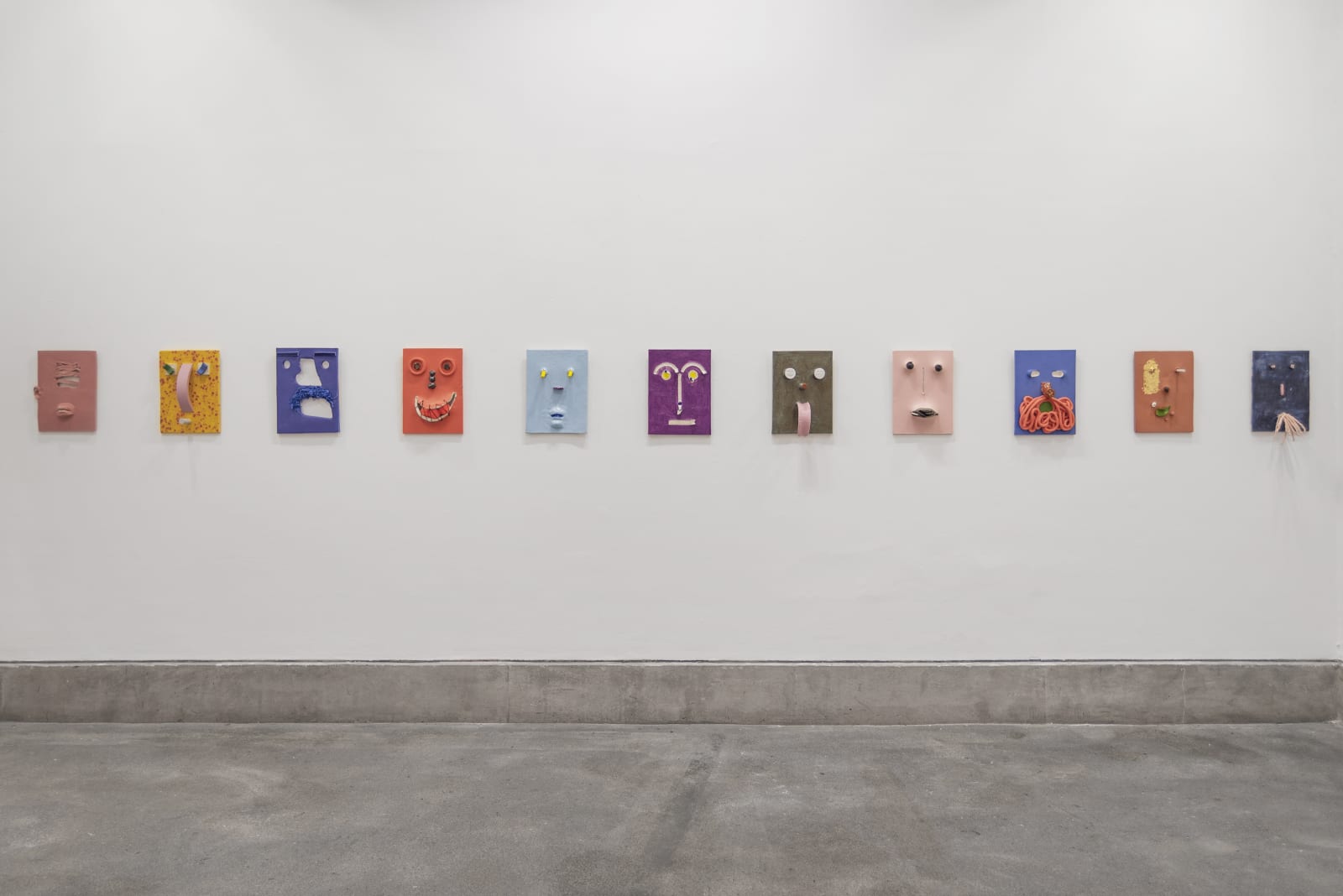 "Teeming with bright colors and playful variation, both the masks, and the columns, might seem to be a relatively ludic affair, but spend a moment with them and you will see that something much weirder is taking place here. The work is ultimately as unsettling as it is full of contradiction."
– Chris Sharp (Writer and Independent Curator)
"Baldock's series of ceramic masks speaks to the potentially thin veneer of our psychic realm. Simple rectangular tiles hover at the edge of figuration – sumptuous ripples and folds combine with violent insertions of other objects into the ceramic surface, hinting at faciality. Baldock asks – what happens when the mask slips? How far are any of us from this point? 'Mirror mirror on the wall' – they reflect back to us."
– Edward Ball (F
reelands Artist Programme Curator)

Overview
JONATHAN BALDOCK, b. 1980, Kent, UK.
Baldock works across multiple platforms including sculpture, installation and performance. He graduated from Winchester School of Art with a BA in Painting (2000-2003), followed by the Royal College of Art, London with an MA in Painting (2003-2005).
Baldock's work is saturated with humour and wit, as well as an uncanny, macabre quality that channels his longstanding interest in myth, folklore and the narratives associated with 'outsider' practices. He has an ongoing interest in the contrast between the material qualities of ceramic and fabric in his work. Concerned with removing the functional aspects of the materials he uses, Baldock instead works in a performative way through his sculptural assemblages, bringing the viewer, the object and the space they simultaneously occupy into question as a theatrical or ritualistic act.
Baldock's first solo exhibition with Stephen Friedman Gallery opened in September 2019. Looking at ancient forms of communication, the exhibition comprised a new series of ceramic masks featuring bright colours and outlandish expressions. The show coincided with the presentation of a large-scale, interactive sculpture by Baldock at Fitzrovia Chapel, London during Frieze week.
In the spring of 2019, Baldock's solo exhibition 'Facecrime' opened at Camden Arts Centre, London following a Freelands Lomax Ceramics Fellowship. The exhibition toured to Tramway, Glasgow, UK in August 2019 and opened at Bluecoat, Liverpool, UK in March 2020. Baldock has forthcoming solo exhibitions at Kunsthall Stavanger, Norway in September 2020; Accelerator, Stockholm, Sweden in April 2021 and La Casa Encendida, Madrid, Spain in September 2021.
Other notable solo and two-person exhibitions include those at De La Warr Pavilion, Bexhill, UK (2017); Grundy Art Gallery, Blackpool, UK (2017); Southwark Park Galleries, London, UK (2017); PEER, London, UK (2016); Chapter Gallery, Cardiff, Wales, UK (2016) and Wysing Arts Centre, Cambridge, UK (2013). His work recently entered the Arts Council Collection, UK.
With work often taking on a biographical form, Jonathan Baldock addresses the trauma, stress, sensuality, mortality and spirituality around our relationship to the body and the space it inhabits.