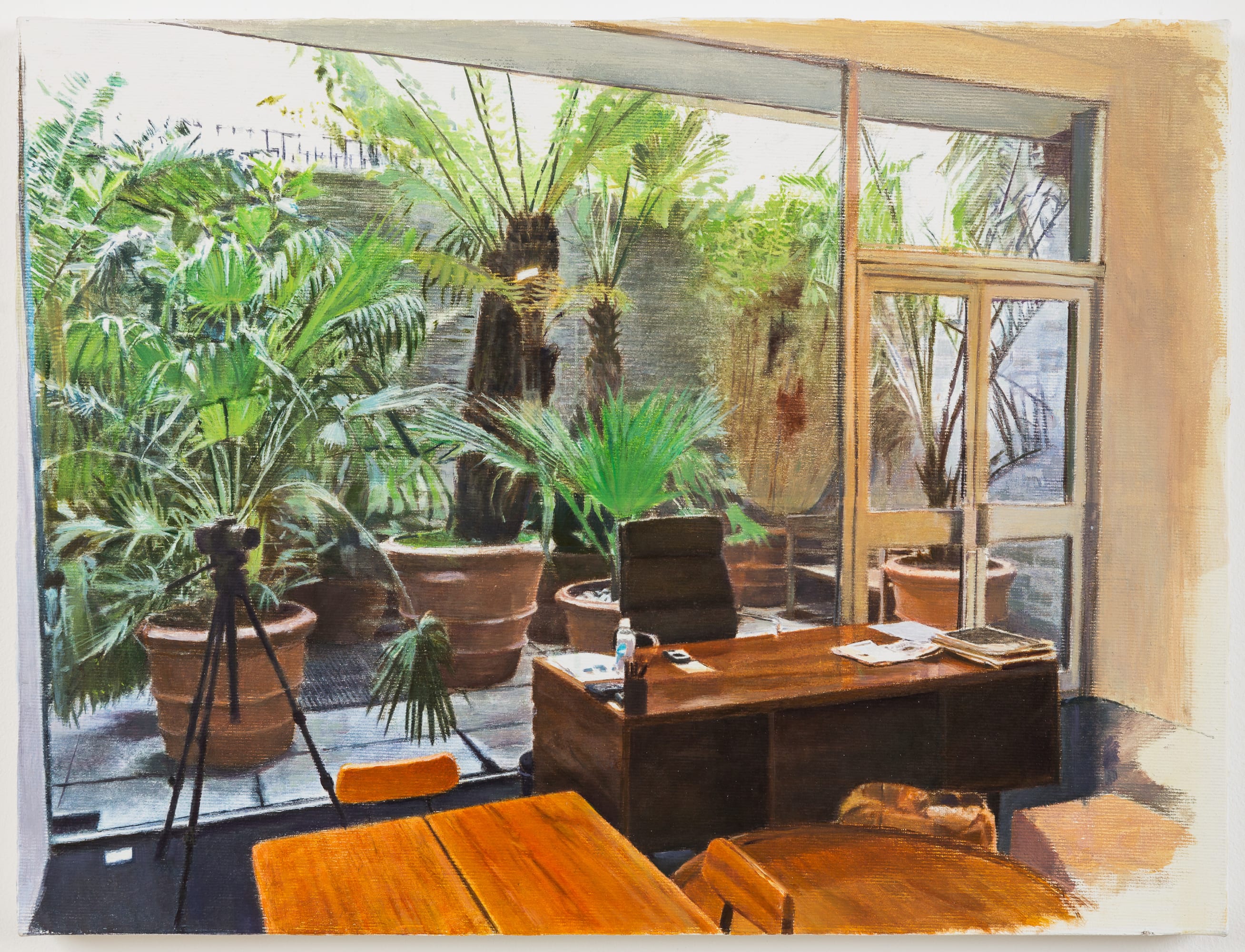 Viewing Room
1 - 19 April 2020
Latin America from 1950 to 2020: A Personal Journey
Overview
"The art scene is so exciting, and the talent pool so great, that I have always said I could run a separate gallery devoted entirely to Latin American artists." - Stephen Friedman
"The art scene is so exciting, and the talent pool so great, that I have always said I could run a separate gallery devoted entirely to Latin American artists." - Stephen Friedman
Stephen Friedman Gallery has built a reputation for its commitment over the last 25 years to championing artists from Latin America. The gallery inaugurates its Online Viewing Room (OVR) programme with a specially curated exhibition featuring works by celebrated historical and mid-career artists from South America who have formed a vital part of the gallery's history. The OVR is accompanied by a personal narrative from Stephen Friedman.
Artists include Juan Araujo, Tonico Lemos Auad, Manuel Espinosa, Gego, Judith Lauand, Beatriz Milhazes, Rivane Neuenschwander, Mira Schendel and Luiz Zerbini. The presentation juxtaposes art historical heavyweights with a younger generation of artists and demonstrates the breadth and diversity of the Latin American art scene across the 20th and 21st centuries.
Stephen Friedman recounts: "I first travelled to Brazil in 1998 to see the Bienal de São Paulo curated by Paulo Herkenhoff and Adriano Pedrosa. William Kentridge, an artist I was working with at the time, was included in the exhibition and I went to support him. I met some remarkable people on that trip and instantly fell in love with Brazilian culture, art and architecture.
"The first person to embrace me was Marcantonio Vilaça. He founded his gallery Camargo Vilaça (now Fortes D'Aloia Gabriel) in 1992 and was an early proponent of contemporary Brazilian art. Marcantonio was a charming, enthusiastic impresario and was very passionate about his artists. He took me under his wing and educated me, introducing me to all the key Brazilian curators and private collectors. We became very close friends. I visited numerous museums and private collections and was exposed to the best mid-century and contemporary art in Brazil. I was a sponge and I couldn't get enough - I felt an instant affinity to the aesthetics of the country and the wider continent. I developed an equal passion for mid-century and contemporary South American art both as a private collector and as a gallerist and I have been committed to it ever since.
"I return to South America on a regular basis and maintain my close relationships with artists, curators, private collectors and gallerists based there. Over the past twenty five years I have curated several exhibitions in the gallery devoted to mid-century Brazilian art. I also currently represent some of the most important mid-career South American artists. The art scene in South America is so exciting, and the talent pool so great, that I have always said I could run a separate gallery devoted entirely to Latin American artists."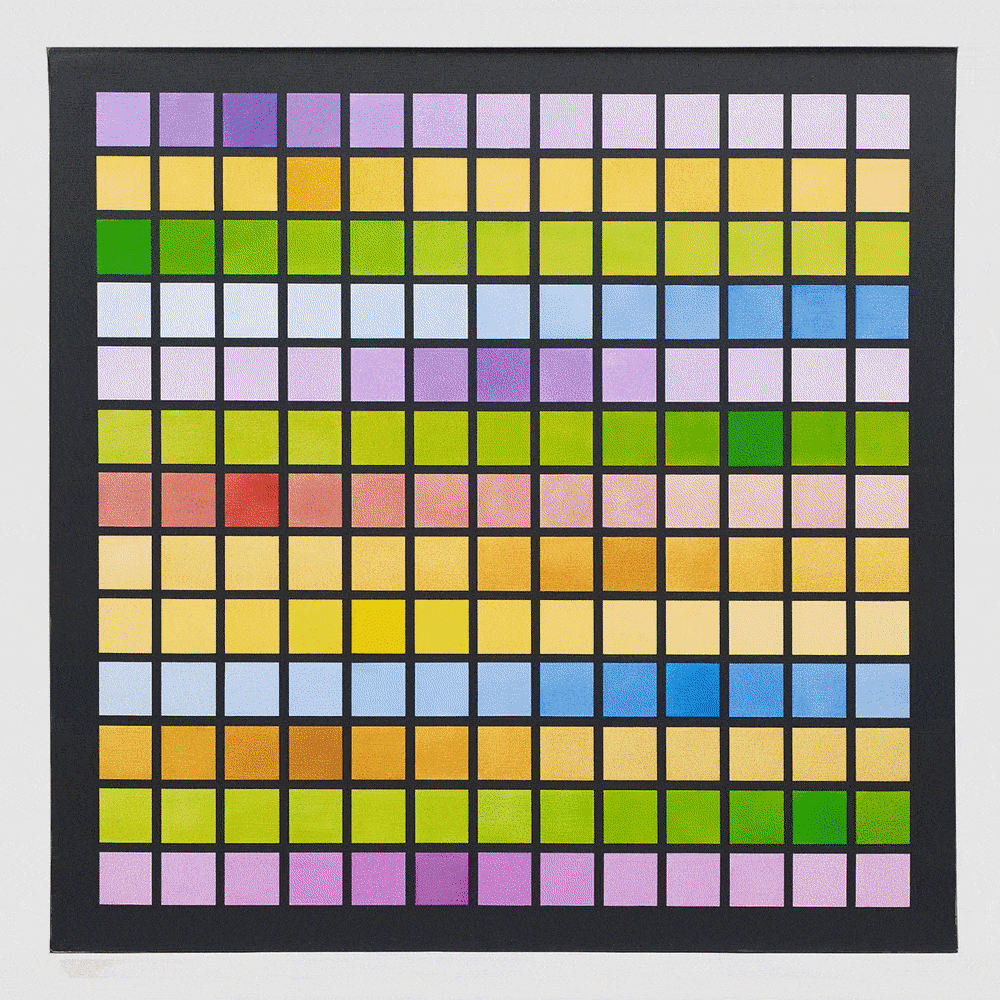 MANUEL ESPINOSA, Argentina
1912 - 2006
Line, colour and the optical sensations of movement and light are the primary characteristics of Espinosa's work. A leading figure in the history of Argentine Modernism, Espinosa's paintings and drawings from the 1960s and 1970s feature circles and squares rendered in precise, serial configurations that seem to reverberate across the surface.
"I first saw Manuel Espinosa's work at Art Basel Miami Beach in 2013 on Sicardi Gallery's booth. I fell in love with an early drawing from the 1960s, exquisite in its subtle exploration of geometric abstraction. I went on to acquire it for my private collection. I am very grateful to Ann-Marie Sicardi for educating me about Espinosa's work; I visited her gallery in Houston, Texas soon after. She encouraged me to get in touch with the Estate about a possible collaboration and I eventually made a trip to Buenos Aires to meet with Espinosa's niece, Ana, and the rest of the family to view what works remained in the Estate's hands. Ana and I had an instant connection. We subsequently collaborated on our first exhibition together in 2014, following on from the artist's major retrospective at Museo de Arte Contemporáneo de Buenos Aires the year before."

Manuel Espinosa: "Painting, liberated by the mechanical inventions of the need to copy, is today in the best conditions ever to attend to its own values. This is the purpose of non-representational art in general, which is not an estrangement from mankind or disinterest from their essential problems, but, on the contrary, an affirmation of their mental and technical power."
Quoted in Dr. Flavia Frigeri, 'Manuel Espinosa and his European Grand Tour', essay to accompany the Stephen Friedman Gallery booth at Frieze Masters 2019 "Manuel Espinosa in Europe: Josef Albers, Max Bill, Piero Dorazio, Manuel Espinosa and Friedrich Vordemberge-Gildewart", illustrated left.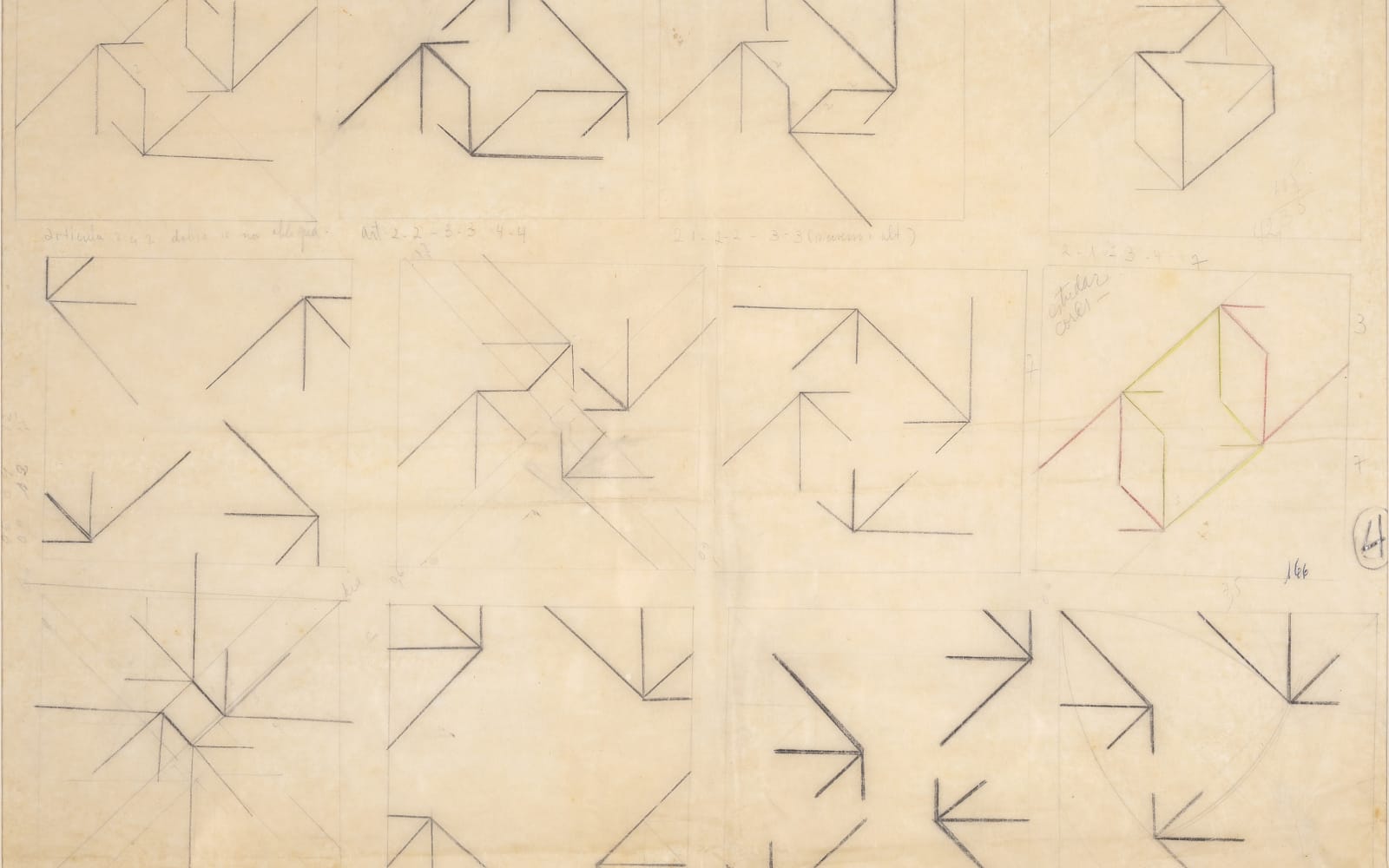 JUDITH LAUAND, Brazil
b. 1922
The only female member of the avant-garde Grupo Ruptura movement, Lauand was a leading proponent of Concretism in Brazil during the 1950s. Harnessing the era's post-war optimism, her delicate yet regimented works on paper on view explore geometry, abstraction and the primacy of the picture plane as a self-contained entity.
"I came across Judith Lauand's work in Sao Paulo at SP-Arte whilst walking around the fair and recall some extraordinary works that toyed with form, space, colour and movement in characteristic fashion. We went on to have a beautiful exhibition in 2013 of oil, ink and gouache paintings from the 1950s that were regimented yet seductive in quality."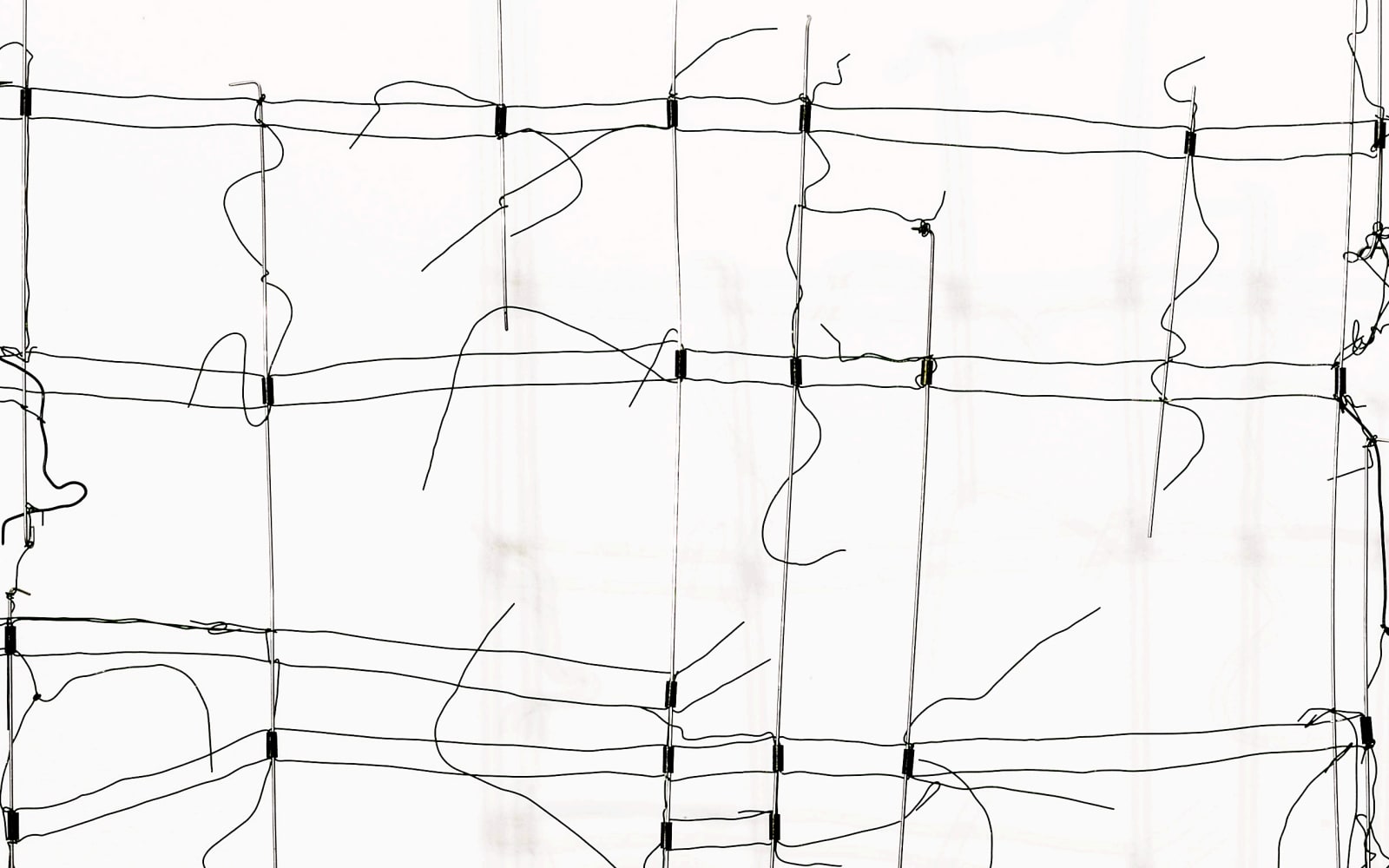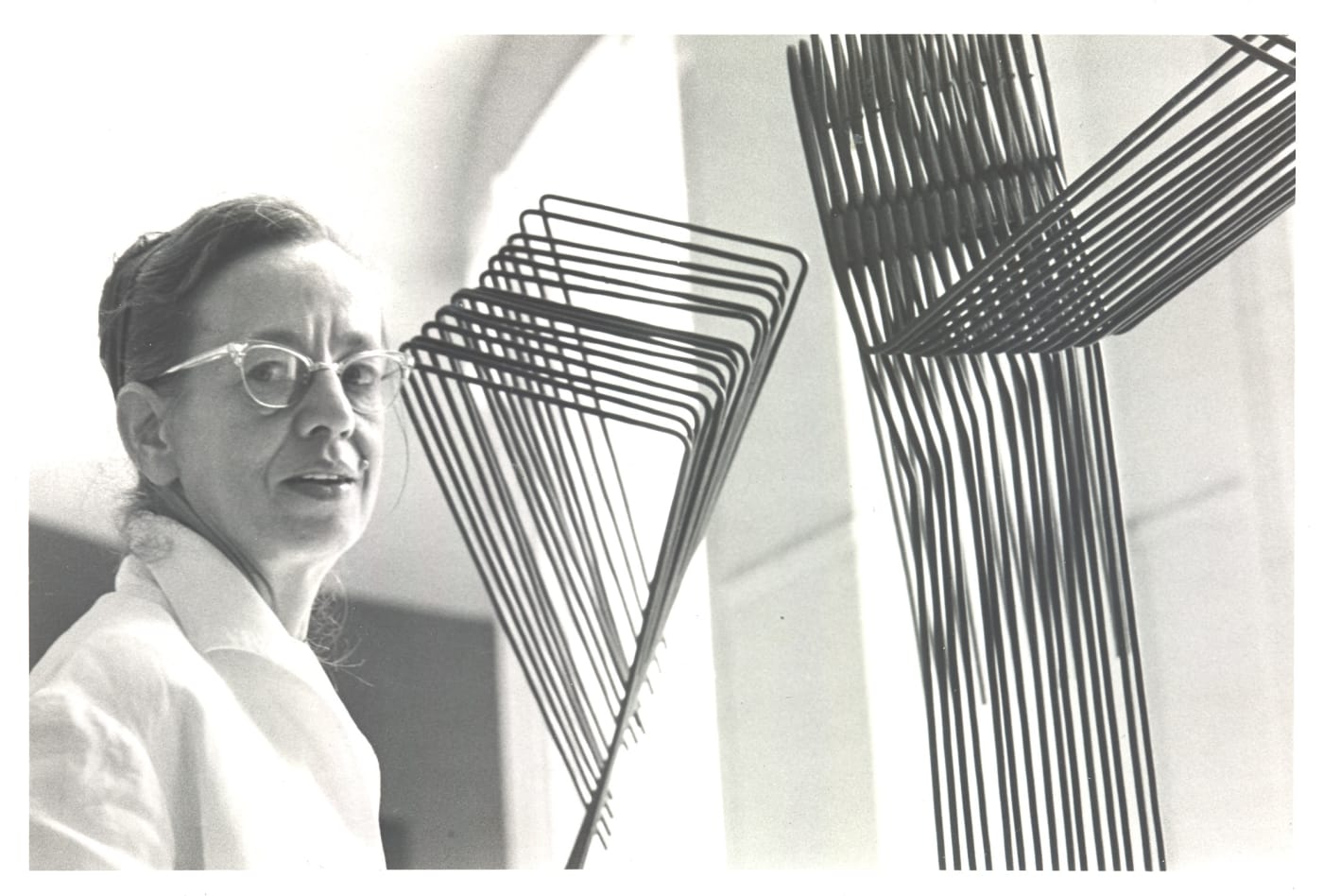 GERTRUDE GOLDSCHMIDT (GEGO), Venezuela
1912 - 1994
Exploring the nuances of Kineticism and Minimalism, Gego's wire sculptures and linear drawings investigate the spatial experience of mark making. Her inclusion in this presentation precedes a major solo exhibition of her work opening at Solomon R. Guggenheim Museum, New York in October 2020 before touring to Tate Modern, London next year.
"During one of my frequent visits to Brazil in the early 2010s, I came across a drawing by Gego whilst visiting the house of Ricardo and Susanna Steinbruch – I fell completely in love. By that time, my relationship with Sicardi Gallery was flourishing and Ann-Marie kindly found a number of works to offer me for my private collection. I am completely fascinated by Gego's 'Dibujo sin papel' sculptures, tiny scraps of metal woven together to form delicate, geometric compositions. I went on to feature a number of works on paper in a group exhibition in 2014 titled '4 x 4' in a specially curated room focusing on South American masters."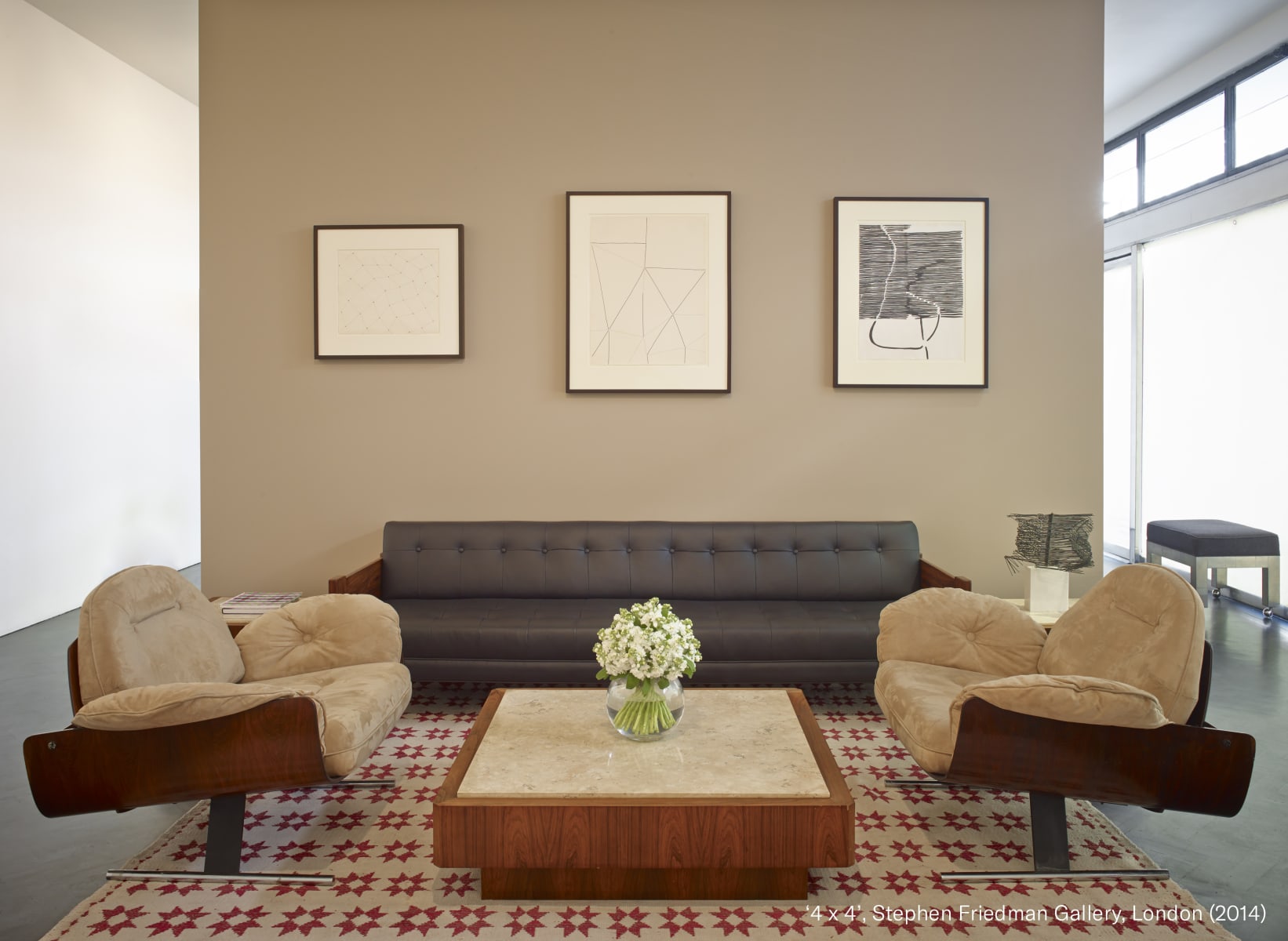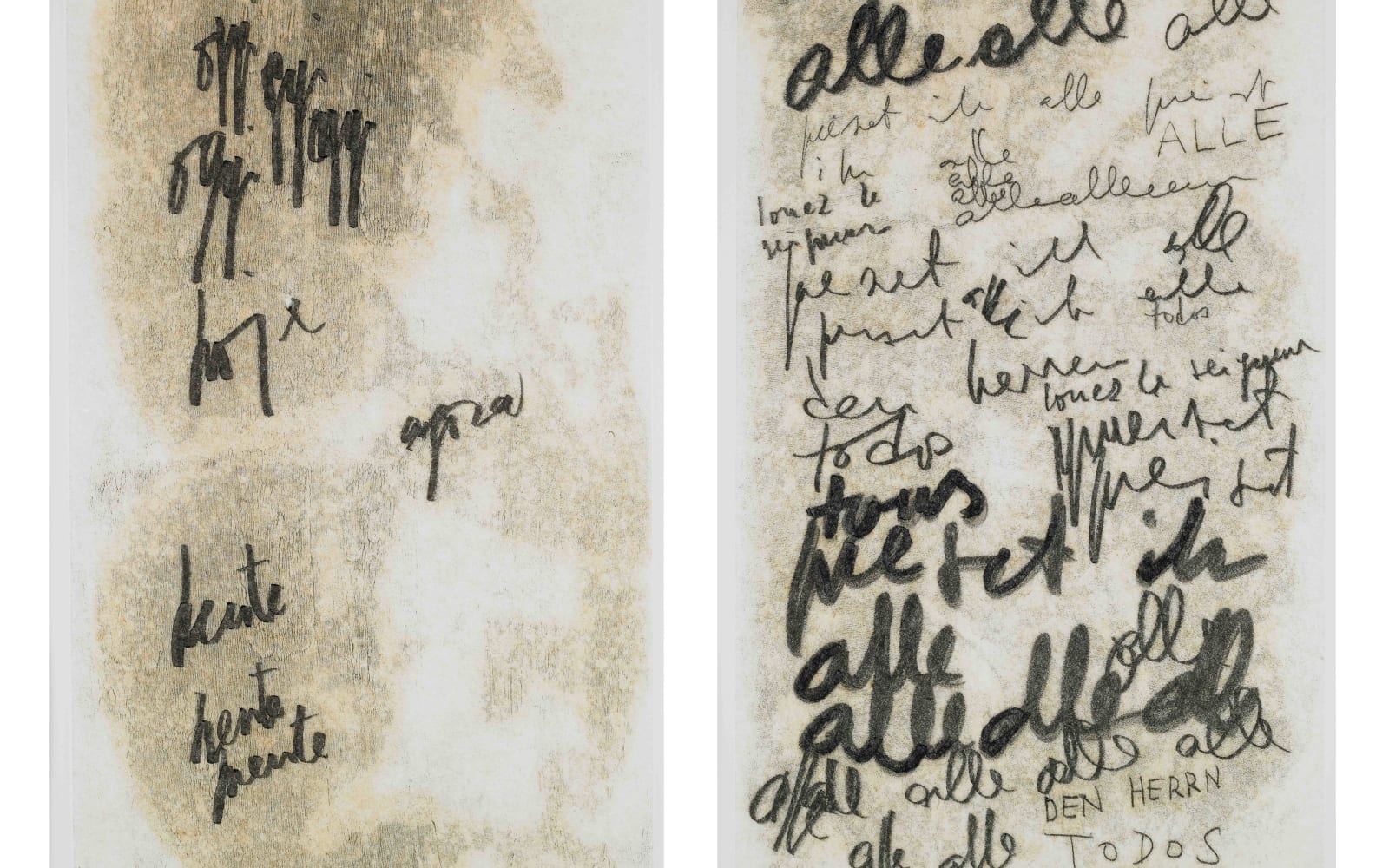 MIRA SCHENDEL, Brazil
1919 - 1988
Encompassing a broad range of media, Schendel's work is underpinned by a philosophical and spiritual interest in the formal properties of language. Many of her works hover in the interstitial space between drawing and writing, creating a rich visual poetry that is uniquely her own. The drawings on view feature letters suspended and scattered across the surface of the page alongside works that explore the linguistic qualities of simple geometric shapes.
"I came across Mira Schendel's work in various private collections in Brazil, including the home of architect Isay Weinfeld. I then went to see André Millan at his eponymous gallery who introduced me to Mira's daughter Ada Schendel. Shortly afterwards, I started working with the Estate and we did two beautiful shows together. One of my personal highlights was spending time with Ada and the family going through her mother's archives – we rifled through letters, personal paraphernalia and many extraordinary historic works that she had kept in remarkable condition. I was pleased to include her work in our 2015 exhibition 'Galerie de l'Epoque' and continue to live with it at home – its refined nuances provide a daily inspiration."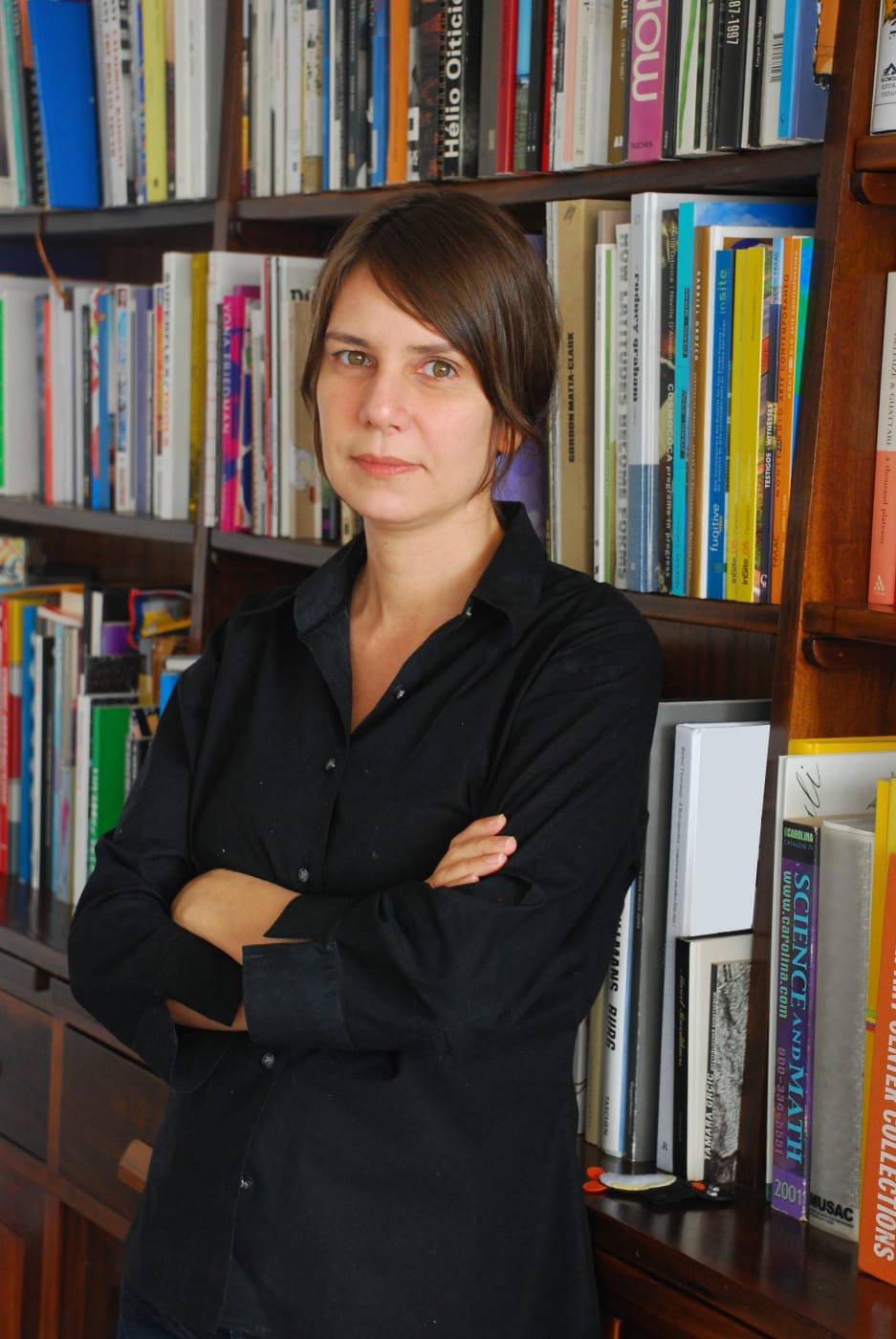 RIVANE NEUENSCHWANDER, Brazil
b. 1967
Neuenschwander's ephemeral practice draws on the history of Latin American conceptualism and explores the interplay between chance and order in everyday life. The artist often allows the influence of autonomous, transient forces - humans and animals being recurring elements - to dictate the production of her works.
"Very early on in the history of the gallery, I heard of Rivane's practice through Dan Cameron – then Senior Curator at the New Museum in New York – who sent me an email imploring me to look at her work. I did some research and I eventually got her fax number in Brazil. I tried contacting her for about three or four months but with no luck. Just as I was about to give up, I got a response from her family saying "I'm sorry that Rivane cannot respond herself but she is currently doing her MA at the Royal College of Art in London" – she was already on my doorstep! We managed to communicate in very broken English and arranged a meeting. The last thing I asked her in our telephone conversation was "How am I going to recognise you?" Rivane responded "I am the one with the lost face." That statement became quite emblematic of her work – at the time, it was very ephemeral and poetic. Lo and behold, it was easy to spot her in the cafeteria – she was in fact the one with the lost face. I did a studio visit with her that day and two weeks later we began to represent her."
Extract from 'Erotisme', 2014
Rivane Neuenschwander, 'Erotisme', 2014, high definition video, 5 minutes 46 seconds, edition of 8 plus 2 artist's proofs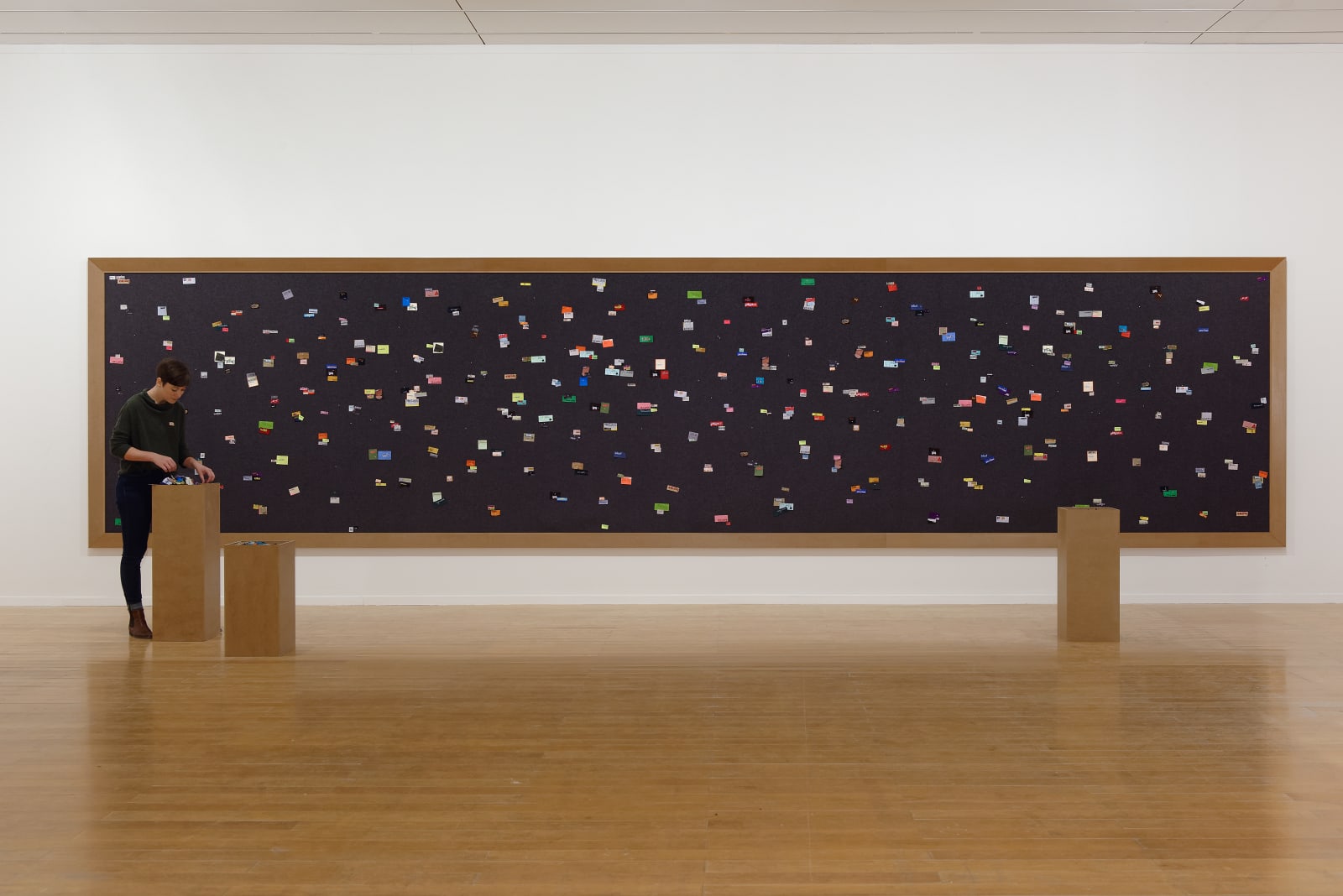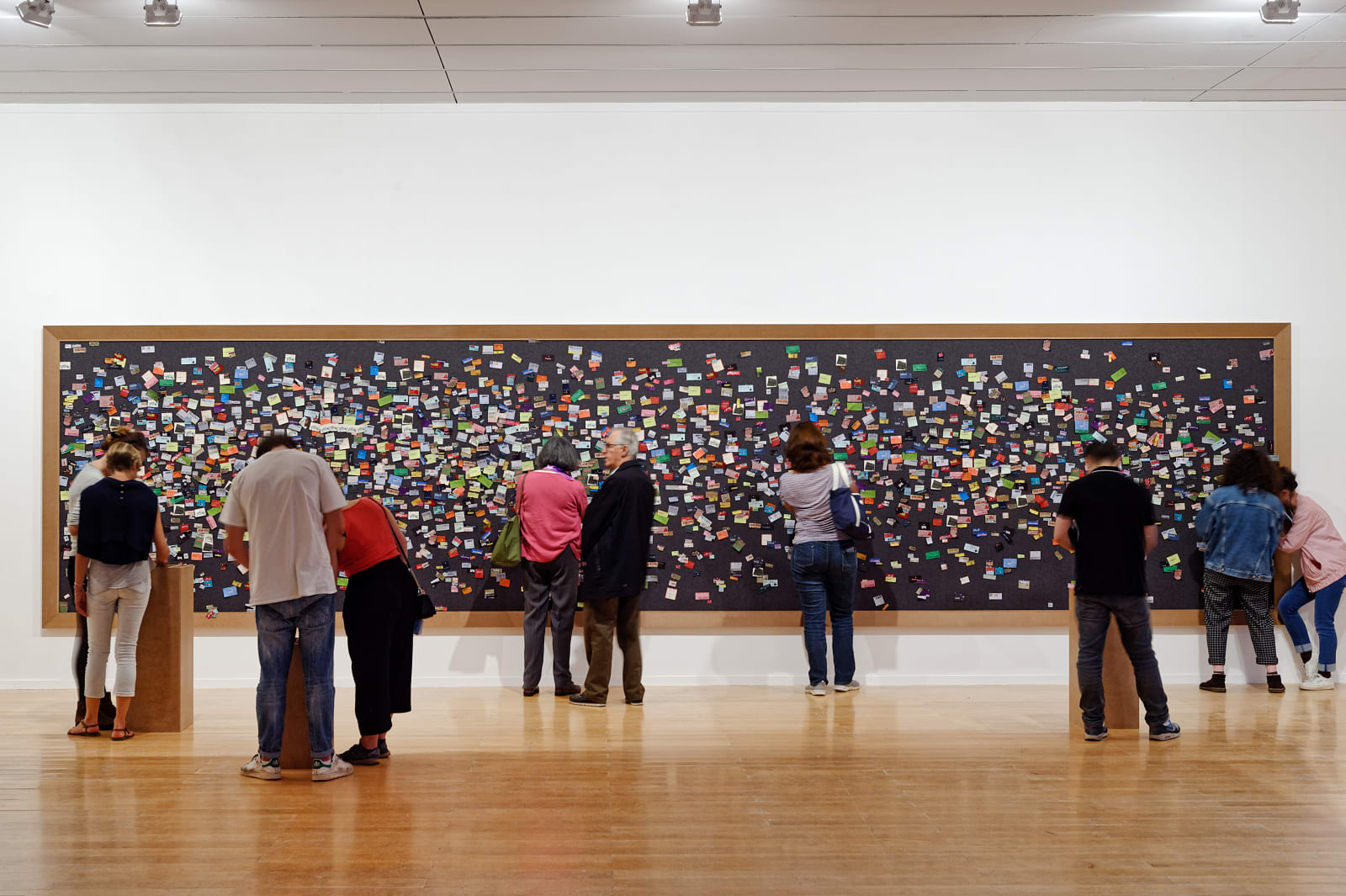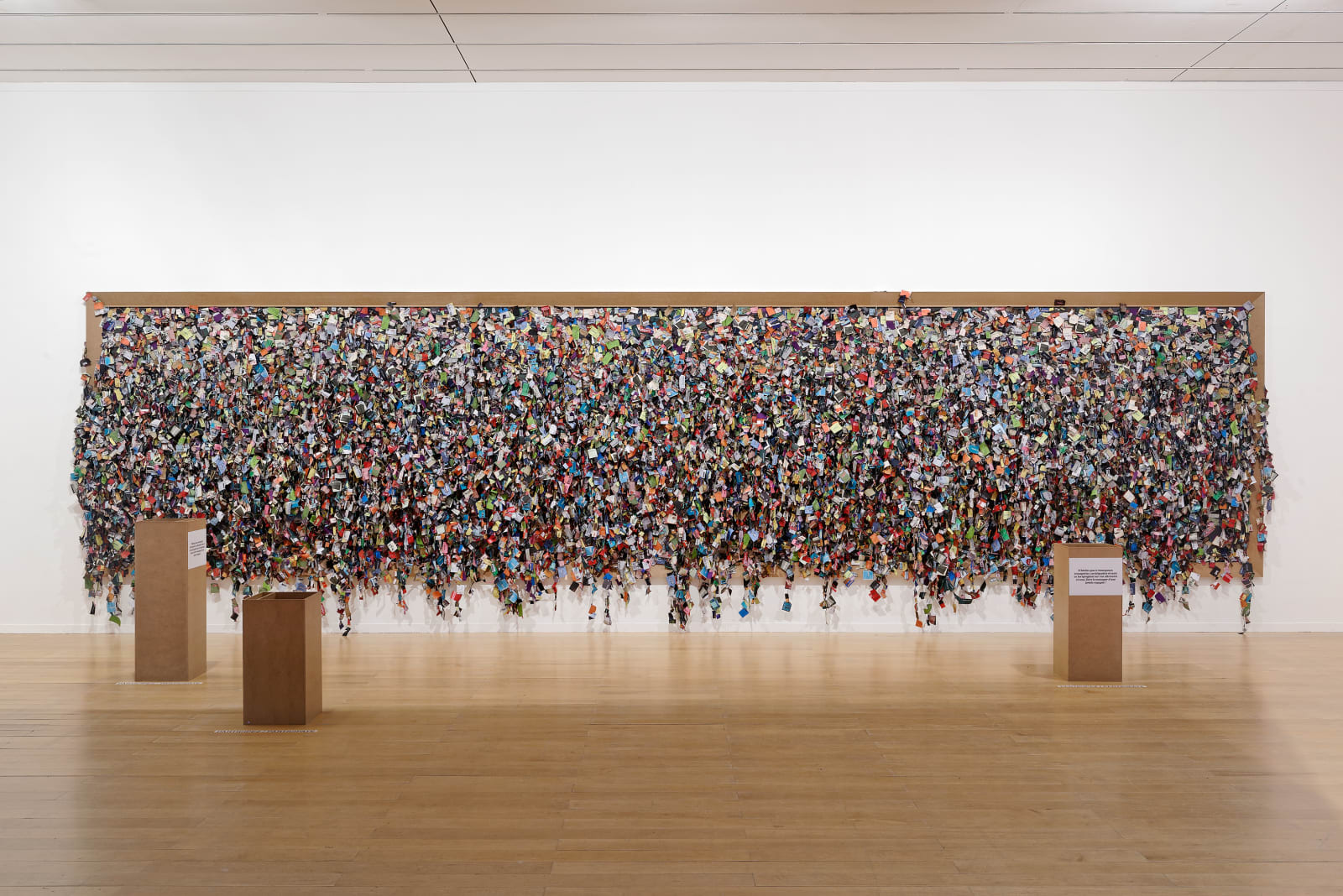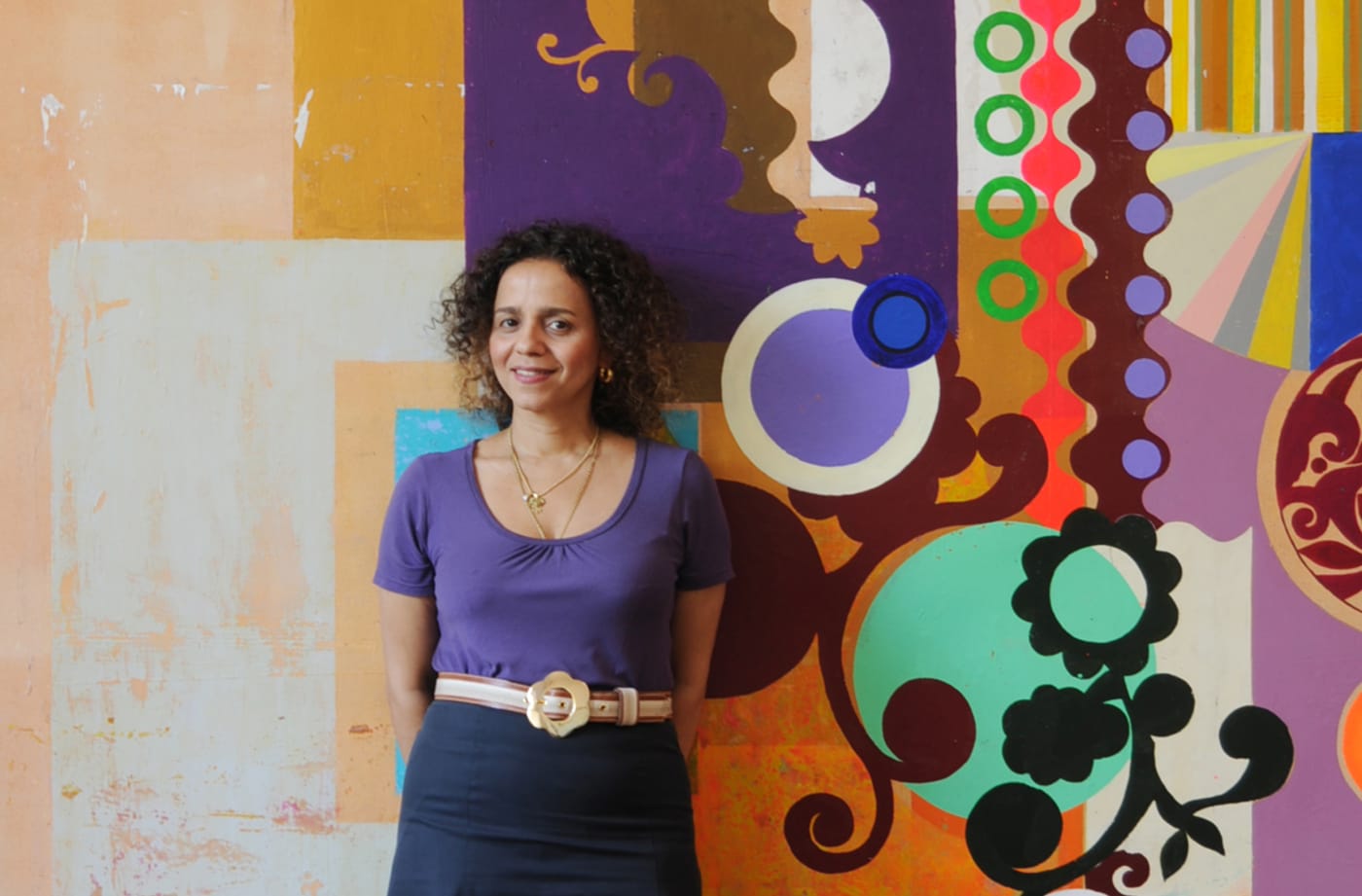 BEATRIZ MILHAZES, Brazil
b. 1960
Milhazes' works combine cultural imagery from Brazil with Modernist influences from Europe, capturing rhythm, movement and depth in dazzling patterns of abstract shapes.
"Marcantonio Vilaça, founder of Fortes D'Aloia Gabriel, always had something exciting to show me whenever I was in Brazil. On one of my visits, he introduced me to Beatriz Milhazes' work and I was completely bowled over. I met with her and we had an instant rapport. This meeting was the beginning of a fruitful 10 year-long relationship. I love the rigour of her practice and have never met anyone since who makes paintings like her. Cut outs of geometric shapes are used to map out the compositions of her paintings, yet they still have an amazing spontaneity. The colours are so reminiscent of the light and greenery of Rio de Janeiro."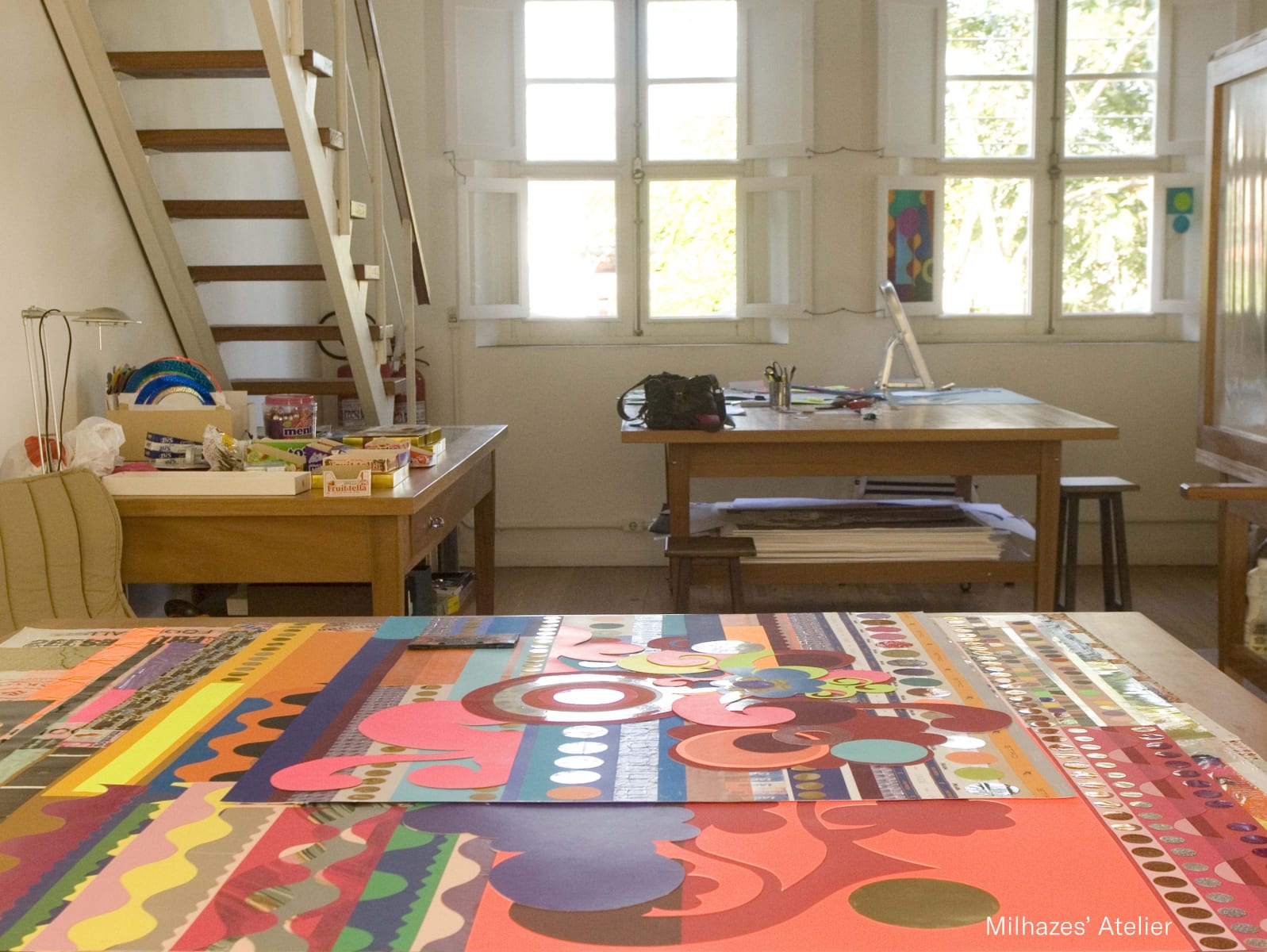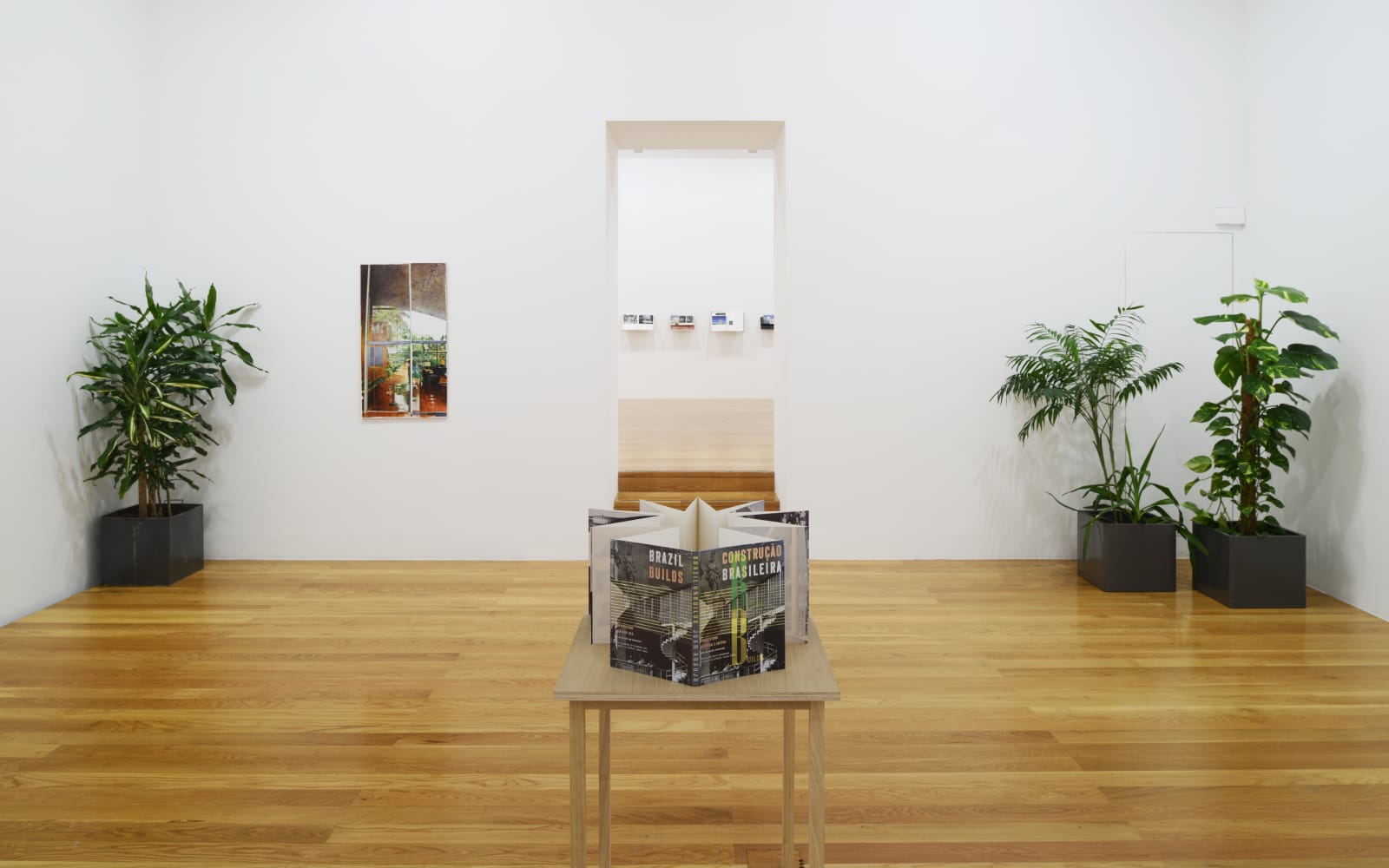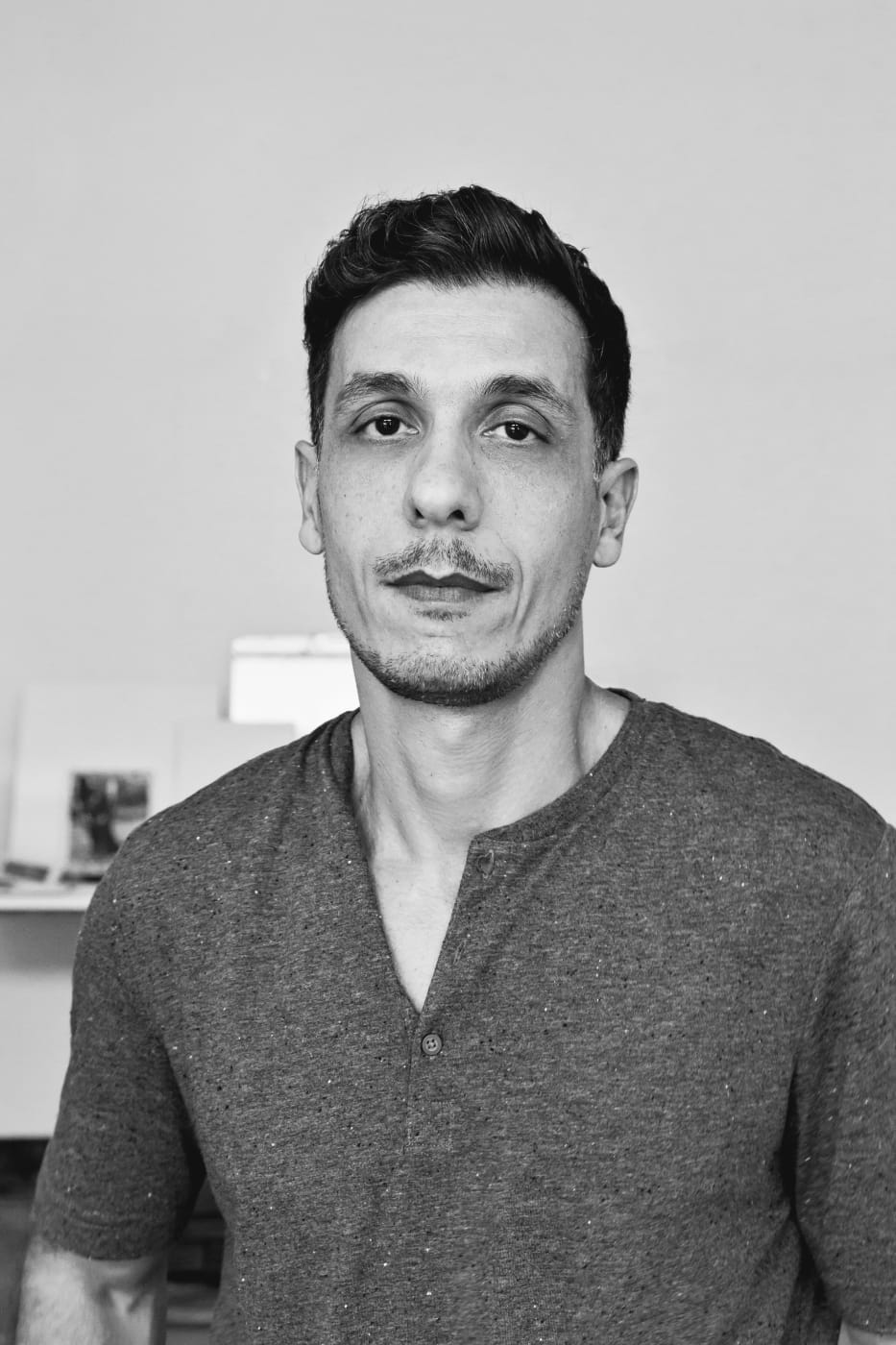 JUAN ARAUJO, Venezuela
b. 1971
Araujo explores the tangible remnants of Modernism in Western culture and art history.
"I was introduced to Juan Araujo through Luisa Strina – I bought a painting from her for my private collection and, with her encouragement, I began to work with Juan. He approaches his paintings with such a remarkable degree of curiosity, intelligence and formal dexterity. A highlight from our working relationship was when Juan produced an exquisite painting of my office and private gardens on the occasion of the gallery's 20th anniversary exhibition in 2015. Rendered in photorealistic detail, it will always resonate with me on a personal level."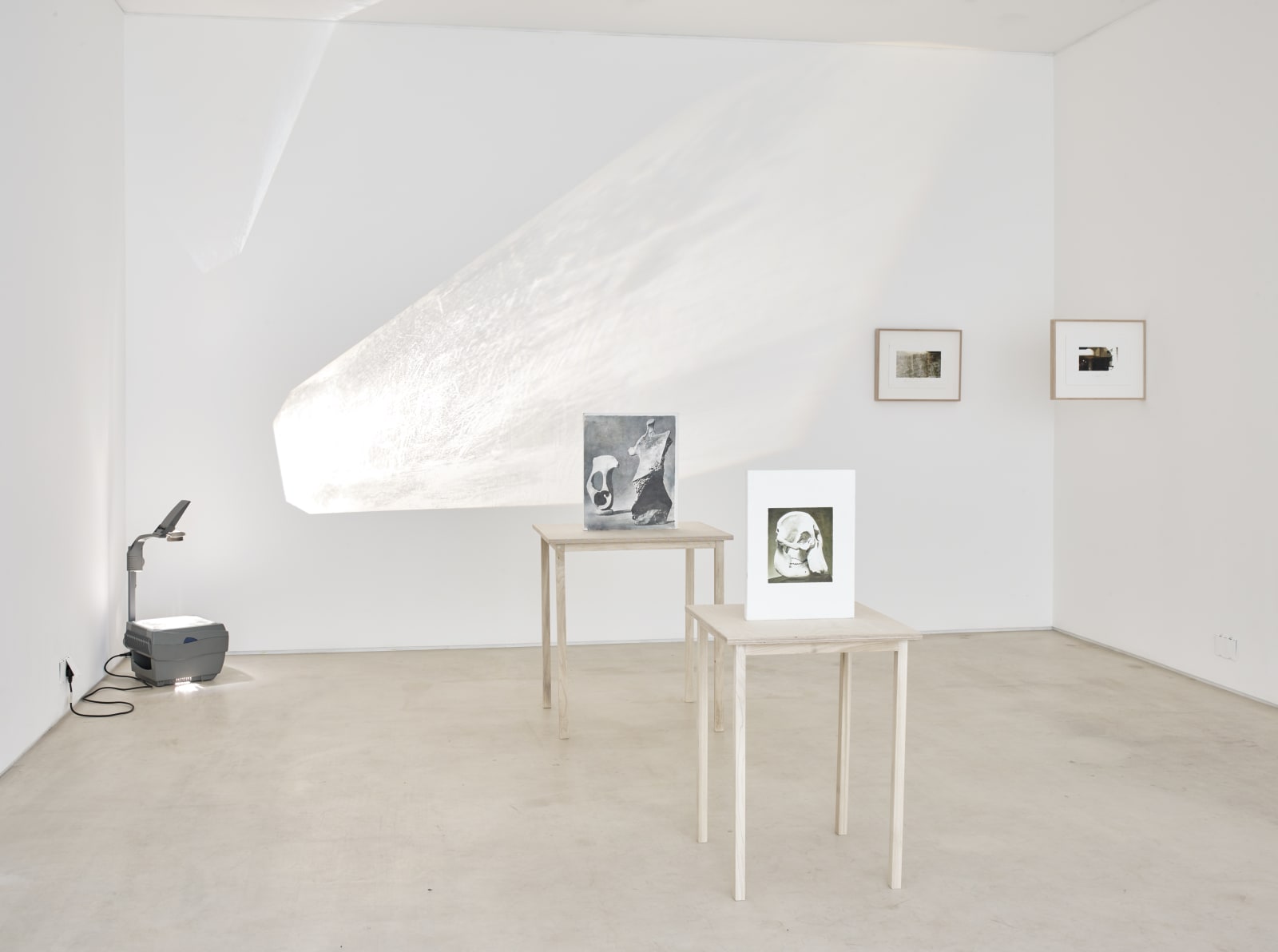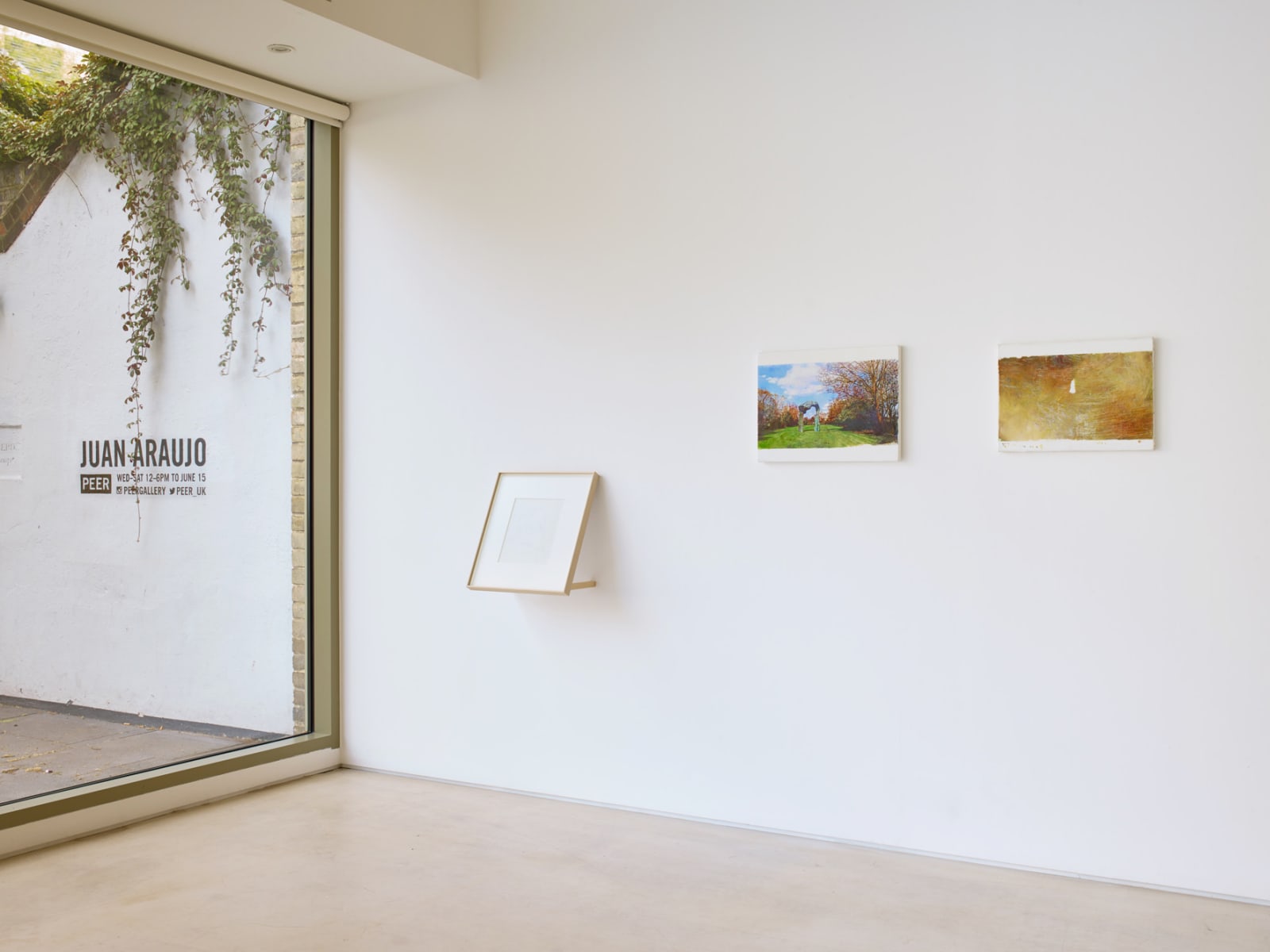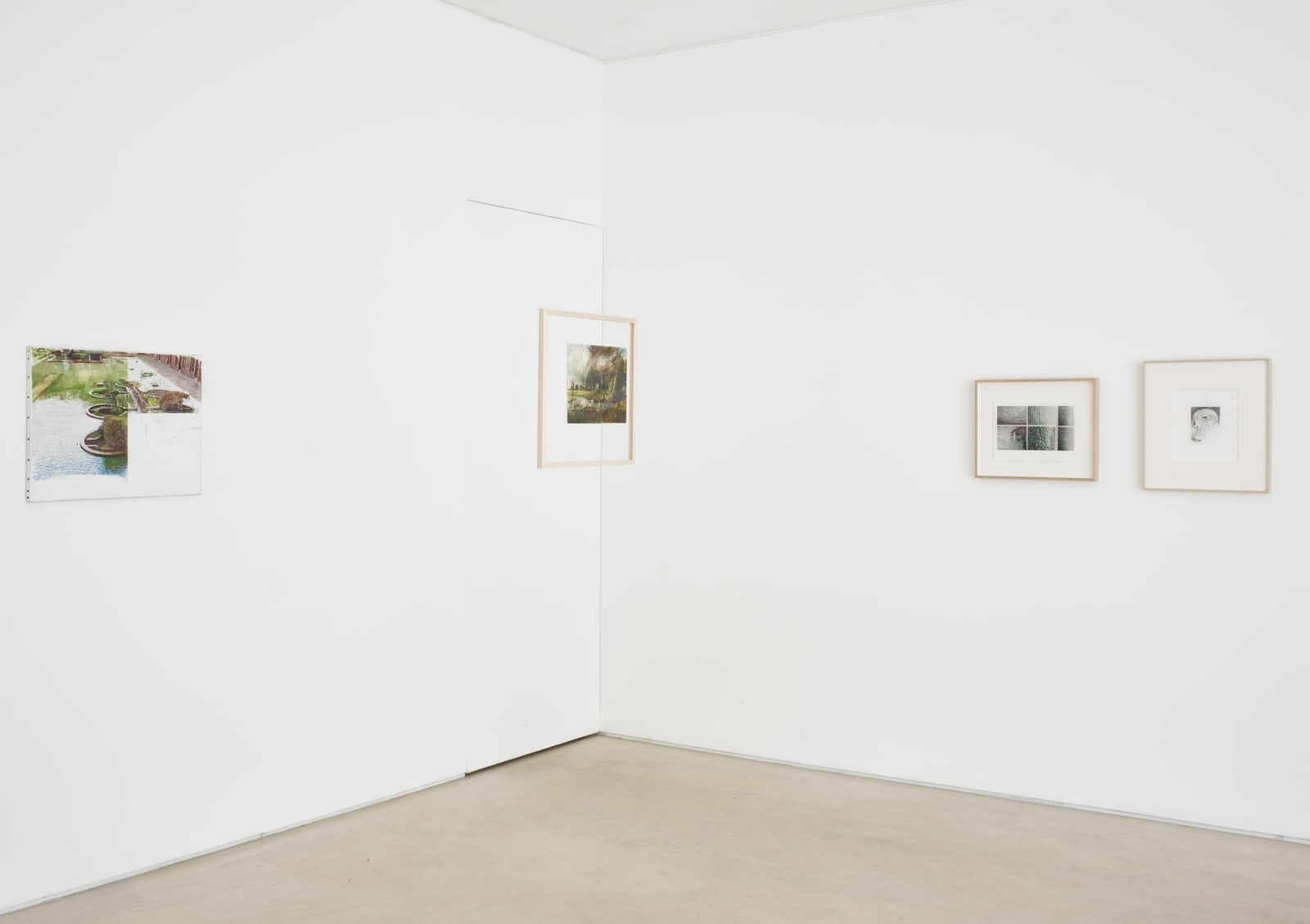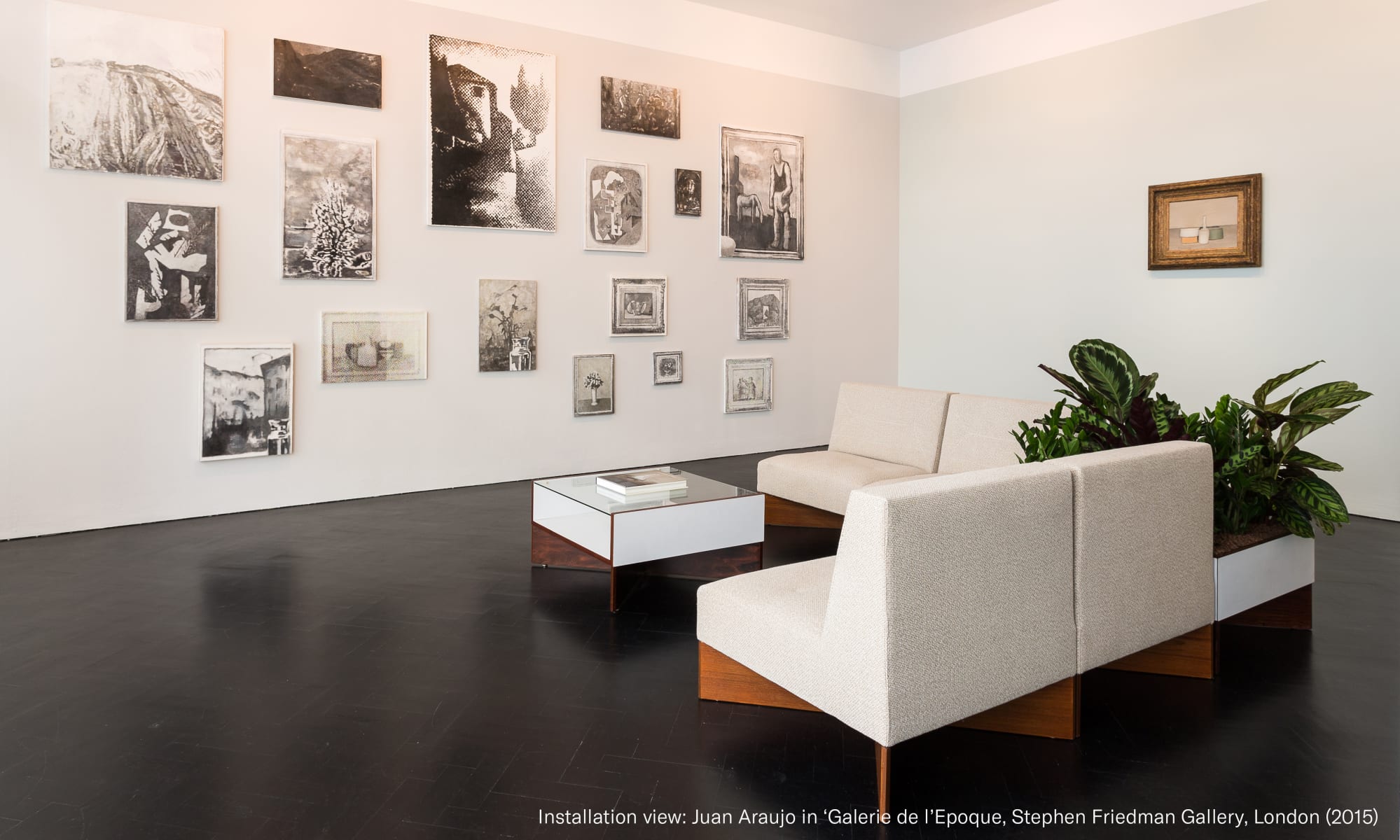 LUIZ ZERBINI, Brazil
b. 1959
Across his career, Zerbini has developed a complex visual vocabulary at the intersection of figuration and abstraction. Recent paintings by Zerbini use the grid as a compositional structure to consider the relationship between colour, light and movement. New works juxtapose organic and geometric patterns, evoking a blend of modernist architecture and lush tropical flora.
"Luiz Zerbini was another artist that Marcantonio introduced me to. I absolutely loved his work from the very beginning – I also wasn't surprised to learn that in the 80s Beatriz and Luiz had been a couple despite their very different approaches to painting. I was very keen to represent him in London but he was already with Max Wigram Gallery. When Max's gallery closed I immediately swooped in and we have been working with him ever since. Visiting his studio is such a remarkable experience given its proximity to Rio de Janeiro's iconic botanical gardens. The building is based on a grid system; painted in pop colours, it is reflective of the compositional structures he often uses in his works. Juxtaposed with its green surroundings, his studio is like one of his paintings that has come to life."
'Luiz Zerbini'
Made on the occasion of his first exhibition at Stephen Friedman Gallery, 8 February – 10 March 2017. Produced by Frieze Studios.


TONICO LEMOS AUAD, Brazil
b. 1968
Auad explores physical manifestations of belief, specifically looking at the personal or cultural significance afforded objects in everyday life. Encompassing notions of architecture and landscape, the works exhibited here highlight Aud's subversion of traditional techniques associated with craft such as embroidery, woodcarving and metalwork.
"I was introduced to Tonico Lemos Auad's work through Luisa Strina. I did a studio visit with him in London around 2009 and was completely enamoured the poetry and intense beauty in his work – I decided to represent him there and then. My favourite solo exhibition with Tonico was actually his most recent with us in 2018. It comprised a delicate series of hand-stitched and crocheted textile works that showcased his unique sensitivity to materials. More recently, I was so proud of Tonico for winning 'Best Stand Prize' at Frieze London along with Mamma Andersson for their two-person presentation with the gallery at the fair."