Viewing Room
11 August - 11 September 2021
Summer Breeze
Evelyne Axell, Jonathan Baldock, Manuel Espinosa, Tom Friedman, Channing Hansen, Jim Hodges, Beatriz Milhazes and David Shrigley
Overview
'Summer Breeze' is an online exhibition of works that capture the season's spirit through vibrant colours, dynamic formal structures and whimsical motifs. The presentation brings together recent and historical works in a diverse range of media including painting, textile, ceramics, and printmaking.
'Summer Breeze' is an online exhibition of works that capture the season's spirit through vibrant colours, dynamic formal structures and whimsical motifs. The presentation brings together recent and historical works in a diverse range of media including painting, textile, ceramics, and printmaking.
Artists include Tom Friedman, Channing Hansen and Jim Hodges (American); Evelyne Axell (Belgian); Jonathan Baldock and David Shrigley (British); Manuel Espinosa (Argentine); and Beatriz Milhazes (Brazilian).
Artists include Tom Friedman, Channing Hansen and Jim Hodges (American); Evelyne Axell (Belgian); Jonathan Baldock and David Shrigley (British); Manuel Espinosa (Argentine); and Beatriz Milhazes (Brazilian).
Highlights include four striking editions by Beatriz Milhazes. Known for her vivid palette and spiralling geometric designs, Milhazes combines Brazilian cultural imagery with European Modernist influences. The works on display include the first diptych and triptych that the artist created. Using woodblock, woodcut and silkscreen techniques, the prints combine meticulous construction with a sense of spontaneity and immediacy.
Experimental works on paper by Manuel Espinosa, characterised by overlapping lines of quick-drying ink are exhibited. Variations on a simple theme, these works demonstrate his defining engagement with optical sensations of depth and movement.
Also on view is the last painting that Evelyne Axell created, which features a reclining female nude set against a backdrop of flame-like, tropical foliage. Daydreaming in the heat of the sun, the subject is presented as confident and relaxed.
A radiant diptych by Jim Hodges, 'a passing gate (for Meredith)' evokes a parallel, ethereal world. Designed to hang in a corner, the work comprises two sheets of paper placed at a 90-degree angle. The swirling blue of one side is reflected in the gold leaf of the other to create the impression of light passing through clouds.
Saturated with humour and wit, recent works by British artists David Shrigley and Jonathan Baldock are on show. Teeming with bright colours, Baldock's 'Maskes' toy with a cognitive process called pareidolia, a psychological phenomenon that causes people to see faces in inanimate objects.

"The most extraordinary beings I ever met were almost all women, I find women most exquisite. They are everything at once: voluptuousness, luxury, frivolity, tenderness, courage, greed, and total selflessness. That is to say, the synthesis of the weaknesses and strengths of mankind."
- Evelyne Axell (1969).

EVELYNE AXELL, 1935–1972, Belgian
Best known as one of Europe's first female pop artists, Evelyne Axell explores themes of female sexual and political emancipation through her colourful and provocative works.
An actress by training, Axell did not turn to art until 1964 when she started training under family friend René Magritte. Twice a month for a year, Axell visited the acclaimed Surrealist painter and developed her artistic skills through oil painting. During this time, her husband, Jean Antoine, produced a documentary on pop artists and introduced Axell to Patrick Caulfield, Pauline Boty, Peter Blake, Allen Jones and Joe Tilson. Immediately drawn to this new genre, Axell started to produce works infused with pop's characteristics.
Her discovery of plastic materials in 1967 allowed Axell to develop her signature technique of combining plastic and enamel to create soft, layered works without sacrificing the intensity of the colours. Axell began her process by cutting out silhouettes from transparent and translucent plastic sheets before painting the cut-outs with enamel and placing them on background panels. Axell's use of manufactured plastic materials, unapologetic sexual imagery and strong colours result in works that embody pop and solidify her as a pioneer in the genre.
Axell has been included in international exhibitions such as the 2015 exhibitions, The World Goes Pop at Tate Modern, London, and International Pop, Walker Art Centre, Minneapolis and Dallas Museum of Art, USA. Most recently, she has had a major solo exhibition at Maison de la Culture de Namur, Belgium in 2019, and a retrospective in Museum Susch, Belgium, which ran from August 2020 to May 2021.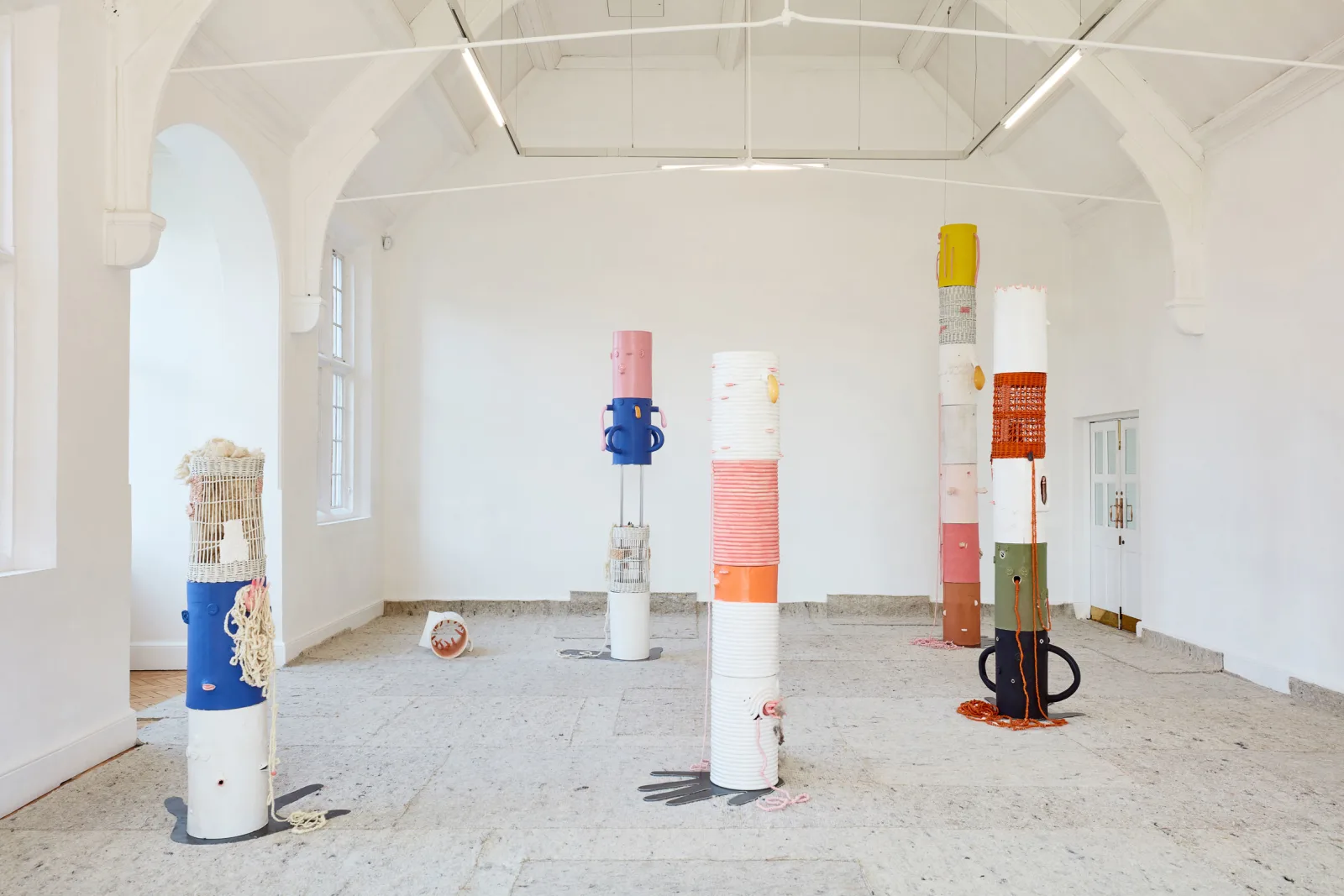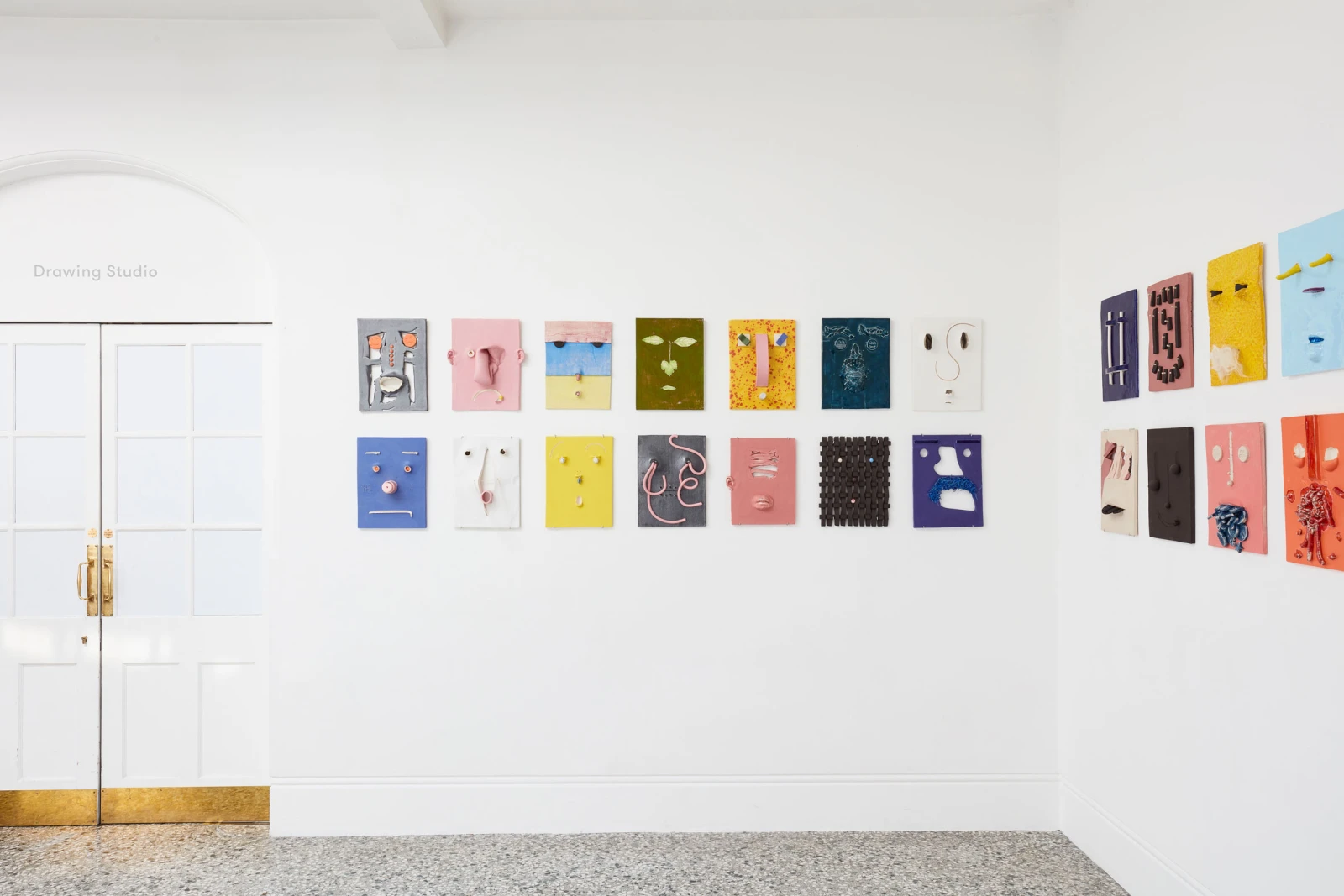 JONATHAN BALDOCK, b. 1980, British
With work often taking on a biographical form, Jonathan Baldock addresses the trauma, stress, sensuality, mortality and spirituality around our relationship to the body and the space it inhabits. He works across multiple platforms including sculpture, installation and performance.
Baldock's work is saturated with humour and wit, as well as an uncanny, macabre quality that channels his longstanding interest in myth and folklore. He has an ongoing focus on the contrast between the material qualities of ceramic and fabric in his work. Concerned with removing the functional aspects of the materials he uses, Baldock instead works in a performative way through his sculptural assemblages, bringing the viewer, the object and the space they simultaneously occupy into question as a theatrical or ritualistic act.
In 2021, Baldock has solo exhibitions at La Casa Encendida, Madrid, Spain and at Accelerator, Stockholm, Sweden. Stephen Friedman Gallery presented sculptural and textile works by the artist as part of the group exhibition 'Threadbare' in April 2021. Baldock's work was included in the inaugural Towner International biennial at Towner Art Gallery, Eastbourne, UK in October 2020.
Other notable solo and two-person exhibitions include 'Me, Myself and I', Kunsthall Stavanger, Norway (2020); 'LOVE LIFE: Act 3', De La Warr Pavilion, Bexhill, UK (2017); 'LOVE LIFE: Act 2', Grundy Art Gallery, Blackpool, UK (2017); 'There's No Place Like Home', Southwark Park Galleries, London, UK (2017); 'LOVE LIFE: Act 1', PEER, London, UK (2016); 'The Soft Machine', Chapter Gallery, Cardiff, Wales, UK (2016) and 'A strange cross between a butchers shop and a nightclub', Wysing Arts Centre, Cambridge, UK (2013). Baldock's work recently entered the Arts Council Collection, UK.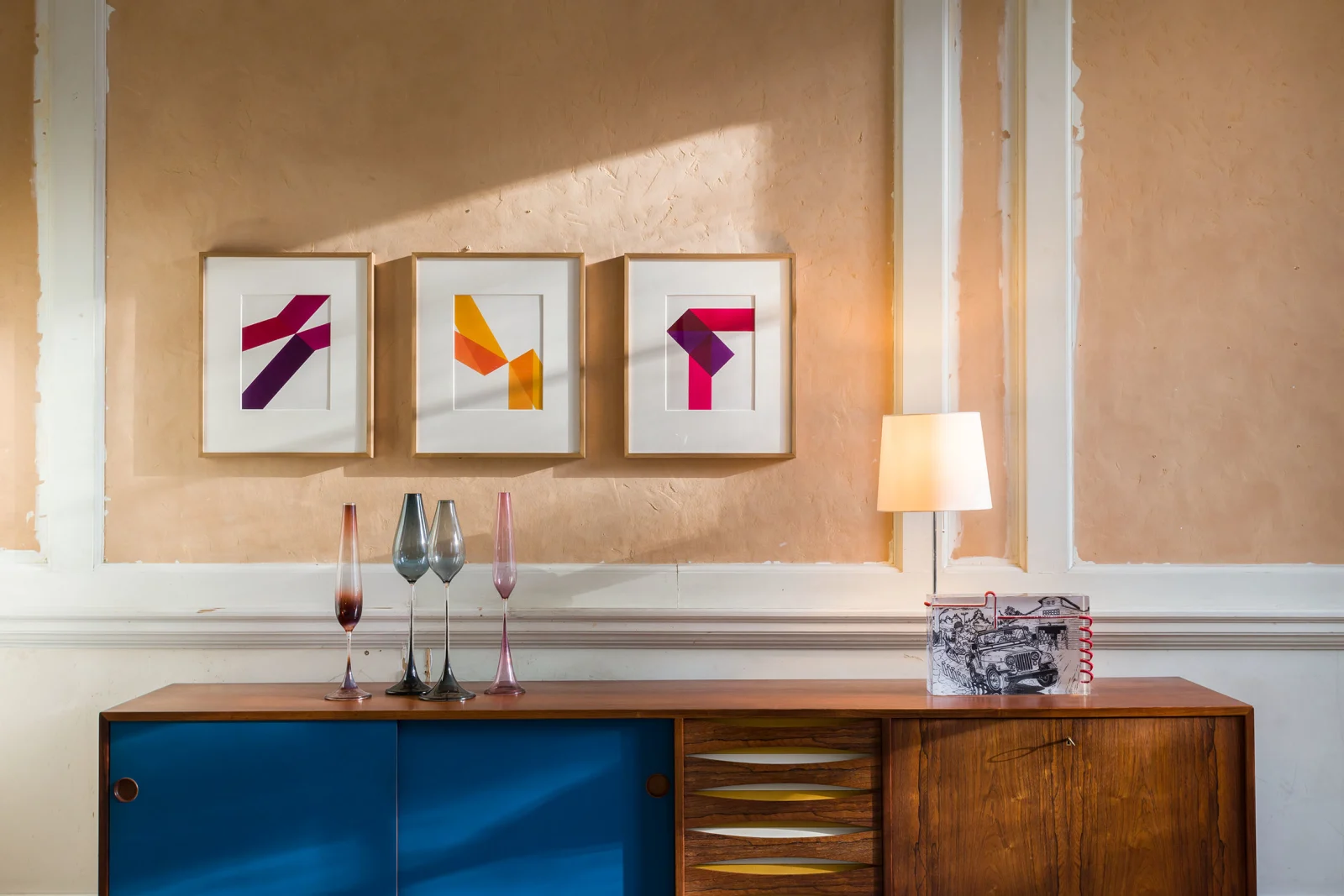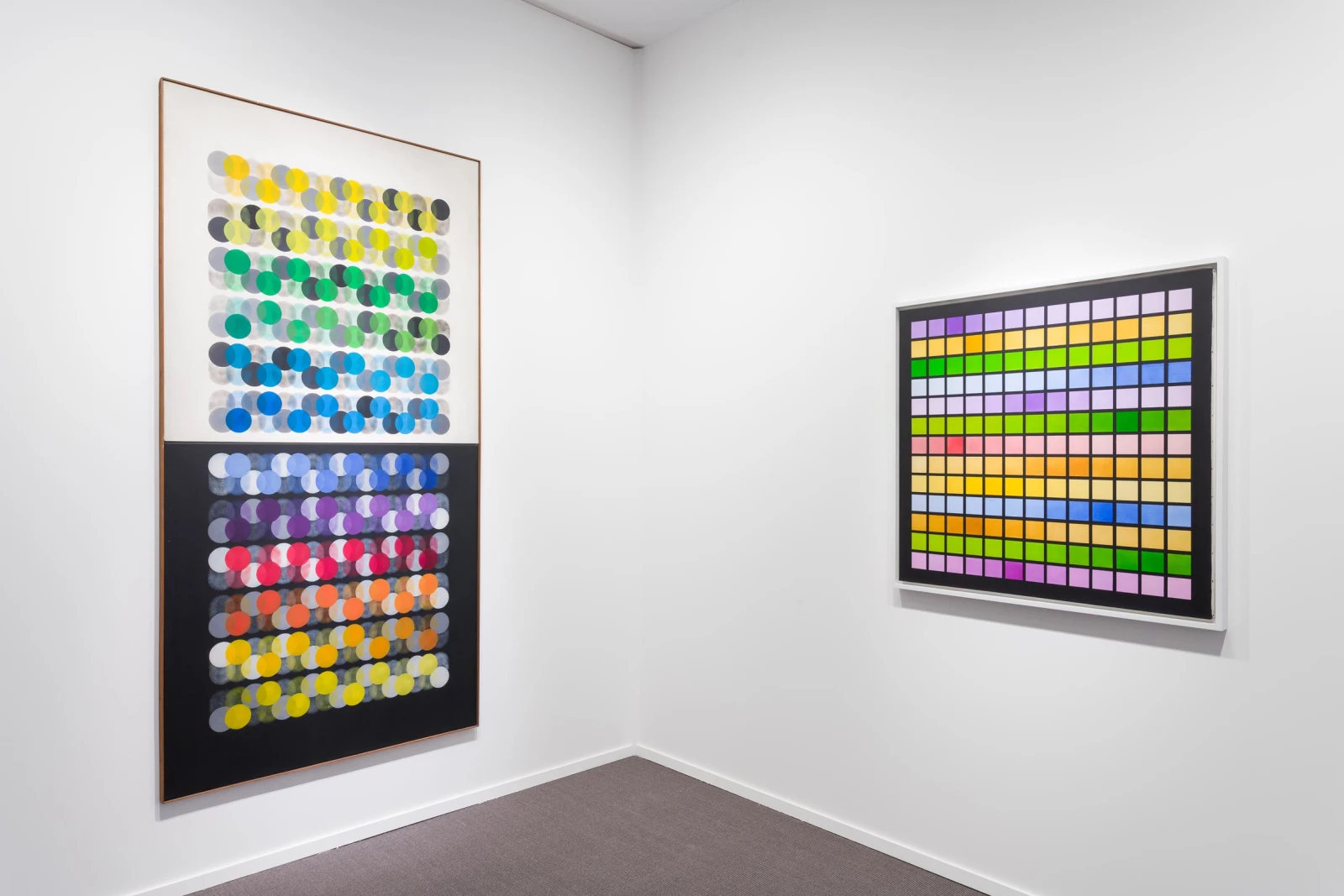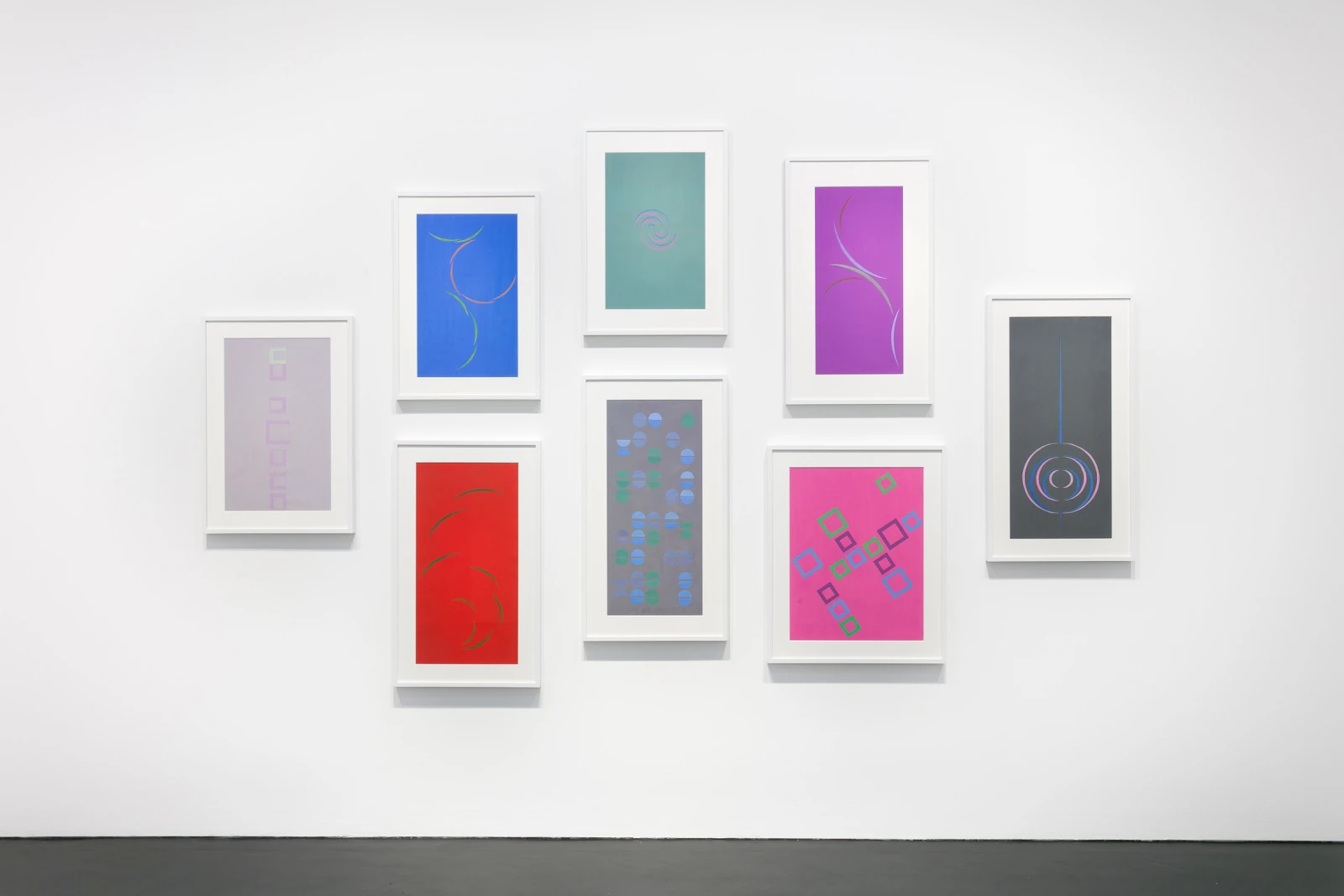 MANUEL ESPINOSA, 1912-2006, Argentine
Line, colour and the optical sensations of movement and light are the primary characteristics of Manuel Espinosa's paintings and works on paper. Espinosa was a leading protagonist in the history of Argentine Modernism. In 1943, Espinosa met Joaquín Torres-García, the founder of Constructive Universalism. This meeting had a profound effect on his approach to painting. Two years later, he co-founded the Asociación Arte Concreto-Invencion with Tomás Maldonado, Alfredo Hlito and Raúl Lozza in Buenos Aires. Harnessing a certain post-war optimism, the group stopped painting from life and instead focused on geometry, abstraction and the primacy of the picture plane as a self-contained entity.
Espinosa travelled to Europe in the 1950s, forging friendships with members of the 'Movimento di Arte Concreta', 'Forma' and 'De Stijl' movements. Influenced by these artists, Espinosa embraced the idea that creating variations upon a theme could offer a systematic and precise understanding of a particular form. In the 1960s and 1079s, Espinosa became interested in how he could weave an optical illusion into a seemingly ordered composition. Paintings and works on paper from this period feature circles and squares rendered in precise, serial configurations that appear to reverberate like particles or atoms across the surface.
Espinosa's works are included in prominent international collections including Fondo Nacional de los Artes, Buenos Aires, Argentina; Blanton Museum of Art, Austin, Texas, USA; Museo Nacional de Bellas Artes, Buenos Aires, Argentina; Museo de Arte Contemporáneo de Caracas Sofía Imber, Caracas, Venezuela; Museo de Arte Moderno, Buenos Aires, Argentina; Museum of Art at the Rhode Island School of Design, Providence, USA and Patricia Phelps de Cisneros Collection, New York, USA.




TOM FRIEDMAN, b. 1965, American
Celebrated for his playful and exacting approach to art making, Tom Friedman embraces everyday life by looking afresh at familiar objects and their assigned function. Fluctuating between the comical and conceptual, Friedman's meticulously rendered drawings and sculptures recreate random elements from his daily life and surroundings. Confounding expectations through startling trompe l'oeil, Friedman's works reveal his remarkable attention to detail and handicraft. What might first appear to be a simple, stable structure is, on closer inspection, intricately constructed from unexpected materials such as Styrofoam, flock, wire or even the artist's own hair.
Inhabiting the boundary between reality and illusion, Friedman's playful works challenge everyday processes of perception and notions of artistic value. Friedman explains, "Art, for me, is a context to slow the viewer's experience from their everyday life in order to think about things they haven't thought about. Or to think in a new way."
Friedman has developed an extensive portfolio of public works centred on a series of whimsical stainless-steel sculptures. Cast from maquettes fashioned out of aluminium roasting pans, tin foil and takeaway containers, this body of work captures the artist's alchemic ability to transform the everyday. 'Looking Up', a larger-than-life sculpture of a figure contemplating the sky, was installed at the entrance of Rockefeller Center's Channel Gardens in January 2021. Iterations of the sculpture have also been installed at Park Avenue, New York; South Lake Shore Drive, Chicago, Illinois and Tom Hanafan River's Edge Park, Council Bluffs, Iowa.
Friedman's works are included in prominent collections internationally, including Crocker Art Museum, Sacramento, California; Museum of Contemporary Art, Los Angeles, California; San Francisco Museum of Modern Art, San Francisco, California; Aspen Art Museum, Colorado; Guggenheim Museum, New York; Metropolitan Museum of Art, New York; Museum of Modern Art, New York; Tel Aviv Museum of Art, Tel Aviv, Israel; Magasin 3 Stockholm Konsthall, Stockholm, Sweden and Lisser Art Museum (LAM), Lisse, Netherlands.


#sfgoffsite
Channing Hansen, contributing to Stephen Friedman Gallery's campaign to share behind-the-scenes access to artists' studios and practices during the COVID-19 pandemic (2020).

CHANNING HANSEN, b. 1972, American
Channing Hansen is a polymath, simultaneously pursuing interests in craft, science, and technology in his work. His large hand-knitted textiles are mounted on wooden stretchers and feature vibrant, abstract forms that undulate across their web-like surfaces. An extremely labour-intensive process, the artist skirts, washes, dyes, blends, and spins the wool himself.
The improvisatory appearance of Hansen's work is in fact predetermined by a computer algorithm that generates potentially infinite combinations of colour, fibre, pattern, and knit. Relying purely on the algorithm to prompt changes in form, the artist is unaware of how the finished work will look until it is complete. The resulting compositions are varied and complex; areas of dense, looped stitches within the works sit alongside open knots that reveal the stretcher bars and wall behind. Organic, amoeba-like forms intermingle with thin tendrils of yarn that dart across the surface of the textiles, interrupting solid blocks of vibrant colour. Reverberating with energy, Hansen generates a tension between chaos and order by containing these hallucinatory compositions within the confines of the picture plane.
Notable solo exhibitions include: 'Channing Hansen', Marc Selwyn Fine Art, California, USA (2019-2020); 'Pattern Recognition', Simon Lee Gallery, Hong Kong (2019); 'Morphogenesis', Stephen Friedman Gallery, London (2018); 'Fluid Dynamics', Marc Selwyn Fine Art, Beverly Hills, USA (2017); Stephen Friedman Gallery, London, UK (2017); 'Self Portraits', CRG Gallery, New York, USA (2017); 'K2', Marc Selwyn Fine Art, Beverly Hills, USA (2016). Hansen's work was included in 'Made in LA' (curated by Ann Philbin) at Hammer Museum, Los Angeles, USA in 2014.
Hansen's work is included in a number of prominent international collections including LACMA, Los Angeles, USA; Hammer Museum, Los Angeles, USA; Art Institute of Chicago, Chicago, Illinois, USA; Dallas Museum of Art, Dallas, Texas, USA; The Ahmanson Foundation, Los Angeles, USA; The Henry Art Gallery, University of Washington, Seattle, USA and Stedelijk Museum, Amsterdam, The Netherlands.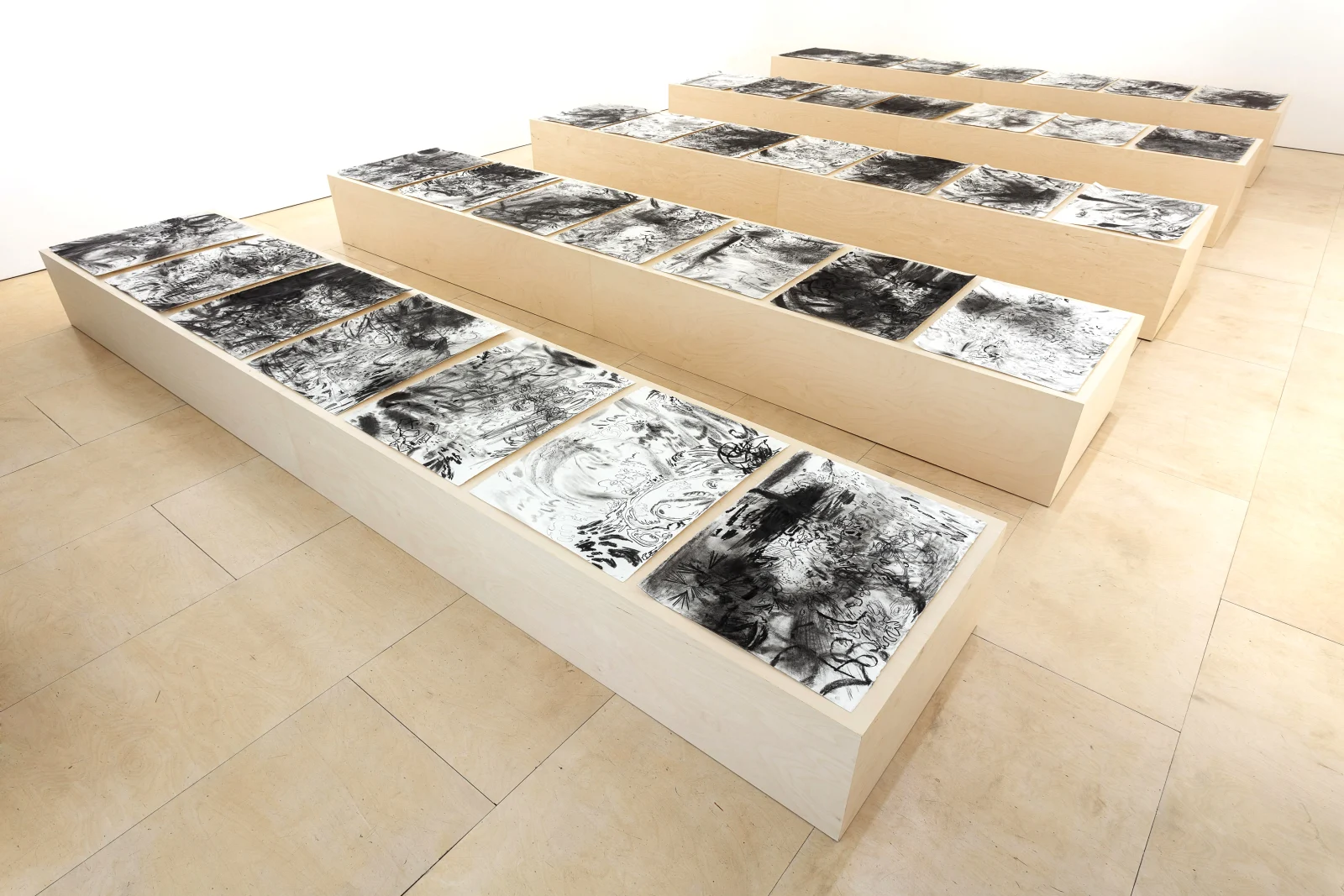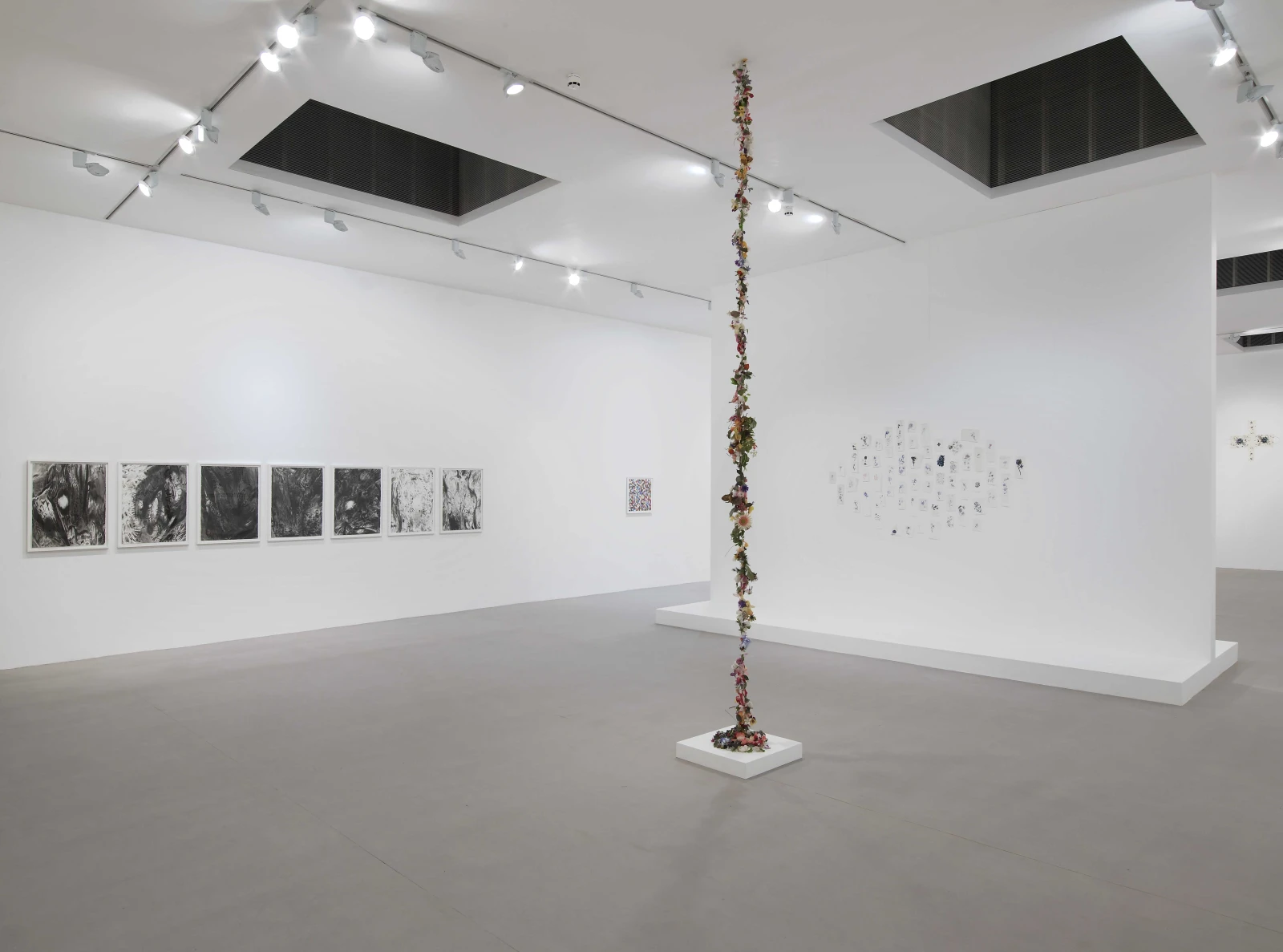 JIM HODGES, b. 1957, American
Jim Hodges' work explores themes of fragility, temporality, love and death in a highly original and poetic vocabulary. He frequently deploys different materials and techniques: from ready-made objects to traditional media such as graphite and ink. Often disarmingly simple or executed with minimal means, Hodges' works express a sentiment of deeply felt experience and encourage a visceral and communal response. Whether working in materials such as curtains woven from artificial silk flowers, metal chains, glass, or using saliva to create ink transfer impressions on paper, Hodges' works are inhabited by the presence of the body. Incorporated in his choice of media and articulated in text and image is a narrative of human experience, one of life and death and of the proximity of contingency that affects us all.
Drawing has remained a primary activity for the artist since the late eighties. The practice is diaristic – observing the passage of time and documenting the intensely personal, the mundane and the overlooked. Hodges has stated: "It always starts inside my body, and I use drawing as a way of getting it out".
In January 2021, Jim Hodges' installation 'I dreamed a world and called it Love', was unveiled at Grand Central Station, New York, USA. Commissioned by MTA Arts & Design, the work comprises over 5000 pieces of mirrored glass in over 70 different colours. From April to September 2019 'Unearthed', a monumental tree stump cast in bronze, went on display at Grace Cathedral, San Francisco, USA. In 2016 Hodges' text-based sculpture 'With Liberty and Justice For All' was installed on the exterior of the new building at Aspen Art Museum, Colorado, USA where it remains on view.
From 2013 to 2015 Hodges was the subject of a major touring retrospective, 'Give More Than You Take', which started in Dallas Museum of Art, Dallas, Texas and toured to Walker Arts Centre, Minneapolis; Institute of Contemporary Art, Boston; and Hammer Museum, Los Angeles, USA.
Hodges's works are included in prominent collections internationally, including Art Institute of Chicago, Illinois, USA; San Francisco Museum of Modern Art, California, USA; Dallas Museum of Art, Texas, USA; Whitney Museum of American Art, New York, USA; Miami Art Museum, Florida, USA; Hirshhorn Museum and Sculpture Garden, Washington D.C, USA; Museum of Modern Art, New York, USA; Guggenheim Museum, New York, USA; Walker Art Centre, Minnesota, USA; Musee National, Centre Georges Pompidou, Paris, France.


"I love the rigour of [Milhazes'] practice and have never met anyone since who makes paintings like her. Cut outs of geometric shapes are used to map out the compositions of her paintings, yet they still have an amazing spontaneity. The colours are so reminiscent of the light and greenery of Rio de Janeiro."
- Stephen Friedman (2020).

BEATRIZ MILHAZES, b. 1960, Brazilian
Beatriz Milhazes is one of the most critically acclaimed Latin American artists worldwide. She came of age as an artist during a transitional moment in Brazilian art following the collapse of the military dictatorship. The 'Geração Oitenta' (the Eighties Generation) in Brazil proclaimed a return to painting, vivid imagery and lush colour. Milhazes absorbed herself in this new tradition, drawing from the rich, tropical landscape of her native surroundings to produce vibrantly coloured paintings, collages and prints. Followers of her work will by now recognise the layered surfaces on her paintings, a result of her unique working process. Each motif is painted first on to a translucent plastic sheet, built up with layer upon layer of acrylic paint. When dry, the motif is peeled off the plastic sheet and fixed to the canvas. Her methods of layering, transferring and overlapping turn surface into a shifting terrain, both energetic and material.
Early twentieth century European modernism plays a significant role in the artist's formal references. Milhazes cites three artists as the 'centre of her interest': Matisse, Mondrian and Tarsila do Amaral. This unification of Western and Latin American influences inspired an entirely unique formal exploration, which cements Milhazes' position as one of the leading South American artists working today.
Milhazes' works are included in prominent collections internationally, including San Francisco Museum of Modern Art, San Francisco; The Guggenheim Museum, New York; Museum of Modern Art, New York; Metropolitan Museum of Art, New York; Museu de Arte Moderna do Rio de Janeiro, Rio de Janeiro; Tokyo Art Museum, Tokyo; TB A21, Thyssen-Bornemisza Art Contemporary, Vienna; Museo Nacional Centro de Arte Reina Sophia, Madrid.



DAVID SHRIGLEY, b. British
British artist David Shrigley is best known for his distinctive drawing style and works that make satirical comments on everyday situations and human interactions.
His quick-witted drawings and hand-rendered texts are typically deadpan in their humour and reveal chance utterings like snippets of over-heard conversations. Recurring themes and thoughts pervade his storytelling, capturing child-like views of the world, the perspective of aliens and monsters or the compulsive habits of an eavesdropper shouting out loud. While drawing is at the centre of his practice, Shrigley also works across an extensive range of media including sculpture, large-scale installation, animation, painting, photography and music. Shrigley consistently seeks to widen his audience by operating outside the gallery sphere, including producing artist publications and creating collaborative music projects.
Shrigley was a Turner Prize nominee in 2013, following his major mid-career retrospective at the Hayward Gallery, London titled 'Brain Activity'. In September 2016, his monumental sculpture 'Really Good' was unveiled in Trafalgar Square, London for the Fourth Plinth Commission. From 2015 to 2018 the British Council-organised exhibition 'Lose Your Mind' travelled to six venues including Power Station of Art, Shanghai, China; Storage by Hyundai Card in Seoul, Korea and Instituto-Cultural-Cabañas in Guadalajara, Mexico. In January 2020 Shrigley was awarded the decoration of Officer of the Most Excellent Order of the British Empire or OBE.
Shrigley will have a retrospective at K Museum of Contemporary Art, Seoul in December 2021. Stephen Friedman Gallery will host its eighth exhibition by the artist in November 2021, following his solo presentation for Art Basel Hong Kong in May 2021. These coincide with Shrigley's project for Maison Ruinart, where he was named Artist Carte Blanche in 2020. The artist also has an ongoing presentation in the Gallery at Sketch, London as part of a long-term programme of artist-conceived restaurants.